205 miles on my Schwinn.
06-22-20, 12:47 AM
Senior Member
Join Date: Jun 2019
Location: Portland Oregon
Posts: 832
Mentioned: 5 Post(s)
Tagged: 0 Thread(s)
Quoted: 388 Post(s)
205 miles on my Schwinn.
---
Not my Continental though, my 3 speed coaster brake road bike, 1988 Schwinn Premis.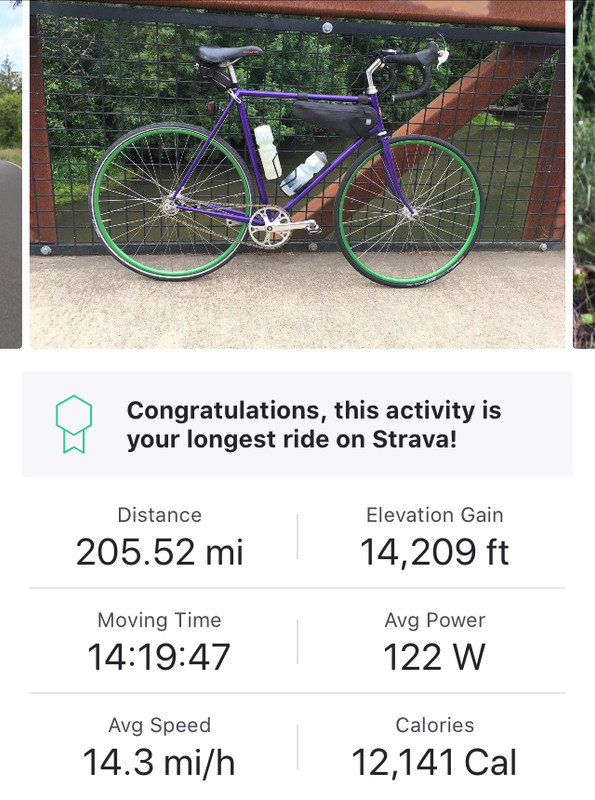 Tommy Godwin is the most bad ass human to ever throw a leg over a bicycle IMO, he rode 75,065 miles in 1939. An average of 205 miles a day. His 2 bikes both had sturmey archer internally geared hubs. His biggest day in 1939 was June 21st 361 miles, the longest day of the year. So me putting down my longest ride on the same day as his longest ride, on a sturmey archer equipped bike, and matching his daily average was pretty cool for me, tying together a personal best along with celestial alignment and matching some KICK ASS historical ride info to boot. The hub on this bike blew up last weekend, and it was a real pain in the ass to track down replacement parts and get the bike sorted for this ride, I'm super glad I was able to pull it all together, because it had to happen *TODAY*!!!!!! I also painted the rims green while I had the rear wheel apart anyway.
I built this 3 speed with the dream of riding my fist double century on it, then I realized that putting in the extra 5 to equal Tommy's daily average for 1939 made a lot of sense, I did name the bike Tommy after all. I had planned to ride the Davis Double, as its sort of flat, 8,000' of climbing, but it of course got cancelled...
Tommy avoided hills as much as possible for his record attempt as they slow you down :-P I'm sure he could smash them, but not when trying to set the year record. When I planned this route with Google it came back at 9,400' of climbing, a bit more than I wanted but not too bad spread over 205 miles... But, Nestooka river road was closed when I got there, so I had to take the detour on bald mountain road and there was no cell signal to check the details on it, I just went for it, it ended up adding almost 5000' more climbing to the round trip, as my first gear is not very low, bike is geared 46/20, with a %25 reduction for 1st gear which makes the low gear 46/25 effectively, I spent probably 4 hours out of the saddle today, and on the way home from the coast my left knee started hurting, I presume from so much standing while pedaling time. I love to stand, and do it a lot, but today was just so much. Stopping and massaging my knee made the pain go away, for ~20 minutes, stop, massage, ride 20 min, repeat. I was way slower than I wanted today, got murdered on most of the strava segments, but it was certainly a beautiful l day out.
I think my knee would have been fine had I been on my carbon road bike, I think it would also have been fine if I only climbed 9,400' instead of 14k.
I also want to get rid of the 175mm cranks for some 170's, this bike could use some more pedal clearance too.
I did raise my stem about an inch for this ride, I figured with 14 hours on the bike a "french fit" wouldn't be a bad idea!
Here are some more pics,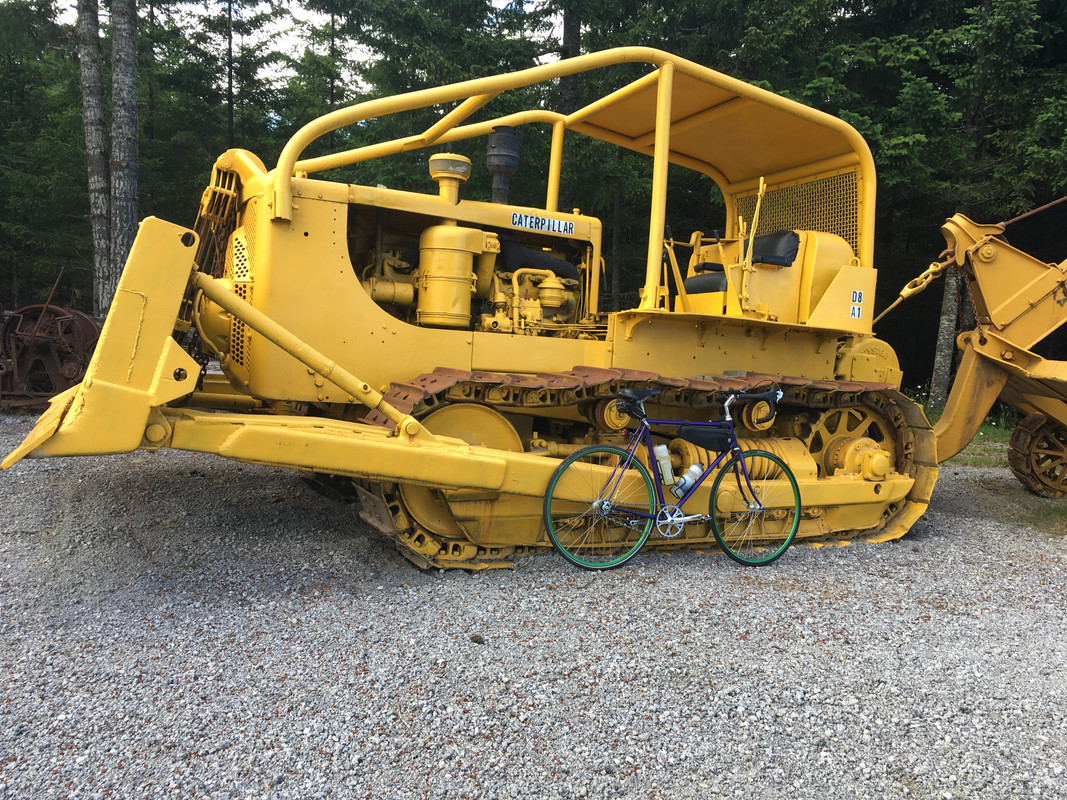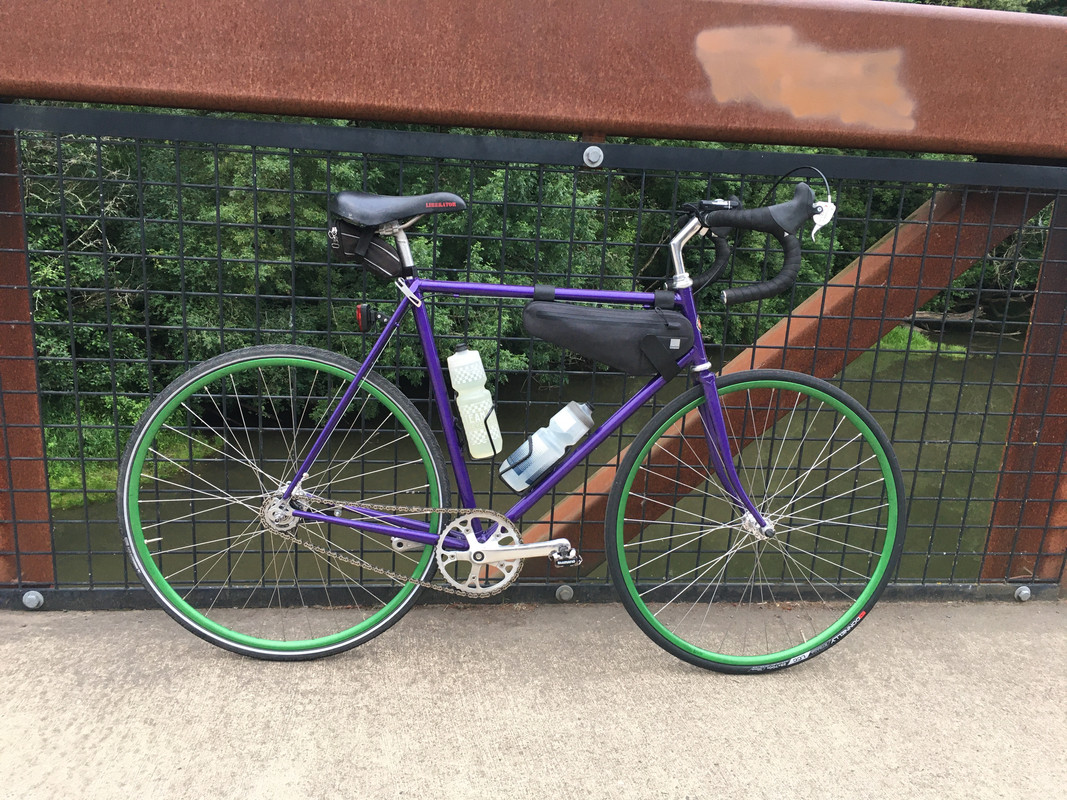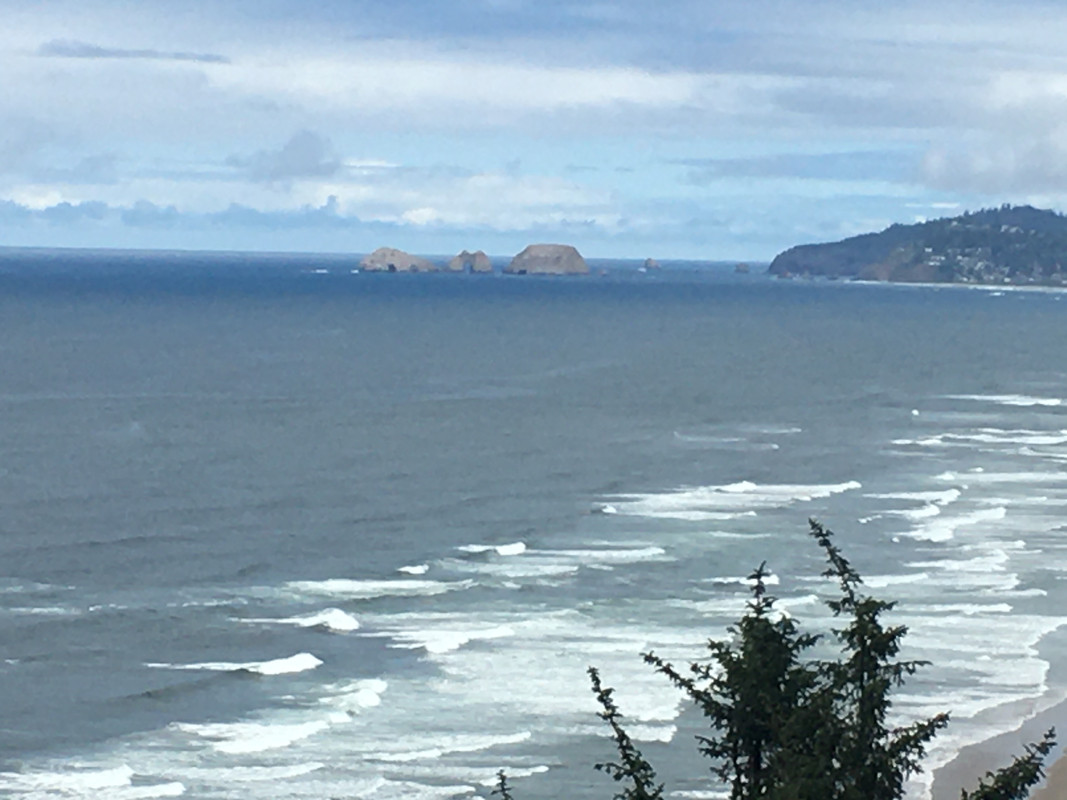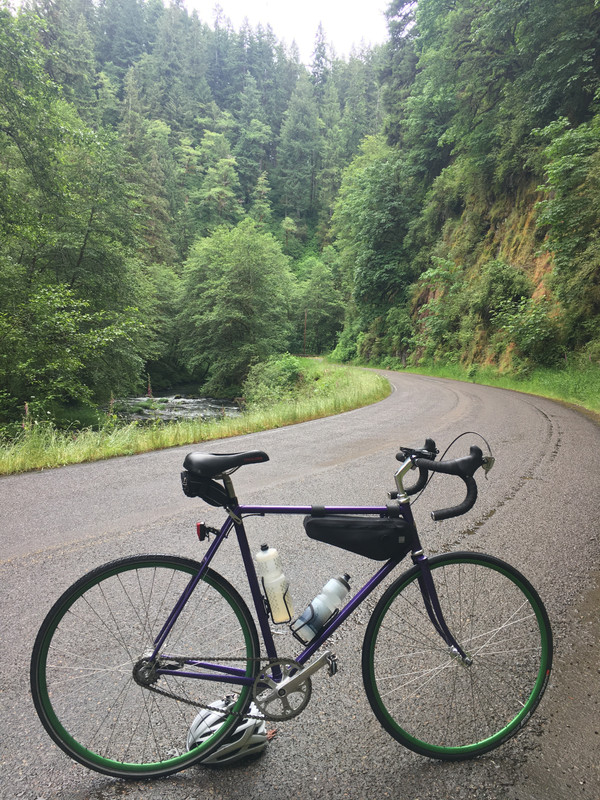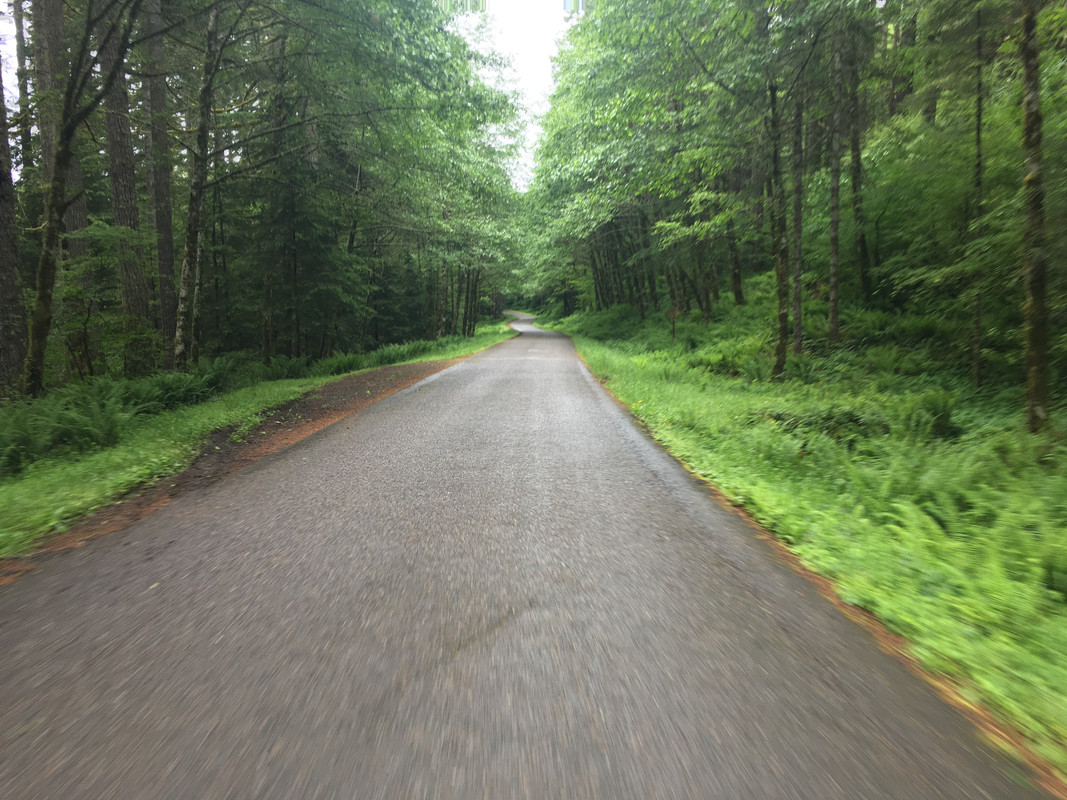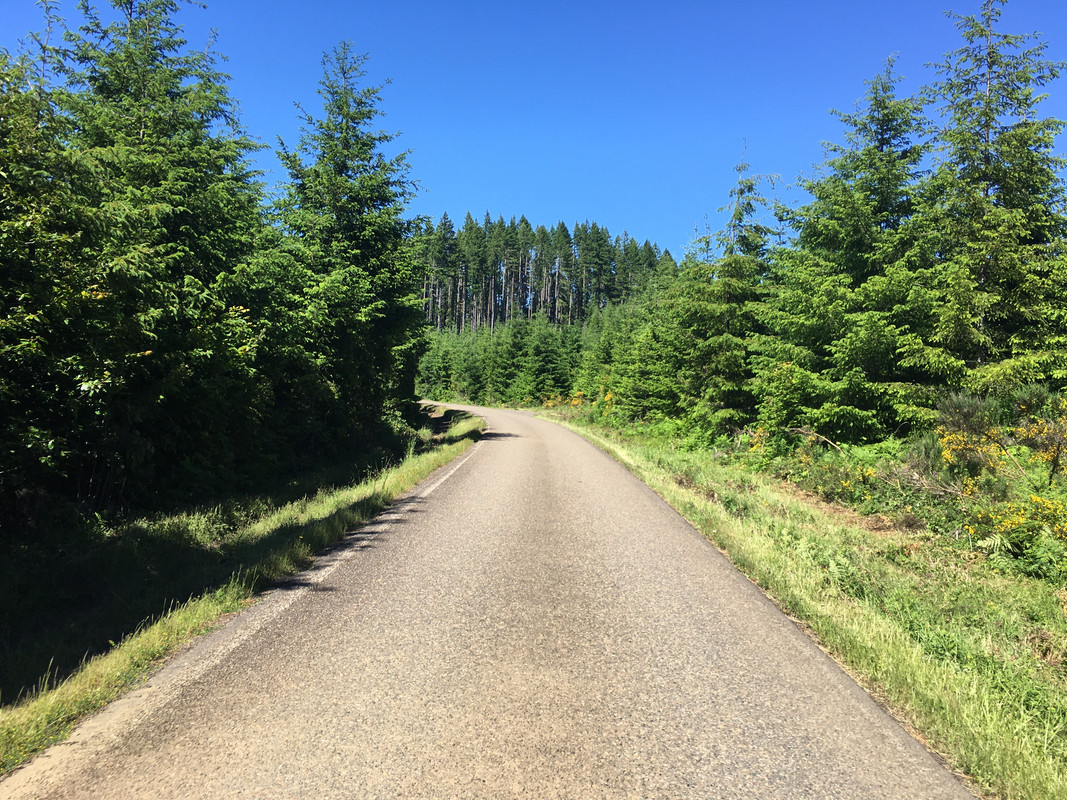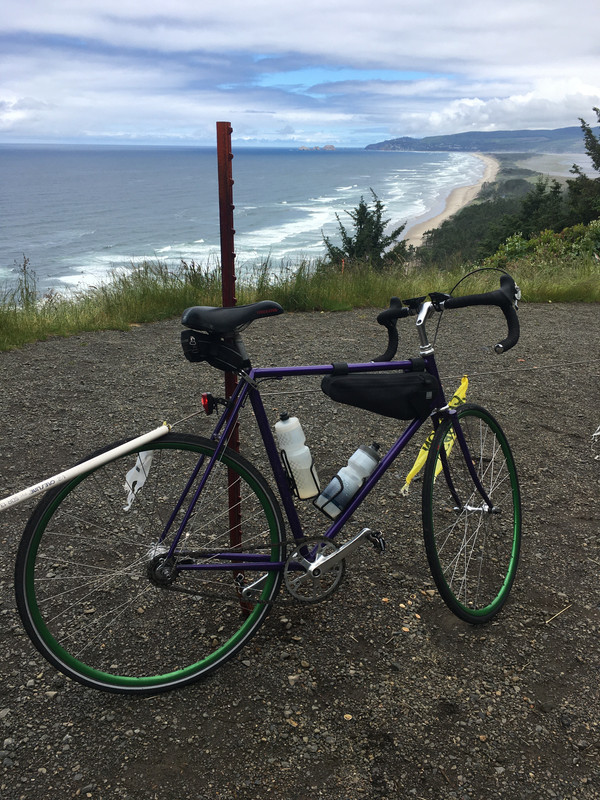 06-22-20, 01:35 AM
Random Internet Person.
Join Date: Jun 2015
Location: Pacific Northwest
Posts: 1,347
Bikes: 5 good ones, and the occasional project.
Mentioned: 13 Post(s)
Tagged: 0 Thread(s)
Quoted: 690 Post(s)
Kudos. 👍
__________________
My lights are obscenly bright because drivers are dim.

I shouldn't have to "make myself more visible;" Drivers should just stop running people over.
06-22-20, 06:00 AM
Senior Member
Nice job and great story!
06-22-20, 06:19 AM
Extraordinary Magnitude
Join Date: Aug 2009
Location: Waukesha WI
Posts: 12,257
Bikes: 1978 Trek TX700; 1978/79 Trek 736; 1984 Specialized Stumpjumper Sport; 1984 Schwinn Voyageur SP; 1985 Trek 620; 1985 Trek 720; 1986 Trek 400 Elance; 1987 Schwinn High Sierra; 1990 Miyata 1000LT
Mentioned: 76 Post(s)
Tagged: 0 Thread(s)
Quoted: 2067 Post(s)
Congratulations!!
__________________
*Recipient of the 2006 Time Magazine "Person Of The Year" Award*

Commence to jigglin' huh?!?!

"But hey, always love to hear from opinionated amateurs." -says some guy to Mr. Marshall.
06-22-20, 06:41 AM
Freewheel Medic
Join Date: Oct 2005
Location: Ascending or Descending the NH Mountains NW of Concord!
Posts: 11,436
Bikes: Snazzy* Schwinns, Classy Cannondales, & a Lonely '83 Santana Tandem (* Ed.)
Mentioned: 92 Post(s)
Tagged: 0 Thread(s)
Quoted: 597 Post(s)
WOW! Fantastic! Congradulations!
Can you post your route map? Obviously you didn't ride in Eastern Idaho with all that ocean in the background!
__________________
Bob
Dreaming about riding in NH's summertime!
Visit my websites:
FreeWheelSpa.com
or
pastorbobnlnh.com
06-22-20, 08:35 AM
Senior Member
Join Date: Jun 2019
Location: Portland Oregon
Posts: 832
Mentioned: 5 Post(s)
Tagged: 0 Thread(s)
Quoted: 388 Post(s)
Tommy Godwin | Long Distance Legend
I think it would be great if people referred to a 205 mile ride as a "Tommy", almost nobody knows of him which is why I do like to bring him up when appropriate.
Ahhh, yea, I moved to Oregon a little while back, but haven't changed my profile yet!
Portland to Cape lookout state park, %60 of the asphalt was in VERY good condition, some if it had some rather coarse chip seal on it, but all in all it this route was exceedingly good, I certainly plan on biting off smaller sections when time allows.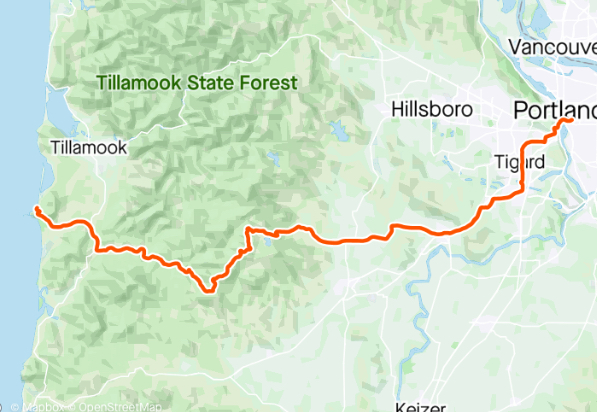 06-22-20, 08:52 AM
BIKE RIDE
Join Date: Jun 2014
Location: Michigan
Posts: 1,005
Bikes: my very own customized GUNNAR CrossHairs
Mentioned: 10 Post(s)
Tagged: 0 Thread(s)
Quoted: 214 Post(s)
no front brake? i'm a worry wart. i run a front brake when i set up anything with a coaster brake. if the chain falls of you can't shift it back on, and you don't have brakes, so you're left trying to jam your foot between the wheel and the seat tube (like that idiot in san fransico who would ride a single speed coaster with no brakes at all...).

nice to see a lovely old Schwinn in use. I'm hoping to set up an old Miyata 1000 with a 2 speed kick back. debating if I should go coaster or reuse my MAFAC racers. Probably i'll use the MAFACs.
cheers!
06-22-20, 10:48 AM
Senior Member
Join Date: Jun 2011
Location: Dayton, Ohio
Posts: 1,335
Bikes: Trek 720, Trek 620, Trek 520, Steel Schwinns, AD Puch, Kona, Nishiki Pro, All City Disc Spacehorse, Waterford
Mentioned: 19 Post(s)
Tagged: 0 Thread(s)
Quoted: 125 Post(s)
Congratulations!!!
---
Wow!!!

What an accomplishment!

I too have come to appreciate SA internally geared hubs. My winter bike and commuter is a two speed kickback.

Again, awesome!!
06-22-20, 01:10 PM
Senior Member
Join Date: Jan 2004
Location: Madison, WI USA
Posts: 5,014
Mentioned: 32 Post(s)
Tagged: 0 Thread(s)
Quoted: 1605 Post(s)
06-22-20, 02:39 PM
Señor Member
Join Date: Oct 2004
Location: Hardy, VA
Posts: 16,750
Bikes: Mostly English - predominantly Raleighs
Mentioned: 54 Post(s)
Tagged: 0 Thread(s)
Quoted: 933 Post(s)
Wow!

I rode that distance in a day once when I was 20. Only about 3,500 feet of climbing that was involved on that ride - and was on a bike with 10 speeds. I was completely spent and very saddle sore at the end of it. My hat is off to you!
__________________
In search of what to search for.
06-22-20, 06:02 PM
Very nice. What kind of training beforehand got you ready for 205 miles and 14k feet of climbing?
06-22-20, 07:46 PM
Senior Member
Join Date: Jun 2019
Location: Portland Oregon
Posts: 832
Mentioned: 5 Post(s)
Tagged: 0 Thread(s)
Quoted: 388 Post(s)















I'm 46 and weigh ~163 fwiw, I'm a bit new to road biking but have done a lot of MTB in my life and have always been active since I was a child.

I actually had not been on the bike much for the last 3 weeks, certainly more rest time than I would have liked, but I've had some really good results starting long rides from long rest periods, so I just went for it. I did have a buddy on standby as a car rescue if needed, there was no cell signal for many miles in the middle portion of the ride though, D'oh!
---
Last edited by jackbombay; 06-22-20 at

07:51 PM

.