True North Titanium Tandem - the build begins
05-21-19, 07:25 PM
Senior Member
Join Date: Dec 2005
Location: Indianapolis, IN
Posts: 360
Bikes: Co-Motion tandem, Serotta, and Specialized mt. bike
Mentioned: 0 Post(s)
Tagged: 0 Thread(s)
Quoted: 3 Post(s)
Liked 0 Times in 0 Posts
Originally Posted by
bikeinxs
We did a bigger ride and some hills with the 11-42 cassette with no issues at all. I suppose my derailleur hangar could be a bit different than yours.

One way to check would be to see how much adjustment you still have on your B screw. For the 42 I have it in all the way and for the 34 it's at about midpoint of adjustment.
Thank you for the review of your 42 cog with the Di2 derailleur. I will look at me B screw and its adjustment. I appreciate your advice.
05-24-19, 08:44 AM
Senior Member
Originally Posted by
bikeinxs
So I expected to provide more updates more frequently. Had a couple of delays while some final parts were sorted out but the bike is now on the road. Did a quick shakedown yesterday and will start the more comprehensive road testing Sunday.
The frame is custom titanium from Hugh Black of True North Cycles. The fit up and sizing was exactly as expected, I don't think we'll have to tweak the positions at all. The finish is very good and everything went together very easily (once I had the right parts). From the time we started thinking about getting a new tandem to having the frame in hand was less than three months so I'm super happy with the speed of the process. We had a pretty good idea of what we wanted and I think we went through 5 design iterations.
The drivetrain is Di2 11 speed with 50-34 up front and 11-34 in the rear on these 700c Woven carbon wheels with Compass 38 mm tires. I have another set of 650B wheels with 48 mm Gravel King SK tires and a 11-42 cassette. Both pairs of wheels are set up tubeless. I bought a Wolf Tooth road link but it looks like the derailleur will handle a 42 just fine so I may not need it. I already love the XT gear display. Brakes are hydraulic.
I had some challenges getting the right length axles for the Middleburn Cranks but now that that's sorted they look good.
Carbon bars front and rear and a carbon Cobble Gobbler seat post on the back for Sue. Aluminum seat post for the captain. Enve cross fork.
The bike weighs in at 29.4 pounds without pedals and 31 pounds all ready to ride with the 700c wheels. Of course once we load up 6 water bottles it really doesn't matter.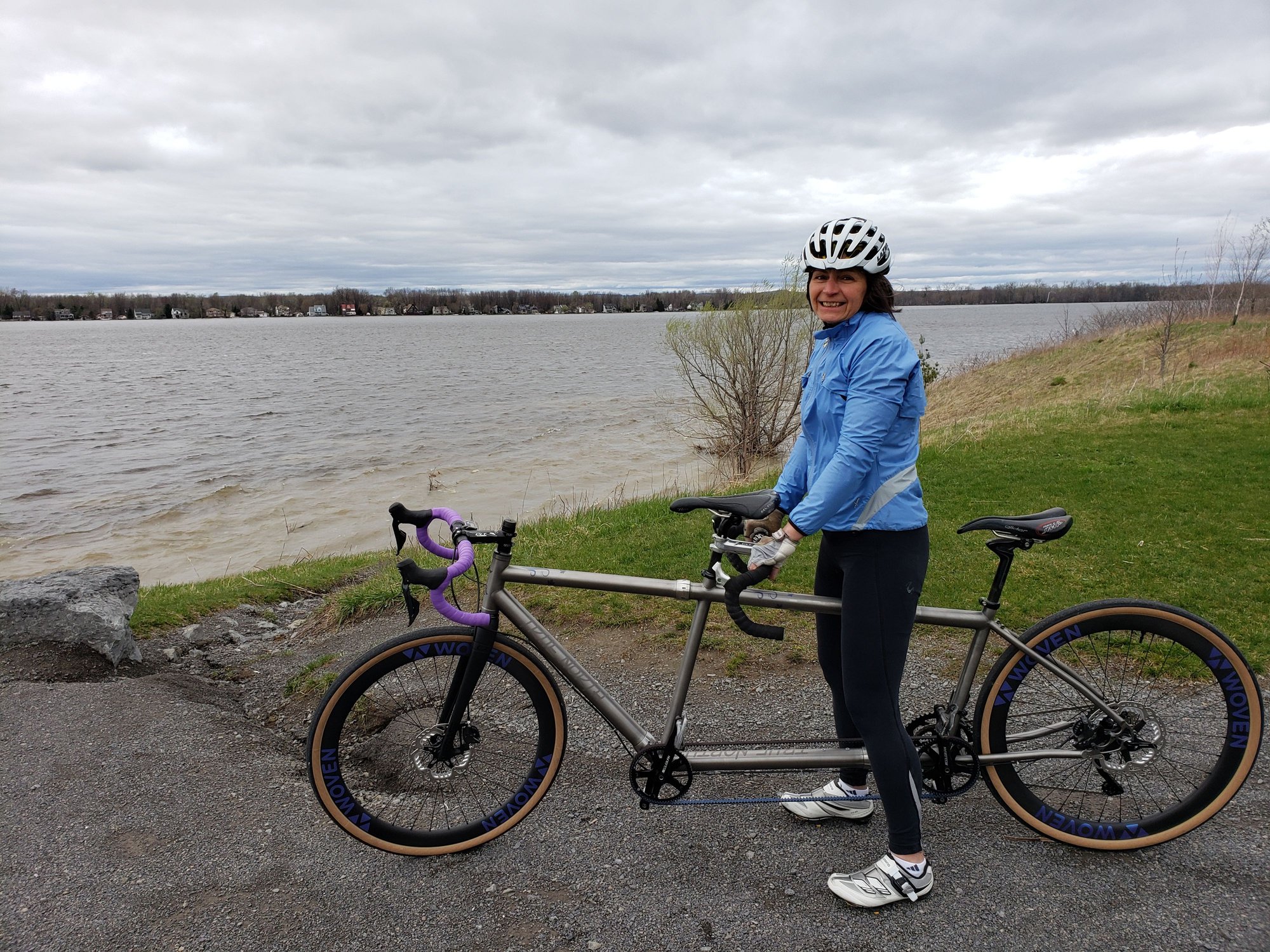 Thats the most beautiful tandem I have ever been seen. Exactly how I would build it if I had the means and funds.
05-30-19, 07:24 AM
Beautiful machine. We hope you enjoy many years and miles (1.61 km's) of riding it together. There's something about those stainless-steel water-bottle cages that just completes the look of titanium tubes so perfectly.
Thread
Thread Starter
Forum
Replies
Last Post
Posting Rules
You may not post new threads
You may not post replies
You may not post attachments
You may not edit your posts
---
HTML code is Off
---