4 Bikes on Class 1 Hitch?
07-31-18, 06:51 PM
Newbie
Join Date: Jul 2018
Posts: 1
Mentioned: 0 Post(s)
Tagged: 0 Thread(s)
Quoted: 0 Post(s)
Likes: 0
Liked 0 Times in 0 Posts
4 Bikes on Class 1 Hitch?
---
Our goal is to transport all four of our family's bikes -- road bikes, nothing too heavy -- on a single bike rack, using our 2014 Acura TSX Sport Wagon. The car is compatible with a Class 1 hitch, Curt's C11085. The Thule Apex 4 (TH9025) is compatible with a Class 1 hitch. But then here's the, um, hitch: I'm seeing all kinds of information online that a Class 1 hitch should only be hauling 2 bikes, max.

Is this true?? The capacity of the hitch is 200 lbs. "torque weight". The rack itself is approximately 42 lbs. and the 4 bikes total just under 100 lbs. So I'm towing 142 lbs. and somehow this isn't OK?

I'm looking for some real-world experience, perhaps, rather than what manufacturers recommend. (I saw a post on another forum which said manufacturers recommend you never do anything to or with their products at any time... that's kind of how it seems to me in the research I've done on this subject.) So: Has anyone used a Class 1 hitch to haul 4 bikes? We're just trying to get to and from the trails, 15-20 minute drives, nothin' fancy.
08-13-18, 03:44 AM
Junior Member
Join Date: Aug 2018
Posts: 10
Mentioned: 0 Post(s)
Tagged: 0 Thread(s)
Quoted: 3 Post(s)
Likes: 0
Your Class I hitch has a 2,000 lb gross weight capacity but only a 200 lb tongue weight capacity. The difference between these two capacities is that gross weight capacity refers to how heavy of a trailer you could tow, whereas the tongue weight capacity refers to how much vertical weight you could put on the hitch. Tongue weight is the relevant capacity when it comes to bike racks because they put a vertical load on the hitch. Another thing you have to consider with bike racks is leverage. As you put more bikes on a rack you end up with the weight of the additional bikes being farther and farther away from the hitch. Which if you have ever used a cheater bar to break loose a bar you know that the longer the bolt the more torque you can apply. So that is why you can not carry more than two bikes on a Class I hitch. Its lower capacity can not handle the additional weight so far away from the hitch. If you need to transport 4 bikes on a vehicle with a Class I hitch your best option would be to carry 2 of the bikes on a hitch mounted bike rack and then carry the other 2 bikes on a roof mounted bike racks.
01-07-19, 07:19 AM
Jedi Master
I'd do it. You're way under the weight limit, and you have a nice rack that doesn't stick out too far so there shouldn't be any problem. The hitch attaches to the frame with just 2 bolts, but It's not like 142 pounds is going to rip the hitch off the frame on a 20 minute drive to the trail. Crawl under the car and check it every once in a while if you're worried about it. If it doesn't work then you're only out a hundred bucks or so for the hitch vs. whatever it costs these days for a nice roof rack.

If I went to the trouble of getting a roof rack, I'd put all four bikes up there and not mess around with the hitch rack.
01-07-19, 09:49 AM
Senior Member
Join Date: Apr 2014
Location: Lake Forest, CA
Posts: 2,154
Bikes: '96 Trek 850, '08 Specialized Roubaix Comp, '18 Niner RLT RDO
Mentioned: 53 Post(s)
Tagged: 0 Thread(s)
Quoted: 531 Post(s)
Likes: 0
You can probably get away with it in the short run. Itís not the dead weight load, but I imagine the leverage of bikes 3 & 4 and the inevitable bouncing while driving would cause a fatigue failure somewhere in the hitch system - eventually. You could probably mitigate this with some straps pulled tight from the rack to the top of the hatch. As Dirty Harry asked, do you feel lucky?
01-10-19, 01:06 PM
coprolite
A number of years ago , riding my bicycle, I had to stop and drag a bike rack off the bridge causeway that had fallen off a passing tourist's trailer rig.

it had the whole family's bikes bundled up on the rack, the rack fell off because the welding gave way.

another guy driving caught up to the family car, and told them what had happened , so they U turned and came back to get it all..
01-10-19, 01:11 PM
Frozen Solid.
Hopefully in 6 months the OP figured it out...
02-24-19, 07:52 PM
Senior Member
Join Date: Sep 2016
Posts: 135
Mentioned: 6 Post(s)
Tagged: 0 Thread(s)
Quoted: 358 Post(s)
Likes: 0
Liked 0 Times in 0 Posts


Trailer hitches are designed to PULL in the direction of the strongest structure, and tongue-weight ratings assume forces being applied and removed in fairly smooth actions, as the trailer rocks.

Loading a bike rack puts most force perpendicular to the strongest structure, and as the rack and bikes rock back and forth, they are putting a lot of lateral G loading and twisting onto the receiver, which it wasn't designed to take.

When you look at the cost of a quality receiver-mount bike rack which will handle 4 bikes, you're into the price range of a small utility trailer, which is the way that I would go.
03-26-19, 01:28 PM
Senior Member
Join Date: Jul 2008
Location: 25 miles northwest of Boston
Posts: 23,457
Bikes: Bottecchia Sprint, GT Timberline 29r
Mentioned: 96 Post(s)
Tagged: 0 Thread(s)
Quoted: 3227 Post(s)
old thread but worth contributing. like
#2
wrote, you can put 2 on the hitch & the other 2 on something else. my Subaru Forester had a Class I hitch. I tried 4 bikes but it was nutz. I did a test ride out of our condo complex & heard some really weird sounds that were just not right, as I went over the speed bumps. wound up using an SUV rack I had. the kind that rests on the rear bumper, in addition to the hitch rack
not acceptable
acceptable
I've since upgraded to a vehicle with a class II hitch (& a beefier rear suspension). I also use 3 stabilizer straps so there is ZERO bounce, rattle or sway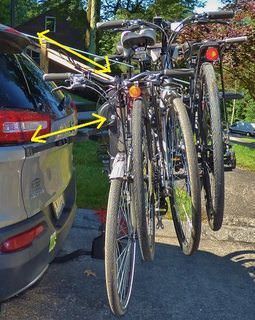 04-14-19, 12:35 AM
Senior Member
Downsized from a Jeep Grand Cherokee with its Class II to a VW Wagon with a Class I. Next car will have a Class II again. Maybe a Forester.

I was driving last year on I-88 to downtown Chicago for Bike-The-Drive, when I looked in my mirror and didn't see any bikes on my platform rack.Yikes. I immediately pulled over to the shoulder.

Turns out I had not pinned the center post on my Swagman, and it tilted to the side. That let both bikes tip horizontal. They were only held at the tires by the rubber straps holding them to the tire baskets. I had looped a chain around the frames to keep kids from grabbing them off the back. That was stretched and was all I had keeping the bikes from dragging on the pavement. And all these drivers passed me and no one honked to warn me. They must hate cyclists,
Thread
Thread Starter
Forum
Replies
Last Post
General Cycling Discussion
General Cycling Discussion
Posting Rules
You may not post new threads
You may not post replies
You may not post attachments
You may not edit your posts
---
HTML code is Off
---