Trek Checkpoint -- Any long-term experiences or reviews?
05-09-19, 02:52 PM
I was able to do a longer test ride of a Checkpoint SL5 at a local bike shop yesterday. They let me take the bike out for a half hour in a residential area.

My purpose: To try to get the rear IsoSpeed to flex under power, and to see if I could really notice it doing anything at all (I hadn't noticed it much at all my first test ride last fall).

The Bike: 2020 Trek Checkpoint SL5 in size 56. All stock, but this one had Ultegra shifters and brakes for some reason (it must have shipped while the newer 105 R7020 groupset was in short supply)

About Me: Not built like a "roadie"... 5'-11" and 195 lbs, muscular build. Used to race hard-tail mountain bikes in the '90's, but now in my 40's and much slower and more risk averse.

First test: Sprint from a slow roll. It felt stiff and responsive. Like a road bike.

Second test: Out of saddle sprint up a hill. I'm in Illinois, so the "hill" was a slight grade for a few hundred yards maybe 5%. That's all that was available in this location. Again, I noticed no flex in the frame.

Third test: Steady power up a hill. I stayed in the saddle and tried the same hill again with a slightly strenuous amount of power applied. Again, I did not notice anything flexing abnormally.

At this point I was really wondering if the IsoSpeed was a gimmick that did anything at all.

The next thing I did was to find pavement that was cracked, uneven, ground up, potholes, etc. I road over any obstacle I could find I did notice that typical dull carbon absorption of bumps, more of a "thud" than a metal "tink". Vibrations were deadened instead of propagated. Did the frame move under me? Not that I could tell.

Next test: Across some mowed grass at a park. No, it's not a rough section of gravel, but it was the best I was going to get from this short ride in a residential area. At this point I could feel that the ride was certainly smoother than my older aluminum Trek, and perhaps a LITTLE smoother than other carbon frames I've ridden, but I really think the tires and air pressure were a bigger factor.

My conclusion after my somewhat limited experience on the bike (for my style of riding, ability to perceive movement, body, and frame size) is that the rear IsoSpeed on the Checkpoint makes a minor impact. But I also think I'm just not really that sensitive to bumps after so many years on a hard tail mountain bike. I only notice their cumulative impact on my joints after long 20+ mile rides, and I wasn't able to replicate that on my shorter test ride.

So the Trek Checkpoint is back on my list for consideration, though I'm probably now moving my purchase out to Spring of 2021, so I guess we will see what options are around next year at this time. Based on the popular reviews of the Checkpoint, I wouldn't be surprised to see a few changes.
05-09-19, 03:49 PM
Member
Join Date: Apr 2009
Posts: 36
Mentioned: 0 Post(s)
Tagged: 0 Thread(s)
Quoted: 10 Post(s)
Likes: 0
I have a 58 Checkpoint SL after my Crockett frame was generously warrantied and I upgraded a bit (trek is the best). I got the carbon frame for the ISO rear, as I planned on using the bike an endurance bike too.

After spending some time with it, I wouldn't do CF again. The CF frame has nicer cable routing (hosed cable end-to-end is nice for sandy areas and crossing water), more bottle cage bosses, uses a seat mast, and the Di2 battery compartment (which is great for tube storage), but it rides the same as my basic Emonda ALR and my Crockett (with Specy zigzag seat post) on the same tires/wheels at 85psi. On rough pavement and hitting potholes, there's no difference. In contrast, I was getting abused on my Crockett on road tires until I bought the SBC zig zag seat post. I'd save the money and get the 300-series ALR frame and a fancy seat post (if needed) if I were to do it again. The seat mast is a particular PITA as I need a bit more setback and can't just change the post. I don't have thigh gap and my legs also rub the wider CF tubes.

I've got 43mm tires on there, and I wouldn't go over 45mm after having a look at it. You can run a bit larger, but I managed to sand the paint off my old bike running too large of tires and 43mm manages on soft sand.


Tip: You can be REALLY aggressive in shortening the cable housing between the bars and downtube guide. There are some complaint about it being annoying and hitting your leg, but I've got it internally routed on my bars which open up close to the stem and just the bare min of cable - it's nice and clean. It can rub the paint, so put a clear frame protector sticker there.
06-03-19, 07:53 AM
Alberto
Join Date: May 2018
Location: Aberdeen
Posts: 22
Bikes: Specialized Diverge E5
Mentioned: 0 Post(s)
Tagged: 0 Thread(s)
Quoted: 6 Post(s)
Liked 0 Times in 0 Posts
Originally Posted by
MAGAIVER
Borrowed a set of 27,5" wheels with 2.2 mtb tires on the local bike shop to test fit on my Checkpoint ALR 4, clearances are good even with the rear dropout all the way forward. No problems with the FD either.
The front wheel the lbs had was a 15mm thru axle so I did not fit it on the bike, rear dropout is all the way forward on thos pictures, Total wheel diameter is just a little bit smaller then the 700c wheel with the 40c Maxxis Ramblers.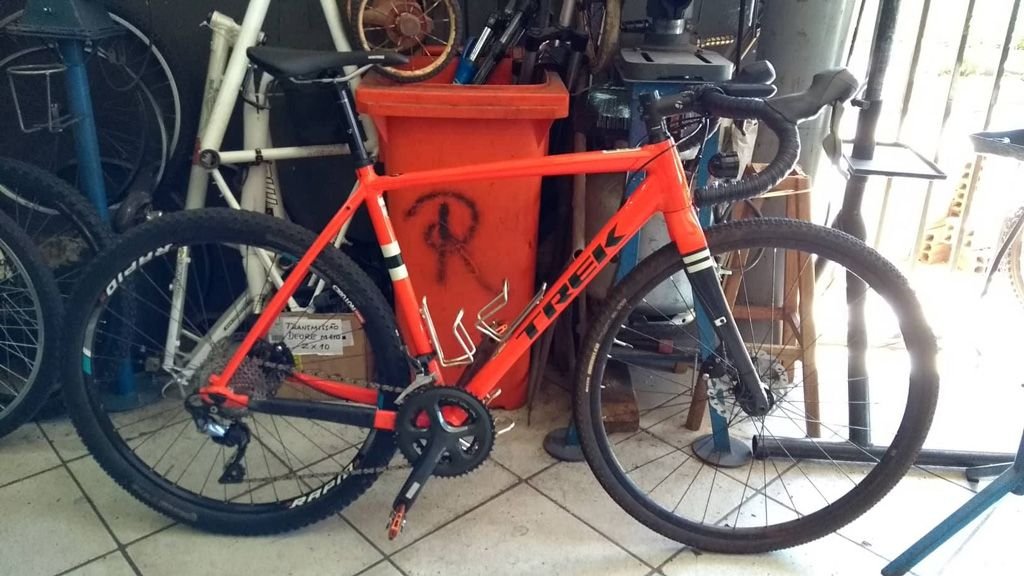 What is your tire clearance in the non-drive side and drive-side? is it the same? I have the same frame and the drive side is closer to the tyre.
06-04-19, 02:02 PM
Senior Member
The non drive side has more clearence then the drive side, that picture was taken with the droput fully slammed forward, I moved it back a bit and gained some clearence. Keep in mind that the Continental X-King tire is narrower then most tires on the same claimed width. I am currently using Kenda Small Block 8 Pro 27,5x2.1 and it is wider then the 27,5x2.2 X-Kings.
Thread
Thread Starter
Forum
Replies
Last Post
Posting Rules
You may not post new threads
You may not post replies
You may not post attachments
You may not edit your posts
---
HTML code is Off
---