Is this Raleigh Competition GS real?
08-07-19, 08:22 PM
Senior Member
Join Date: Jun 2013
Location: Texas
Posts: 585
Bikes: 1999 Schwinn Circuit, Mystery Bianchi 1985?, 1973 Raleigh Competition, 1995 Specialized Roubaix, My mom's 1980 Motobecane Mixte
Mentioned: 3 Post(s)
Tagged: 0 Thread(s)
Quoted: 117 Post(s)
Likes: 0
Is this Raleigh Competition GS real?
---
I don't recognize these decals. It's on Ebay.
https://www.ebay.com/itm/Raleigh-Com...EAAOSwmZFdR0qO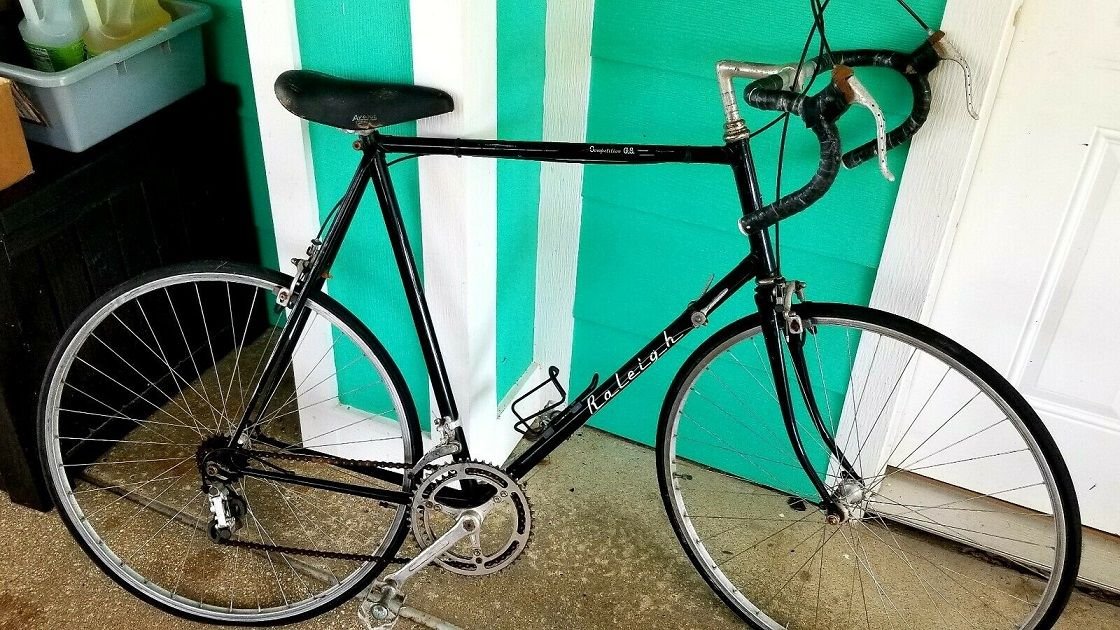 08-07-19, 09:15 PM
50th Anniversary Edition
Looks like a cheap and dirty respray, as the chrome socks, both on the fork and stays, are absent. A lot of the things in the picture just look "off," though (could just be a crap picture). I can say that the brake levers, electric-taped hoods, calipers, hubs, rims, long dropouts, shift levers, and front derailleur all appear consistent with my '79. The decals are nowhere close.
Edit: Here's mine as found. RD, crankset, seatpost non-original. Most of the rest is correct.
__________________
A race bike in any era is a highly personal choice that at its "best" balances the requirements of fit, weight, handling, durability and cost tempered by the willingness to toss it and oneself down the pavement at considerable speed. ~Bandera
---
Last edited by Fahrenheit531; 08-07-19 at

09:22 PM

.
08-07-19, 10:35 PM
Veteran/Pacifist/Resister
The 'Raleigh' in script was on my '72 SuperCourse.
but only the ghost image of the decal remained
__________________
70sFollis 072/71 Bottecchia Giro d Italia/72 Zeus Competition/78 Batavus Competition/80 Mondia Super/81 AustroDaimler Olympian/82 Harding(Holdsworth) Special/84 Pinarello Record/85 EM Corsa Extra/86 DeRosa Pro/88 Falcon Race/99 Pinarello Cadore/99 Calfee TetraPro/03 Macalu Cirrus/04 Tallerico: The less ridden = '97 CoMotion tandem + city bike, mtn bike, beach cruiser
08-07-19, 10:39 PM
Senior Member
Join Date: Apr 2012
Location: Middle Earth (aka IA)
Posts: 15,567
Bikes: A bunch of old bikes and a few new ones
Mentioned: 118 Post(s)
Tagged: 0 Thread(s)
Quoted: 3794 Post(s)
I'm no Raleigh expert but the bike has campy rear drop outs, campy pedals, and campy gran sport RD.