My 1984 Bianchi (a novella)
02-19-11, 12:34 PM
Junior Member
Join Date: Feb 2004
Location: San Jose, California
Posts: 24
Bikes: Trek 5200 WSD, Trek 6700 WSD, Bianchi Limited
Mentioned: 0 Post(s)
Tagged: 0 Thread(s)
Quoted: 0 Post(s)
Likes: 0
Liked 0 Times in 0 Posts
My 1984 Bianchi (a novella)
---
Since I'm recovering from the "creeping crud" and can't ride, I thought I'd do the next best thing and post on Bike Forums.
I am the original owner of a 1984 Bianchi Limited, and I thought it might be interesting to the good readers of the C&V forum.
I bought the bike during the my second year in college -- the salesman at the bike shop noticed that the bike I'd brought in for service was a little big for me and asked if I'd like to see a bike that fit me. Since I'm only 5 feet tall, I was amazed that there was such a thing! Anyway, he showed me a Bianchi Limited with an 18" frame, I took a test ride, and the rest was history! I think I paid $469 for the bike, which was a pretty good chunk of change for a college student making $6/hr during the summer. Of course, you can't just buy a bike, you have to get the accessories, which included a (very small) Silca frame pump, Bell V1 Pro helmet (remember those?), Diadora bike shoes with cleats that were attached to the soles with nails, Pearl Izumi shorts with real chamois (I splurged!)
In the 25+ years that I've owned the bike, it's taken me to some amazing places -- some lovely rides around the SF Bay Area and foothils behind Fresno, a bike tour in the Wine Country, a century. It's also taken me to the hospital -- a broken femur that ended what was supposed to be a non-eventful ride around a nice city park. Yes, we have a history, this bike and I.
The bike still has a lot of its original components -- friction shifters on the downtube, check! Suntour M-II front & rear derailleurs, check! Six speed freewheel, check! I have taken certain liberties, though. The little ring went from a 42 to a 39, so I could try to master some of the climbs. When I saw that the riders in the 1984 Olympics had the brake lines under their handlebar tape, I loved the idea, so I switched out my levers to get the aero improvements (and to look cool!) I also replaced the platform pedals and Christophe toe clips with clipless pedals. The Avocet woman's saddle has been replaced with a Brooks. The original brake calipers and levers have been replaced in an attempt to improve stopping power and better accommodate my small hands. It's still a work in progress.
I have since added other bikes to my stable. When I was approaching 40, I decided I wanted a bike with a triple chainring. Changing the Bianchi to accommodate a triple would have resulted in a "domino-effect" of new components, so I bought a new Trek. I also found a nice little Merlin on craigslist a few years ago, and since I never could resist bikes in my price range that fit me, well, I bought it.
But I still have the Bianchi. It's inherited the very important role of Indoor Trainer Bike, and has helped me get ready for events such as the AIDS/Lifecycle and the Death Ride. Last summer I tried my hand at bike commuting, and found that the Bianchi's ability to be fitted with racks, as well as its bullet-proof 100-spoke wheels made it perfect for the job. I'm looking forward to more bike commuting when the weather gets better.
They say a picture's worth 1000 words, but unfortunately, my photography skills are pretty worthless.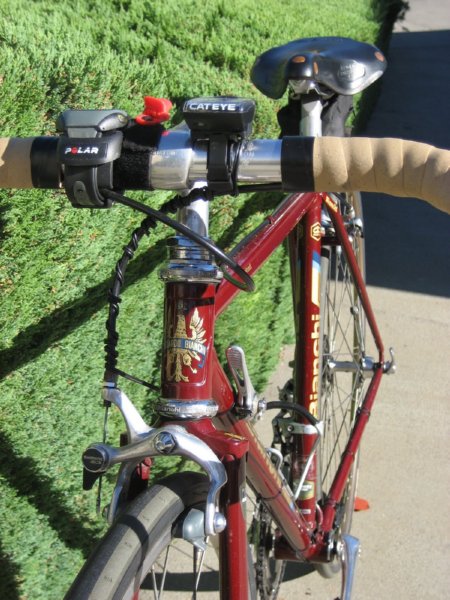 02-19-11, 01:03 PM
Junior Member
Join Date: Feb 2004
Location: San Jose, California
Posts: 24
Bikes: Trek 5200 WSD, Trek 6700 WSD, Bianchi Limited
Mentioned: 0 Post(s)
Tagged: 0 Thread(s)
Quoted: 0 Post(s)
Likes: 0
Liked 0 Times in 0 Posts
02-19-11, 01:36 PM
Senior Member
Join Date: May 2010
Location: Bastrop Texas
Posts: 1,798
Bikes: Univega, PR-10, Ted Williams,UO-8, Puch, PHLE, UO-18 Mixte
Mentioned: 1 Post(s)
Tagged: 0 Thread(s)
Quoted: 23 Post(s)
Likes: 0
Spirit and personal care - No matter what this is YOUR bike... LOVE it...

Heard of story of a guy that had his Great Great Grandfathers Axe... Said it had been used so much it had had the Head replaced twice and the handle six times... The spirit lives on...
02-19-11, 02:46 PM
feros ferio
Join Date: Jul 2000
Location: www.ci.encinitas.ca.us
Posts: 19,680
Bikes: 1959 & 1960 Capo; 1982 Bianchi; 1988 Schwinn KOM-10;
Mentioned: 33 Post(s)
Tagged: 0 Thread(s)
Quoted: 772 Post(s)
I know what you mean about smallish hands and long-reach brake levers. About the only non-Italian parts on my Bianchi are Shimano aero brake handles, KoolStop brake pads, Serfas ARC saddle, and Continental tires. I simply could not panic stop securely with the original Modolo Speedy brake levers, but the Shimanos work out very well for me, as would old-school Weinmanns. Unlike yours, my Bianchi cannot accommodate racks or wider tires, so it is strictly a fair weather midlife crisis toy, but much cheaper than a Ferrari or a Lamborghini.
__________________
"Far and away the best prize that life offers is the chance to work hard at work worth doing." --Theodore Roosevelt
Capo: 1959 Modell Campagnolo, S/N 40324
Capo: 1960 Sieger (2), S/N 42624, 42597
Peugeot: 1970 UO-8, S/N 0010468
Bianchi: 1982 Campione d'Italia, S/N 1.M9914
Schwinn: 1988 Project KOM-10, S/N F804069
02-19-11, 02:57 PM
Senior Member
Join Date: Sep 2008
Location: Beautiful Long Beach California
Posts: 3,605
Bikes: Eddy Merckx San Remo 76, Eddy Merckx San Remo 76 - Black Silver and Red, Eddy Merckx Sallanches 64 (2); Eddy Merckx MXL;
Mentioned: 1 Post(s)
Tagged: 0 Thread(s)
Quoted: 143 Post(s)
Likes: 0
Liked 0 Times in 0 Posts
Thread
Thread Starter
Forum
Replies
Last Post
Clydesdales/Athenas (200+ lb / 91+ kg)
Posting Rules
You may not post new threads
You may not post replies
You may not post attachments
You may not edit your posts
---
HTML code is Off
---