Advocating new Single-tracks in my town ... so much ignorant hate
08-27-19, 12:20 PM
meh
Join Date: Jul 2014
Location: Hopkins, MN
Posts: 3,671
Bikes: 17 Breezer Radar Pro; 15 Surly Pugsley; 13 Felt Z85; 11 Globe Daily; 09 Kona Dew Drop; 96 Mondonico
Mentioned: 21 Post(s)
Tagged: 0 Thread(s)
Quoted: 674 Post(s)
Truth ^^^


"In the age of information, ignorance is a choice."
Donny Miller

But I guess in our internet culture, you can find the information that supports your personal bias and stop there and claim you're informed. [/shrug]
08-27-19, 01:06 PM
Disco Infiltrator
__________________
Genesis 49:16-17
09-04-19, 02:07 PM
Senior Member
Join Date: Dec 2007
Posts: 946
Mentioned: 4 Post(s)
Tagged: 0 Thread(s)
Quoted: 89 Post(s)
I've got a bunch to say on this topic when the time is right.
I'm a member of an organized group who builds and maintain trails in NJ. Advocating for new parks has been very difficult especially with opposing groups of hikers, equestrians and environmentalists.
When things like this happens in a rogue trail, it helps no one:
https://www.nbcnewyork.com/news/loca...430856233.html
Now the family is suing the town. We are monitoring the municipal response to the case.
09-18-19, 09:43 AM
meh
Join Date: Jul 2014
Location: Hopkins, MN
Posts: 3,671
Bikes: 17 Breezer Radar Pro; 15 Surly Pugsley; 13 Felt Z85; 11 Globe Daily; 09 Kona Dew Drop; 96 Mondonico
Mentioned: 21 Post(s)
Tagged: 0 Thread(s)
Quoted: 674 Post(s)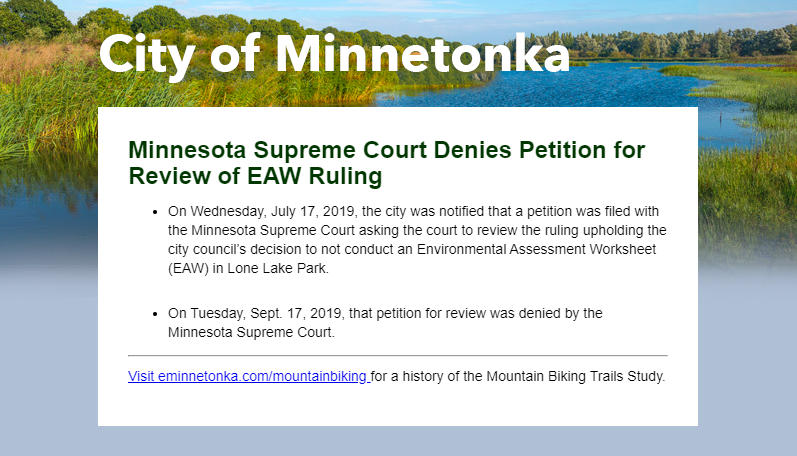 That wasn't a shocking outcome - hoping that the courts and city didn't waste too much time and money on this frivolous suit.
I expect it's too late in the season to start trail work. But the path is clear to get started in the spring!
Edit: Forgot to share that the opposition are starting a campaign to vote out council members that voted in favor of the new trails. They know how to win friends and influence people.
---
Last edited by Hypno Toad; 09-18-19 at

12:49 PM

.
10-08-19, 02:38 PM
meh
Join Date: Jul 2014
Location: Hopkins, MN
Posts: 3,671
Bikes: 17 Breezer Radar Pro; 15 Surly Pugsley; 13 Felt Z85; 11 Globe Daily; 09 Kona Dew Drop; 96 Mondonico
Mentioned: 21 Post(s)
Tagged: 0 Thread(s)
Quoted: 674 Post(s)
It's been a long trail getting to this point .... but we have a timeline to get to ride trails by (hopefully) Sep 2020 -
https://eminnetonka.com/current-proj...ain-bike-trail
Thread
Thread Starter
Forum
Replies
Last Post
Posting Rules
You may not post new threads
You may not post replies
You may not post attachments
You may not edit your posts
---
HTML code is Off
---