Time to get back on that horse
03-24-14, 05:22 PM
A square going nowhere
Join Date: Oct 2009
Location: San Dimas
Posts: 627
Bikes: CAAD 8 & CAAD 10
Mentioned: 1 Post(s)
Tagged: 0 Thread(s)
Quoted: 0 Post(s)
Likes: 0
Liked 0 Times in 0 Posts
Time to get back on that horse
---
I haven't been posting much, but I've still been lurking. I hit some speed bumps here an there, so I haven't been riding as much as I would like to, and when I don't ride, I don't post much. For some reason they go hand in hand with me.
Whether lack of motivation, being just plain lazy, weight gain, time constraints or a physical issue which had me spend a weekend in the hospital, I'm fine turned out to be nothing, I think I have a total of about 100 miles this year. I say think because the battery in my Garmin sensor died and I just got around to changing it. Like I said just plain lazy. I'm going to give it that old college effort to start riding more. I just wanted to come by and get caught up with everyone.
Oh and I got a new bike. Let me introduce my CAAD10 105. With the weight gain I had to get stronger wheels. I don't think my Easton EA50 wheels would last long under me so I went with some DT Swiss RR585 32 3X on 105 hubs.
Now for the pics: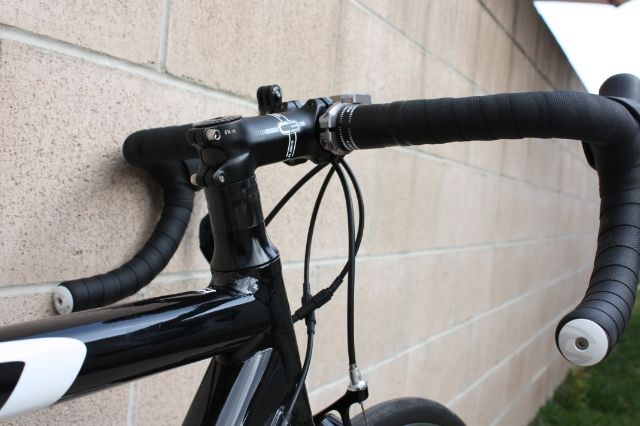 Love those bar plugs!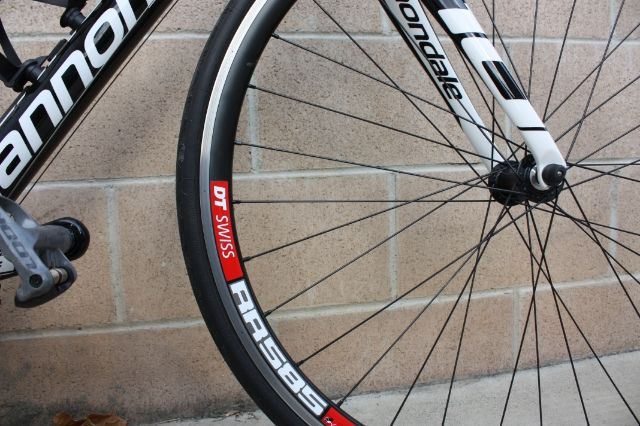 It is a very nice upgrade from my CAAD8 2300. I swapped over my pedals and bottle cages, along with my Garmin and GoPro mounts. I was going to swap my saddle, but the stock Prologo it came with is comfortable enough. At least so far it is. I still haven't dialed in the fit just right. I think I need to drop the handle bar a couple of spacers, but so far she's a blast to ride! So agile and responsive, and I'm loving the 105 drivetrain. It's so nice to have 10 gears as opposed to the 8 I'm coming from.
Well I'm here, I'm back, and I'm looking forward to hitting the road again, not literally mind you.
03-24-14, 05:29 PM
got the climbing bug
welcome back and new toys to boot!!! Winter has it's effect on many people, with time change and spring in the air it's time to get on the bike again. And a new one really helps. Those are supposed to be really good rims, and look good too.
__________________
Rule #10 // It never gets easier, you just go faster.
03-24-14, 08:13 PM
SuperGimp
You heard us talking about you on Saturday! It's all downhill to the top! Yes, that's right, we finally dragged Erwin8r up to the shack - we missed you out there.
Nice bike, nice rims. I have a set in the shed waiting for me to unlazy myself and build them up.
03-24-14, 08:43 PM
Senior Member
Join Date: Oct 2008
Posts: 1,061
Mentioned: 5 Post(s)
Tagged: 0 Thread(s)
Quoted: 22 Post(s)
Likes: 0
Liked 0 Times in 0 Posts
03-24-14, 10:02 PM
Just Keep Pedaling
Join Date: Mar 2012
Location: Lakewood, CA
Posts: 3,300
Bikes: 99 Schwinn Mesa GS MTB, 15 Trek Domane 5.9 Dura-Ace, 17 Trek Emonda SL6 Pro & 18 Bianchi Vigorelli
Mentioned: 30 Post(s)
Tagged: 0 Thread(s)
Quoted: 230 Post(s)
Likes: 0
Good to hear from you @
psalm
Nice new ride. Glad to hear you are OK just lacking motivation and such. I think of you every time I ride GMR as if it wasn't for you riding with me that one time, I would have given up.
Hope to see you on a GMR ride again soon.
03-25-14, 12:08 AM
SuperGimp
You guys should organize a puddingstone ride... I've only done it twice but it's pretty fun and the lap nature of the thing makes it good for groups. as in... you can take one off if you're dying.
Thread
Thread Starter
Forum
Replies
Last Post
Clydesdales/Athenas (200+ lb / 91+ kg)
Clydesdales/Athenas (200+ lb / 91+ kg)
Clydesdales/Athenas (200+ lb / 91+ kg)
Clydesdales/Athenas (200+ lb / 91+ kg)
Posting Rules
You may not post new threads
You may not post replies
You may not post attachments
You may not edit your posts
---
HTML code is Off
---