Stort of My First Shorts
01-24-15, 07:36 AM
Stort of My First Shorts
---
In the 50+ forum I responded to a thread about the oldest shorts, and it got me to thinking about the stories our cycling gear could tell. To continue the shorts story I started there...

On my first visit to Pearl Harbor in December of 1979 I had the bike bug pretty bad. I joined he US Navy that summer and was being sent out on a West-Pac tour of our Asian friends. We left in November of 79, with the first stop in Hawaii. All the way there I scoured the pages of a Supergo catalog, dreamed and drew pictures of the ultimate road bike. Lusting for a Palo Alto road bike with Super Record was a daily ritual, so I decided to visit a shop as the first order of business once we docked. My first visit to Hawaii produced a full, end to end rainbow in the distance as we entered Pearl Harbor. I have the picture of this amazingly warm welcome to paradise.

I found Wheels of Hawaii in a phone book, jumped on a bus that took me there, and bought a pair of Viggorelli shorts for $45. Spandex fabric, real chamois crotch. Those shorts were ridden in the Philippines and Tailand on the next West-Pac in 1981. The Viggorelli shorts saw me through my first road race, my first crash, my first date with my now wife, and were there with me when we bought our first house and car. They rode all over the Bay Area in California, and have toured the Midwest.

They are grotesquely see-through thin in the bottom after all these years. The chamois is dry from mistakenly being put through the dryer too many times, but still usable when lubed. They are used once a year now, only on the first warm weather day of spring. When I put them on, my mind takes on the exuberance of a kid putting on his first pair of spandex "professional" shorts. Somehow they are faster than my newer shorts. Somehow they energize my legs. Somehow they have survived and endured the test of time. Somehow they still fit!
01-24-15, 07:57 AM
Still learning
Nice story! @
auchencrow
has competition across the state for best story tellers on Bikeforums.
Add you two to the list of storied Michigan writers like Hemingway.
---
Last edited by oddjob2; 01-24-15 at

08:00 AM

.
01-24-15, 08:01 AM
Senior Member
I agree that it is a great story.
But I have a request.
Please warn us when you go for that first warm weather day of spring ride. Please.
01-24-15, 08:16 AM
Freewheel Medic
Great story! Did you have a bike with you on the ship, or did you rent/borrow one at each port of call?
We're about the same age. I finished college in December '79 and started seminary in September '80. During this time I was married and acquired my second road bike. My first had been stolen from the dorm in '76.
From the time I rode a tricycle at 2 or 3, until that lowly Puch built Sears 10 speed was stolen, I never own a pair of cycling shorts. From the time I acquired my lowly Panosonic built Schwinn Travelor in 1980, until I rehabbed it after 20+ years of neglect and under-use in 2002, I never owned any cycling shorts.
But after I got back into riding here in rural NH, my brother in law, gave me a pair of low-end Performance branded spandex shorts, and I've never looked back!
So while I've ridden bikes for well over half a century, I never discovered the joys of bike shorts until about a decade ago. I believe this pair is in the bottom of a drawer some place, but they are stretched and worn out so badly my wife won't let me wear them any longer.
I'll add a side note to this story, if you don't mind:
My newest pair is traditional wool. By far, these are my favorite! Wool is the cat's pajamas for riding!
I bought mine and a jersey on ebay from this seller
. Reasonably priced and almost true to USA sizes. I wear a large normally, and I needed to go to an XL. The seller does give some basic measurements in the description.
I'm in the wool shorts below, finishing a mountain climbing race this past September.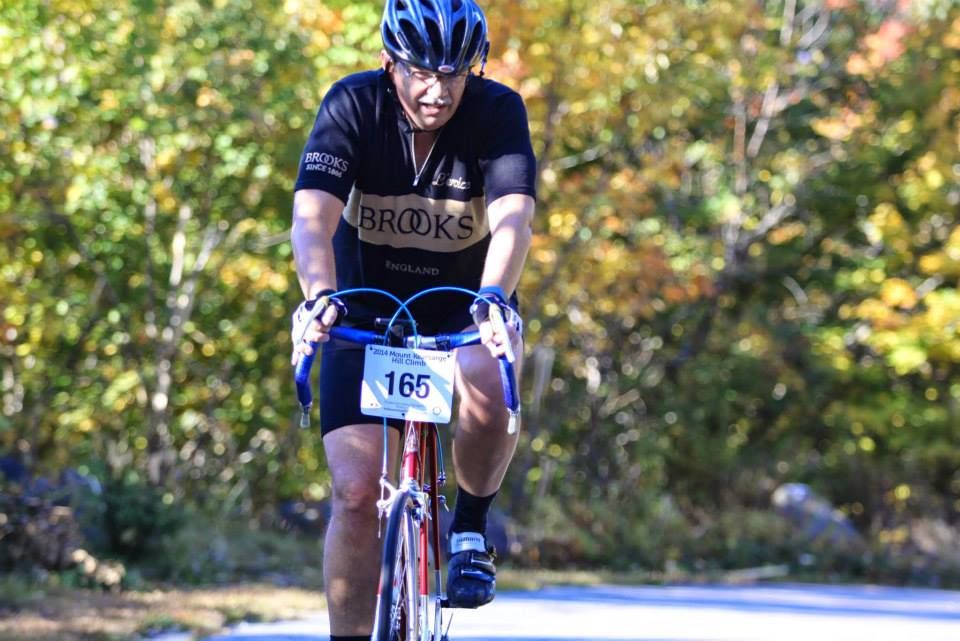 __________________
Bob
Dreaming about riding in NH's summertime!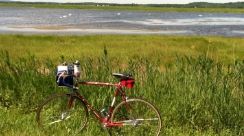 Visit my websites:
FreeWheelSpa.com
or
pastorbobnlnh.com
01-24-15, 06:28 PM
Senior Member
Join Date: Apr 2009
Location: Detroit
Posts: 10,327
Mentioned: 6 Post(s)
Tagged: 0 Thread(s)
Quoted: 13 Post(s)
Likes: 0
Well told indeed, @
TiHabanero
. - The two great visuals are still vying for space in my mind: Which will prevail?
The end-to-end rainbow, arching over the lush Hawaiian landscape - or the "grotesquely" diaphanous bottom on your shorts?
__________________
- Auchen
01-24-15, 07:17 PM
Senior Member
Join Date: Apr 2005
Location: Wherever
Posts: 16,701
Mentioned: 79 Post(s)
Tagged: 0 Thread(s)
Quoted: 525 Post(s)
Likes: 0
I still have the first pair of shorts I bought. All wool with genuine chamois. Made by an outfit called Black Bottoms or something like that.
I tried them on a couple of years ago. Once I removed them, after regaining consciousness from blacking out caused by the lack of oxygen, back in the box they went. For another forty years. Or until one of us fails.
01-25-15, 03:07 AM
My apologies for the typos in the body of the story as well as the title. It was written sometime in the early morning as I could not sleep. Pastorbob, you really are a pastor! Had no clue, just figured the handle was tongue in cheek. I spent quite a bit of time with the Navigators when away from the ship in Alameda. Changed my life for sure. In 1982 I won a bike in a raffle that the Tour de SanFranciso put on and gave it to them. Gotta wonder what happened to it.

I had a pair of Protogs my younger brother gave me when he discovered spandex shorts. Woolies. Comfy indeed, and did not stink like the synthetic stuff today. I wore a hole through the thighs and had to put them up for retirement. I recall the white script Protogs label being half on and half off and would flap lightly in the breeze. Black Bottoms is still around.
01-25-15, 09:29 AM
necessary illusions
I also still have my first pair. I put them on for a ride, recently, and subsequently swore off padded shorts for good.
__________________
one general tip for when the exact hub cone is not readily available. discovered that the curvature of the bearing surface on the shimano 600 was a pretty good "skeleton key" for many applications. it would sometimes require a small change in ball size to make everything come out correctly.
Thread
Thread Starter
Forum
Replies
Last Post
General Cycling Discussion
Posting Rules
You may not post new threads
You may not post replies
You may not post attachments
You may not edit your posts
---
HTML code is Off
---