Garlatti completely original
01-12-21, 06:37 PM
Garlatti completely original
---
Can't post photo as I'm still a newbie but this bike is beautiful....what do you folks think. White with blue highlights all Campy
01-13-21, 03:46 PM
Senior Member
Join Date: May 2008
Location: Fredericksburg, Va
Posts: 7,620
Bikes: '73 Bottecchia Giro d'Italia, '83 Colnago Superissimo, '84 Trek 610, '84 Trek 760, '88 Pinarello Veneto, '88 De Rosa Pro, '90 De Rosa Professional, '91 Pinarello Montello, '94 Burley Duet, 97 Specialized RockHopper, 2010 Langster, Tern Link D8
Mentioned: 54 Post(s)
Tagged: 0 Thread(s)
Quoted: 928 Post(s)
@
brixxton
- post pics in your gallery in your profile. Other can post here.
__________________
Bikes don't stand alone. They are two tired.
01-14-21, 12:51 AM
mycocyclist
Join Date: Dec 2016
Location: Silver Lake, Wilmington, NC
Posts: 1,470
Bikes: 1964 Schwinn Paramount P-13 DeLuxe, 1964 Schwinn Sport Super Sport, 1972 Falcon San Remo, 1974 Maserati MT-1, 1974 Raleigh International, 1984 Lotus Odyssey, 198? Rossin Ghibli, 1990 LeMond Le Vanquer (sic), 1991 Specialized Allez Transition Pro, +
Mentioned: 16 Post(s)
Tagged: 0 Thread(s)
Quoted: 603 Post(s)
Here's a
link
to OP's Album, though I'm not able to find an example in it matching the description.
01-14-21, 11:43 PM
This is what I am wondering about. It seems completely original and I'm not going to do anything but clean it
I love the chrome
And the old campagnolo set, is it a diamond in the rough ..oh and what's an OP?
01-15-21, 02:52 AM
The Garlatti is a cool looking bike, but it is at the lower end of quality spectrum (typical Garlatti). It may still be a really fun bike though, just not super valuable. $50 would not be a low ball offer. The white/blue color scheme reminds me of a Raleigh Grand Sports.
__________________
I.C.
01-15-21, 08:04 AM
Senior Member
Join Date: Apr 2007
Location: Thunder Bay, Ontario, Canada - burrrrr!
Posts: 10,458
Bikes: 1958 Rabeneick 120D, 1968 Legnano Gran Premio, 196? Torpado Professional, 2000 Marinoni Piuma
Mentioned: 179 Post(s)
Tagged: 0 Thread(s)
Quoted: 986 Post(s)
Likes: 0
As I understand it, "OP" is the Bike Forums acronym for Original Post. I could be wrong.
As for your bike, it is entry level or close to it, however; it is the exact sort of bike that I like to restore these days. At the moment, I am completing the paint/art for this sixties something Torpado. My Torpado and your Garletti are very similar in vintage and quality level (the OP's Garletti is more desirable in my opinion and, were it my size, I would not hesitate to pay a couple of hundred dollars CND).
If it is any help, I recently got this old Torpado, a gift from a friend). My intention is to keep it as original as I can, group set wise, but made the decision to paint the bike and add correct art. Anyway, "as found" for free...
So far, without the cost of tires, the bike has set me back close to $150.00 CND, to get it looking like this (that includes the cost of the art)...
My best guess is that, with tires, new brake blocks and cables, the end cost will be around $250.00 CND for me. I should add that I do all of my own work, which keeps my build (and maintenance) cost down a lot. And, if the OP's bike is all polished chrome, under that paint, he or she just might decide to go all chrome like I did on my last Torpado...
Well, not quite all chrome. Some contrast adds to the visual quality, in my opinion...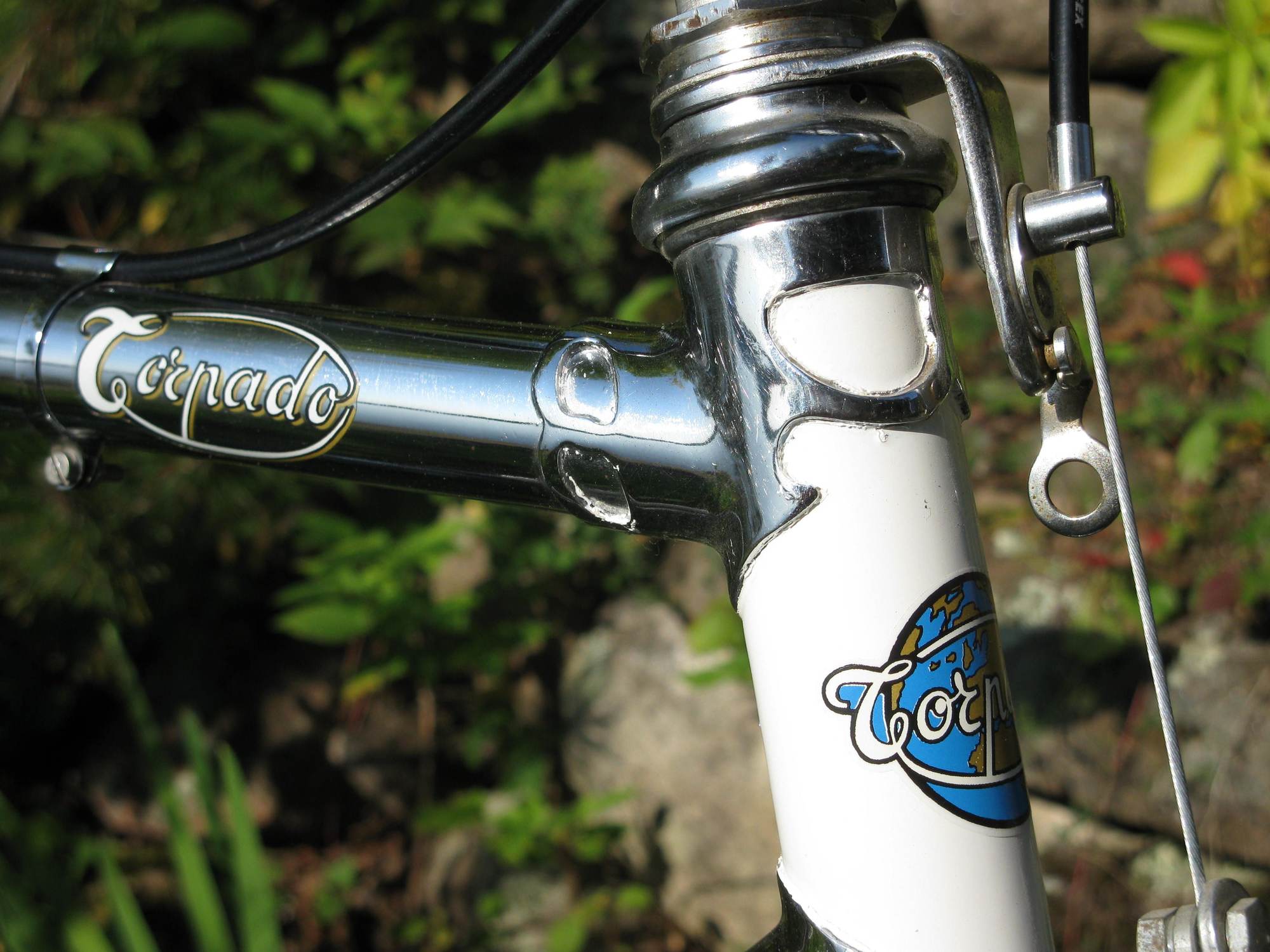 __________________
"98% of the bikes I buy are projects".
01-15-21, 12:35 PM
Interesting the proclamation on "full Campy" the derailleurs and shift levers are... but at the neat bottom end.
Chain is probably too long. (I hope so anyway)
Has Campagnolo second tier rear dropouts, could be worse.
Should ride reasonably well.
I would transform it into a wider tire "all road" bike. move to 700c wheels. go to a compact double up front.
01-15-21, 02:01 PM
Cheers much
---
I'd been looking at a lot of different blogs/forums and am very glad I decided to hook up with you folks . I value everybody's opinion
That said the Torpedo looks fantastic
My Garlatti obviously needs sorting mechanically and under the paint is chrome that revives with a tin foil rub
As has been said it's mine to do with as I want. Cost me $20 and it was a horrible mess. The charm of the old Campagnolo front derailleur got me.
The jury is out
01-16-21, 11:01 PM
Do not attempt to "toe-in" the brakes by bending the caliper arms- they will fracture.

I think a decent project
evaporust the rusted bits like the shift lever clamp-
those may be Campagnolo shift cables- the tell is a C in a diamond on the lead end.
02-28-21, 11:00 PM
Senior Member
Join Date: Feb 2013
Location: Alta California
Posts: 10,276
Mentioned: 292 Post(s)
Tagged: 1 Thread(s)
Quoted: 2368 Post(s)
-----
hello brixxton & congratulations on your find
this example hails from the 1972-73 time
we had a distributor in California who purchased one batch of these at this time and then the Garlatti marque disappeared from our shores yet once again
have never known who it was; may have been someone such as Merry Sales Co. of your town or Euro-Asia, then in Carpinteria
we had had a decade long drought on the marque prior to this; the previous batch, again a one-time thing, was ~1963; here is an example -
had two from this batch come through me workshop; one interesting feature of them is that they came through with the not often encountered Campag Sportman hubs
---
frame -
constructed with Agrati lug pattern "ROMA" nr. 000.8020/U
upper head lug is item nr. 000.8024
lower head lug is item nr. 000.8023
seat lug is item nr. 023.8059
bottom bracket shell is item nr. 005.8057
fork ends are item nr. 000.8010
back in post nr. 7 it was mentioned that dropouts are "Campagnolo second tier" - they are not. they are Agrati. the difference between the Campag Sport ends set and this model of Agrati is that the Campag is marked with the Campag name and the Agrati is unmarked.
---
fittings -
headset is Agrati item nr. 000.4001
bottom bracket set is Agrati item nr. 113.3021
chainset is Agrati
pedals are Sheffield (Noli-Cattaneo) model Corsa Nr. 655
brakeset is Universal model Sport (not model 61)
stem & bar set is 3TTT Tourist
hubs Gnutti large flange one-piece alloy 36 hole
rims Maccari steel 36 hole 27"
gear ensemble Campag Valentino
drive chain and gear block Regina
---
usage tip -
one feature of these frames is a quite low bottom bracket shell
this design gives the bicycle what is called a nice "roll" - nothing to do with friction
the downside is that one cannot pedal through hard cornering without risking a pedal strike
likewise the design is not the ideal for "gravel grinding" or "cow trailing"
---
accessory -
the cycle's REG (Rampinelli) water bottle holder nr. 164 is of value; even in this poor condition
---
hope that you enjoy lots of good fun with the machine!
-----
03-01-21, 08:07 PM
That's a nice bike that will clean up well and ride nicely. My first road bike was a similarly equipped Bianchi Rekord '72; the main differences include a Nervar cotter crankset and stamped steel rear drop outs that required a derailleur hanger. In 1979 I road it for 3 weeks throughout France and Switzerland, including over the cols du Telegraphe, Iseran, Galibier, Lauteret, etc.