"Noseless" seat recommendations?
08-30-18, 04:55 PM
Junior Member
Join Date: Apr 2013
Posts: 12
Mentioned: 0 Post(s)
Tagged: 0 Thread(s)
Quoted: 0 Post(s)
"Noseless" seat recommendations?
---
I mostly ride recumbent bikes these days and consider my days of spending long hours on an upright bike to be, gladly, in my past. I do keep an upright bike around for running short errands though. And using what they call a "noseless saddle" on it has made riding that upright bike a lot more tolerable in the crotch area (though sore wrists, shoulders, and neck still plague me on rides of more than 3 or 4 miles).

The best such noseless saddle I've used is the Easyseat. I do have another such saddle made by Ergo that, while not as comfortable as the Easyseat, is nonetheless a lot more comfortable than a traditional bike saddle. My Ergo saddle, which has some sort of silicon gel pads inside, has started leaking silicon, so it's now due for replacement. So I'd like to ask for recommendations for a replacement saddle.

Have any others users tried noseless saddles and liked them? If so, what brand/model do you prefer? I see there's a cheapo Schwinn noseless saddle now: anyone tried that one? I've also looked at some saddles that, while closer to traditional "horned" saddle designs, claim to be designed to alleviate the pressure that can cause numbness in the groin--usually by having the horn sort of split down the middle. Any comments on those sorts of saddles, anyone? They look to be rather pricey so I'm not sure I'd spring for one of those.

In closing, I would just mention that I'm trying to economize since, as I mentioned, this is for a bike I use just for short errands. I rarely ride it more than about 15 miles and more often it's 5-10. So spending a lot on a saddle upgrade on this rig isn't really justified. Input will be appreciated.
---
Last edited by wayover13; 08-30-18 at

05:37 PM

.
11-23-18, 08:13 PM
Member
Join Date: May 2012
Location: Winnipeg, MB
Posts: 41
Bikes: Modern steel frame road bike
Mentioned: 1 Post(s)
Tagged: 0 Thread(s)
Quoted: 11 Post(s)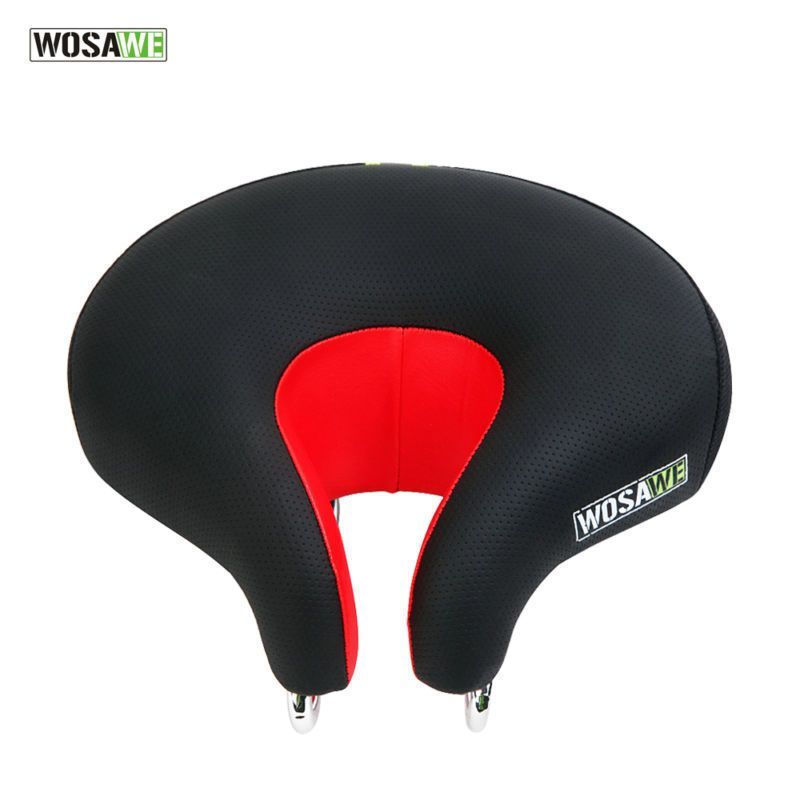 I ride a FWD/MBB bike, also keep my old road bike. I saw a new kind of noseless saddle at Taipei Bicycle Show. It's called "All-wing Saddle". You can google to see what it looks like.
Some one mounted this saddle on his touring bike to ride from White Horse to Tutoyatuk this past summer. He told me: "Gone are the pains in the eggs".
It's available in ebay and Amazon for $135. I think it's expensive as compared to my recumbent carbon fiber seat made in Poland.
I just bought the one shown above from ebay. It fits me pretty good and don't feel any pressure at the sensitive area. The size is very small, may not fit women with big hip.
---
Last edited by violini; 12-17-18 at

02:55 PM

. Reason: correct mistake
11-24-18, 05:15 PM
just another gosling
Join Date: Feb 2007
Location: Everett, WA
Posts: 14,577
Bikes: CoMo Speedster 2003, Trek 5200, CAAD 9, Fred 2004
Mentioned: 80 Post(s)
Tagged: 0 Thread(s)
Quoted: 1608 Post(s)
Most-liked saddle I've seen in use is the Easyseat. Wrist, shoulders, and neck issues are all pretty easily fixable.
__________________
Results matter
11-30-18, 04:15 PM
coprolite
Join Date: Jun 2010
Location: NW,Oregon Coast
Posts: 39,578
Bikes: 8
Mentioned: 165 Post(s)
Tagged: 0 Thread(s)
Quoted: 6175 Post(s)
decades ago I saw a guy who had one he leaned against more than sat upon..
Posting Rules
You may not post new threads
You may not post replies
You may not post attachments
You may not edit your posts
---
HTML code is Off
---