Ingenious? Idiotic Brake Cable Routing on 1972 Paramount
10-24-19, 08:52 PM
Who's worshiping them? I can hardly give one away if it has down tube shifters. The only appreciation comes from the C&V Forums here, best I can tell....
10-25-19, 11:57 AM
Senior Member
Join Date: Nov 2013
Location: Just moved...1 km S. Now above the "Bike Path" ( River Road, Piermont, NY)
Posts: 1,266
Bikes: Old Bikes: '74 Ron Cooper, Crashed and repaired '76, restored 2015!!! need restoration '74 Witcomb track bike (bought in '75) '75 Carlsbad Masi, bought in '76 New bikes: 84-85 Gios torino "Professional" '76 Olmo Competition C Titiano
Mentioned: 13 Post(s)
Tagged: 0 Thread(s)
Quoted: 266 Post(s)
Worshipping not the same as owning.
I get very appreciative comments regularly, when I stop near other cyclists. I like to see model T's and A's (keep it clean) on the road. I don't want to own one...
Eric
10-25-19, 02:46 PM
Senior Member
I think the drilled post is an elegant solution for center-pull and canti brakes. I wouldn't use it for side-pull brakes.
10-25-19, 02:48 PM
Senior Member
10-25-19, 03:32 PM
www.theheadbadge.com
Join Date: Sep 2005
Location: Southern Florida
Posts: 24,228
Bikes: http://www.theheadbadge.com
Mentioned: 47 Post(s)
Tagged: 0 Thread(s)
Quoted: 625 Post(s)
There are at least three bikes in Jan Heine's Golden Age of Handbuilt Bicycles that run the centerpull rear cable out the back of the frame, in the same manner as the two custom frames above. The difference is that the bike in Jan's book do not have post extensions, so the seatpost is either cut extremely short, or they're drilled similar to the Paramount, just below the clamp.

It's fair enough to say that the Paramount is a hack job in execution, but the premise isn't necessarily idiotic on a post that is strong enough to accommodate it. Had it been executed better by some renowned French constructeur, we'd be oohing and aahing at the novelty like a bunch of stupid sheep.

In fact, the execution on the Gran Sport is surprisingly well done, but drilling that particular factory aluminum post is a bad idea. They are pretty thin and lousy to begin with, let alone with a hole through them.

-Kurt
10-25-19, 04:06 PM
Senior Member
Thinking about alumimum vs steel.
One can buy stem kits.
https://www.cycle-frames.com/bicycle...ing/STEM-LUGS/
https://www.framebuilding.com/NEWPARTSPAGES/lugs.htm
(Bottom of page)
Yet, I don't think I've ever seen a seatpost kit.
The steel seatposts have almost completely fallen out of favor 50 years ago.
I am seeing this ITM post that might be interesting to work with. One could add a reinforcement, and finish it up nicely, well, if it wasn't chromed.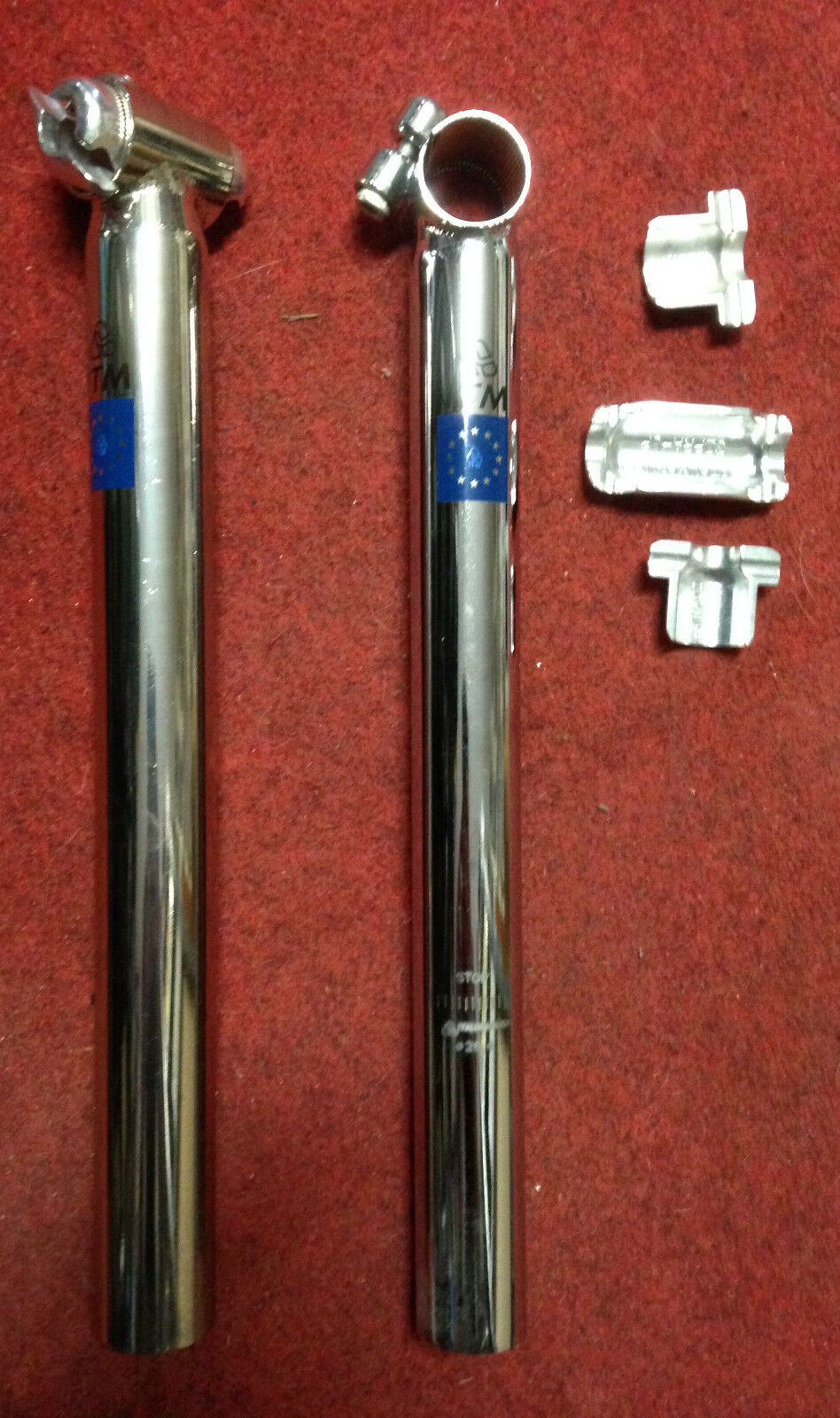 I do think that a good aluminum post like the Nuovo Record post has enough meat on it that it could be drilled without much risk. The posts are routinely machined to give them a SR look.
10-25-19, 07:49 PM
Senior Member
Join Date: Jun 2006
Posts: 13,614
Mentioned: 88 Post(s)
Tagged: 0 Thread(s)
Quoted: 1057 Post(s)
Likes: 0
Originally Posted by
Chombi1
Campy had a holder accessory, anchored to seatpost clamp pinch bolts that lined up the rear brake cable, centered above their Delta rear brake calipers. If only they invented it earlier, these drill happy owners from earlier times, might have thought twice about drilling their nice seatposts....
That I was not aware of.
i might have seen it, but did not associate it as Campagnolo, I just thought it was a guide with the cable housing end drilled out.
10-28-19, 12:03 PM
Senior Member
How at risk we were without the internet...
10-28-19, 01:19 PM
#39
10-29-19, 02:58 PM
Senior Member
Join Date: Jun 2019
Posts: 140
Mentioned: 3 Post(s)
Tagged: 0 Thread(s)
Quoted: 50 Post(s)
Likes: 0
50 Years Ago this was the norm.
At most universities, your Social Security Number was also your Student ID number.
I had my Social Security Number printed on my Checks, along with my address and phone number from back then, all through the seventies and probably at least until the mid-eighties.
This labelling of everything that a College Student might have of value, was the norm at that time. Universities encouraged everyone to label or engrave their SOCIAL SECURITY NUMBER on their bicycles, stereos, tennis raquets, guitars, amplifiers, motorcycle helmets, hotcombs, hairdryers, hot rollers, lava lamps, calculators-once that simple Texas Instruments model hit the market in 1972...................................You get the picture. Interestingly enough, you might find more Soc Sec Numbers on ancient 8-TRACKS from the 1969-1974 era, because many students had Rubber Stamps made with their name and Student Number (SOC SEC Number).
If those 8 tracks still exist, you can bet that the ink stamp is still on it. Those things were built to fail, as the loop design of a 8track self destructs over time, although one can re-splice them and re-pad them, and re-wind the tape pack so it is no longer jammed. If you're at least over 60, you know what I'm talking about because you likely had 8track in your car, or as a portable player back in the day between '68 and '76.
Somewhere exists a 1970 Gibson SG with my soc sec number, in that classic red similar to the one on Ya-Yas album cover. Someone stole it, and a KAPA bass guitar, and a brand new Yamaha Fg-170 acoustic.
Yes, that SOC SEC No. marking was done by college students back in the day. Universities wanted you to mark your items in this way. Yes, it helped identify RECOVERED STOLEN, or "Borrowed" goods because most folks didn't bother to record the serial numbers of their bicycles, guitars, stereos, etc. Most people today still don't.
Back in the day, some universities would loan you those scratcher-Engraver drill like things so you could identify your stuff.
I know it sounds weird today, but heck no one thought about it, a soc sec number wasn't the key to the motherload because no body had computers, 97% of all businesses had no computers then, and accounting was done by hand. Heck, that TI (texas instruments) calculator that came out in '72 could only basically add subtract, multiply and divide, and other simple functions. Nobody remembers slide rules. Telephones in the hall, common area and not wired in the dorm rooms.
It cost about $4 a minute for the long distance call(I'm not exaggerating much..) based on what it cost to call home or your sweety at another university in another state/city. The Soc Sec Number is how the professors posted the grades back in the day...........you'd look at a list usually taped on their door with everybody's soc sec numbers, but no names, and the grade.........................so you'd look until you recognized your soc sec number and saw the grade............
They didn't ask your permission to do it that way. It was just how it was. I am told by others who were college students much later, more than twelve years after I had graduated, that there was a change to that policy such that the professors had to get the approval of the entire class if they were to post grades in this manner.
So yeah that xxx-xx-xxxx (Nine Digit Number) is someone's social security number. Nobody cared back in the day. You could easily get another identity back in the day, and most did it only to get into bars/clubs. It was very common for a younger sister or a younger brother to get a second Drivers Licence in their home state in the name of their older sibling. You only had to go to the DMV and say you were your sister or brother or whomever, and present legitimate documentation to support this. You did have to vaguely resemble your sister, brother or other relative or friend. YOU WOULD SIMPLY SAY THAT YOU LOST YOUR LICENSE AT THE LAKE OR WHEREVER... If you had the old paper temporary license, that in those days was issued immediately and then you'd get the laminated license with the polaroid photo about three to four weeks later in the mail,,,,,,,,,,,,,,,,,,Well, if you're sister still had that old paper temporary from when she renewed her license, you assuming you were female and looked something like your sister....eye color, weight, and could write---forge something that looked just remotely even like her signature..........................................(A) The first thing that you had to do was: Using her old temporary paper license, GO TO CAMPUS AT THE UNIVERSITY AND TELL THEM THAT YOU'D LOST YOUR LICENSE AND STUDENT ID AT THE LAKE OVER THE WEEKEND AND THAT YOU'D NEED A REPLACEMENT STUDENT ID. Bingo, five minutes later, they do the Polaroid with you holding the name plate with the letters of your name and the school year beneath your chin.......they laminate it after you sign it..........................................Bingo, Bingo Bingo............Now Off to the DMV because you now have a legitimate photo id saying you're Karen Brantley , even though you are Julie Brantley who is four years younger and still in high school.
Julie now shows up at the DMV with the University ID that she got in Karen's name. Julie has the old temporary paper license that Karen was issued. The signatures look close enough, the eye color is the same as on the paper temporary, and the mailing address is the same.........Bing Bong bingo.......Julie pays the $1 replacement license fee........signs Karen's name and stands for the photo......she gets a temporary paper license that is good for 45 days as the laminated license will arrive in the mail within a month. That is how it was done in the old days. The DMV in those days did not have the photos on a computer system such that they could pull them up. They would have that capability in later years. The University did not, at best they might have a duplicate polaroid photo stapled to paperwork in your student file. Yes, all this was very illegal but many of us did this. The statute of limitations ran out more than forty years ago and there is no record that likely could be found since there were no computer records. Yes, you could have (or your sibling) could have ended up in hot water if you'd been intoxicated and in a wreck and presented the wrong ID........ young dumb and stupid but having a blast and by the standards of the day, fairly tame and sane!