Alternate drop bar mitt installation?
04-10-19, 06:46 AM
Senior Member
Join Date: Jul 2008
Location: 25 miles northwest of Boston
Posts: 22,687
Bikes: Bottecchia Sprint, GT Timberline 29r
Mentioned: 85 Post(s)
Tagged: 0 Thread(s)
Quoted: 2963 Post(s)
Alternate drop bar mitt installation?
---
I was in "the city" last week, Somervile, MA to be more precise, & I got to see some urban bike commuters. Since it was still chilly there were several drop bar mitts around. What caught my eye tho, was a guy who had his installed in a novel way. He sped by so I couldn't closely examine his install. Others flew by but they all looked set up like mine normally look. The mitts were installed in such a way as to fully expose the lower portion of the drop bar. He was still protected on the hoods. Maybe he just scrunched them up more?
how I use mine
but his exposed the lower portion. I don't remember if I saw the brake lever or not but I did see a large portion of the lower bar including the curved part. It almost looked like a different product altogether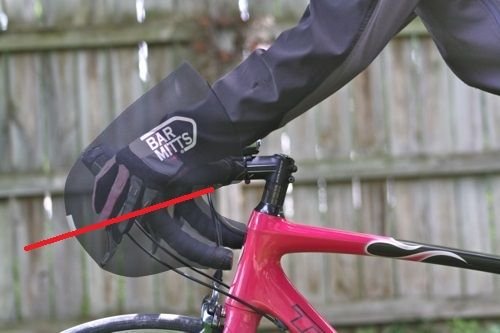 is anyone using there's in that manner? if so, wutz the trick?
---
Last edited by rumrunn6; 04-10-19 at

06:50 AM

.
04-12-19, 02:09 PM
Senior Member
Join Date: Jan 2014
Location: Waltham Ma
Posts: 990
Bikes: 2018 Seven Redsky XX, 2017 Trek Boon 7, 2016 Soma Smoothie, 2014 Trek 520, 2006 Gary Fisher Montare
Mentioned: 13 Post(s)
Tagged: 0 Thread(s)
Quoted: 281 Post(s)
Likes: 0
Not me. I used mine approx 12-15 times in total this past winter. I just stayed on the hoods.
04-14-19, 09:50 AM
Pedalin' Erry Day
Join Date: Jun 2011
Location: Colorado Springs
Posts: 943
Mentioned: 14 Post(s)
Tagged: 0 Thread(s)
Quoted: 477 Post(s)
Likes: 0
I can see and access a large portion of the drops on my bars with bar mitts on, but there's no trick involved, they're just older handlebars with a longer and deeper shape than the modern compact bars in your picture. As Ghazmh says, if it's cold enough to need the bar mitts I almost never use the exposed parts of the bar anyways... the pogies also block access to the brake levers from the drops so there's that issue too.
__________________
Reach me faster by
email
.
04-14-19, 11:21 AM
I mount my Bar Mitts with several inches of the drops showing. But I rarely use the drops, except to reach the bar-end shifters if the bike has them
__________________
Keeping Seattle's bike shops in business since 1978