It's raining Trek 970's
06-24-20, 11:28 AM
Senior Member
Join Date: Feb 2016
Location: SE Wisconsin
Posts: 745
Bikes: Lemond '01 Maillot Jaune, Lemond '02 Victoire, Lemond '03 Poprad, '79 AcerMex Windsor Carrera Professional(purchased new), '06 Bianchi Volpe, '88 GT Tequesta(purchased new), '01 Bianchi Grizzly, 1993 Trek 970 drop bar conversion
Mentioned: 5 Post(s)
Tagged: 0 Thread(s)
Quoted: 278 Post(s)
Likes: 0
It's raining Trek 970's
---
I did a Trek 750 (1991) drop bar conversion last year for my GF and I've been considering one for myself...been researching the topic for a while. There's a number of bikes I've considered as candidates (most are rather rare finds in the wild, let alone my size and in great condition) and have narrowed it down lately to a Trek 970 or 990. From what I could figure out(?), the 970 has braze-ons for racks both front and rear, while the 990 does not. The 990 had fairly limited production years vs the 970. As luck would finally have it..I came across two 970's locally (like 5 miles away..though I'd travel a couple hundred for the right bike or have them shipped from anywhere) within two days last week.
#1) Trek 970, 1990, 18 inch:
The first was a 1990 in very good condition, all original components, size 18 inch(one step smaller than my usual size). The tires/tubes were as rotten as I've ever seen and it was said to be sitting in a basement for 15+ years. The tires/tubes were falling apart, I'd guess they were original too. With rotten tires and picking it up at 9:45 at night..standing in the rain..outside..with only a glaring spotlight to see it..I couldn't ride it. Price was appropriate though, and the parts-condition looked good, soo, I grabbed it. This bike had some RD tuning issues and a frozen barrel adjuster. Shifters were gummed up. The frame has some scuffs and nicks, but, in general, the bike is in great condition with no rust. I cured all the mechanical issues and it now rides/runs great. The downside..it'll be too small for me in a drop bar conversion. I picked it up thinking a size smaller frame (with a 56.4cm top tube..my size in a road bike) might be the right size. The actual frame size of an 18 inch 1990 model 970 is 17.4 inches..so it's already on the small side. Reach and stack (measured twice) is 435mm & 472mm, respectively. I'll be selling this one.
An interesting note..the frame of this 1990 model 970 looks to be exactly the same as my GF's 1991 Trek 750. The 970 has a beefier fork, the the main frame looks to be the same.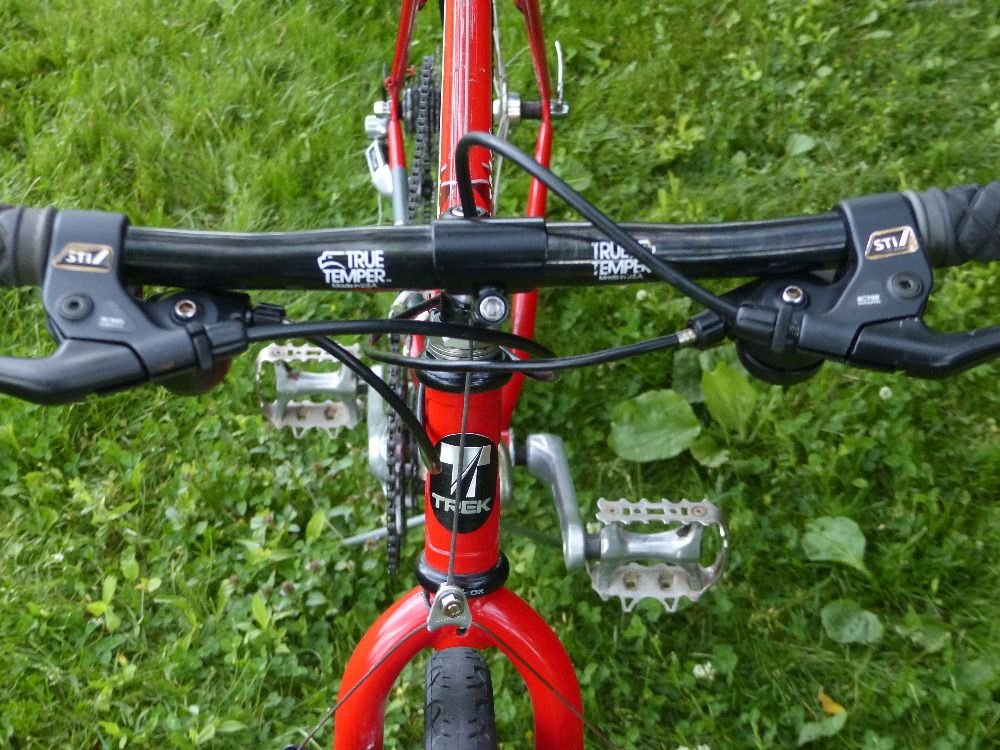 06-24-20, 11:56 AM
Senior Member
Join Date: Feb 2016
Location: SE Wisconsin
Posts: 745
Bikes: Lemond '01 Maillot Jaune, Lemond '02 Victoire, Lemond '03 Poprad, '79 AcerMex Windsor Carrera Professional(purchased new), '06 Bianchi Volpe, '88 GT Tequesta(purchased new), '01 Bianchi Grizzly, 1993 Trek 970 drop bar conversion
Mentioned: 5 Post(s)
Tagged: 0 Thread(s)
Quoted: 278 Post(s)
Likes: 0
#2) Trek 970, 1993, 20 inch:
The morning after I picked up the first one, above, a second 970 appears on CL. Again, about 5 miles away. This one is a 20 inch frame and appears to be in better condition. It was posted on CL 20 hours before I saw it. I figured there was somewhere between zero and no chance that it would still be available..but..nothing ventured, nothing gained. Price was a fair bit higher than the first.though still in the typical range for this bike/age. The guy said.."come on down and look at it"..I was stunned. The guy who owned it had a kid that worked in a local bike shop. This one was in near showroom condition. I picked it up..fast.. Mechanically it needed nothing. I spent 10 minutes cleaning it and giving it a quick lube..runs perfect. The frame on a 20 inch, 1993 model 970 is still slightly small at 19.4 inches. The reach & stack (measured twice as I expected larger differences vs the 18 inch version) is 430mm & 513mm, respectively. Yep..the reach is the same on both the 18 & 20 inch versions. The ETT on this 1993 version is 57.4cm (one cm longer than the 18 inch frame). The 1993 version has a heftier seat cluster and a threadless headset..nice. Nicer OX tubing, though still lugged..nice again. Both the 1990 and 1993 version have freehub..didn't expect that on the 1990 version, both 13-30 7 speed cassettes. The 1993 verson has Shimano XT derailleurs and trigger shifters..nicer. The 1990 version is all Deore DX. The 1993 version has Matrix Titan wheels..at least it does now..very nice. It also came with a $130 Blackburn rack and Ergon grips
This one I'm going to keep and hopefully do a drop bar conversion on. The goal is a gravely/touring bike. The geometry of the 970 is nearly identical to that of the Trek 520 touring bike(which is nearly identical to the Trek 750 Multitrack..lots of bikes out of the same design) Hopefully folks here can give me some advice as as I'm probably going to need it.
I'd like to use brifters on the conversion. As I understand it, the RD is fully compatible with road shifters. The front isn't technically compatible with road shifters, but it often can be due to the narrow range of the triple on the 970 (46/36/26). Any advice what to run here would be greatly appreciated.
06-24-20, 12:09 PM
Senior Member
Join Date: Jan 2015
Location: Los Angeles
Posts: 2,242
Bikes: 81 Medici, 84 Centurion Turbo, 2011 Richard Sachs, '90 Alpina Team, 85 TREK 620, 2011 Milwaukee Road
Mentioned: 23 Post(s)
Tagged: 0 Thread(s)
Quoted: 840 Post(s)
Very cool. I'm stoked for you. I ran 9 speed indexed on a 91 XT bike but I needed to swap the freehub. I was looking for a 970 when I found my Alpina Team.
__________________
I don't do: disks, tubeless, e-shifting, or bead head nymphs.