Dahon Mariner D8 Fixing Steering
12-10-18, 08:12 PM
Senior Member
Join Date: Jun 2017
Posts: 52
Mentioned: 0 Post(s)
Tagged: 0 Thread(s)
Quoted: 17 Post(s)
Liked 0 Times in 0 Posts
Dahon Mariner D8 Fixing Steering
---
I tried to tighten handle post on my Dahon Mariner D8 tonight and I think something went wrong and that little square white plastic thing that is placed between the hinge bolt and a lever popped out. I tried to put it back on a bolt, by pushing hinge back but it doesn't go back enough to fit that part back in. I'm not sure how it even popped out.
Does anyone know what to do with it? I guess I need to undo screws of the hinge and put that white thing back on that way. But there are springs inside the hinge and I'm not sure if it's even safe to undo these screws and if I can put it all back myself after it.
Here are the photos: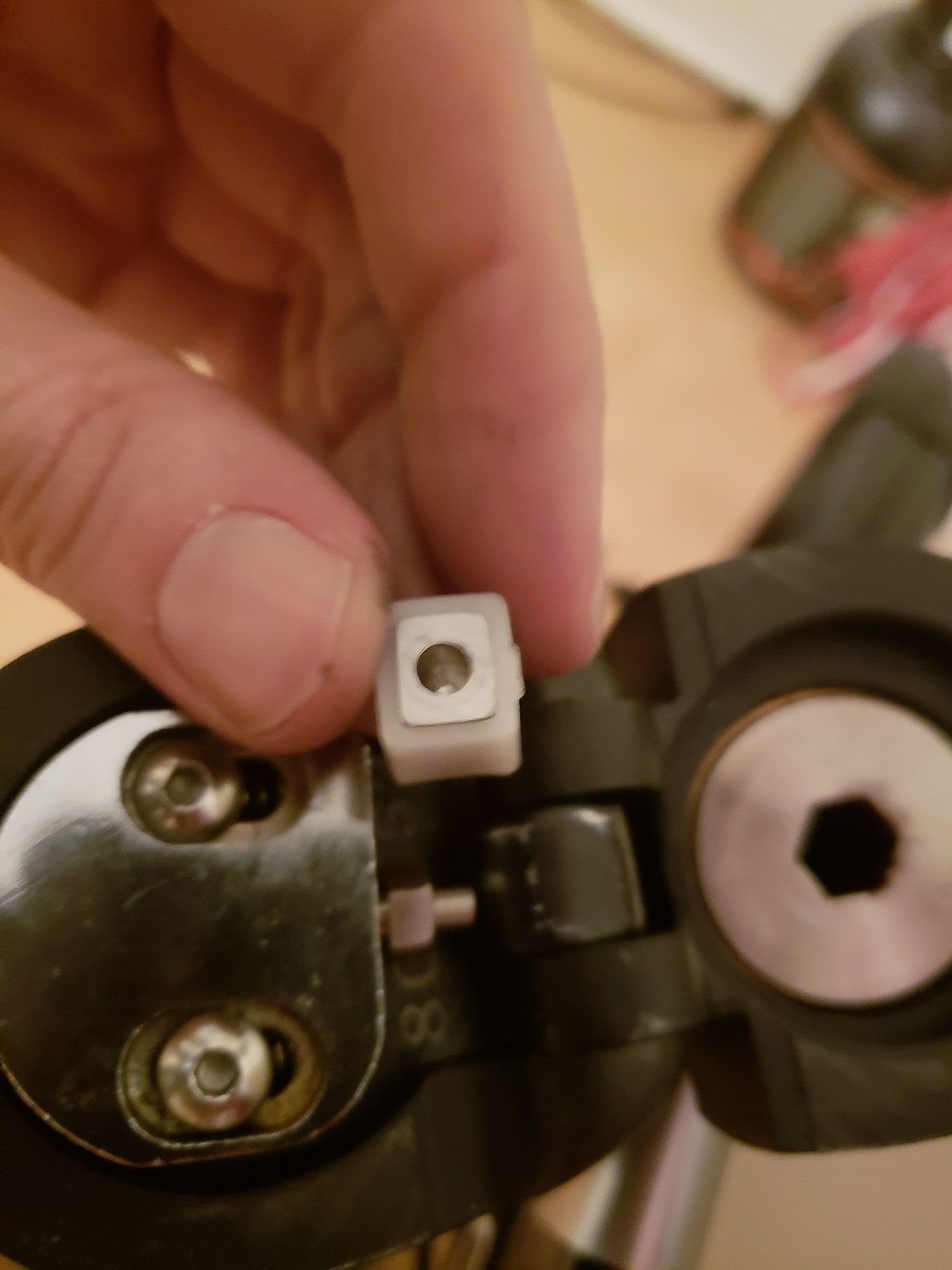 12-10-18, 09:24 PM
Senior Member
Join Date: Jun 2017
Posts: 52
Mentioned: 0 Post(s)
Tagged: 0 Thread(s)
Quoted: 17 Post(s)
Liked 0 Times in 0 Posts
Alright, I took this metal hinge out by undoing the screws. Springs popped out as I expected, but I managed to turn it a bit and slide this plastic piece back in. Then I tucked springs back next to the bolts. So apparently when I tightened both bolts too much they pressed against this plastic part too much and prevented a hinge from moving when folding. This applied too much pressure on a plastic part and it popped off. Loosening the bolts properly and balancing them out so they are both tight but loose enought to allow hinge movement resulted in a plastic piece staying in place and folding mechanism working as it should. I'm happy I didn't break anything, hopefully nothing cracks when I commute 20 miles tomorrow haha.
12-11-18, 06:02 AM
Freewheel Medic
Thanks for sharing your experience. I'm certain it will help other Dahon and other folding bike owners in the future. Hopefully your commute is uneventful!
__________________
Bob
Dreaming about riding in NH's summertime!
Visit my websites:
FreeWheelSpa.com
or
pastorbobnlnh.com
Thread
Thread Starter
Forum
Replies
Last Post
Posting Rules
You may not post new threads
You may not post replies
You may not post attachments
You may not edit your posts
---
HTML code is Off
---