Salsa Vaya Front Rack Question
03-31-18, 10:17 PM
Senior Member
Join Date: Jan 2014
Location: Phoenix, AZ
Posts: 325
Bikes: 2015 Trek District 8, 2017 Salsa Vaya Claris
Mentioned: 2 Post(s)
Tagged: 0 Thread(s)
Quoted: 73 Post(s)
Likes: 0
Salsa Vaya Front Rack Question
---
I'm trying to build up my Vaya to do some mild self-supported tours, and I'm leaning toward the Tubus Ergo front rack (already chose the Logo Evo for the rear rack, added heel clearance is kinda a thing with my big effin feet) but I have heard adapters may be needed for the ergo to fit my fork properly. Anyone have any experience mounting a tubus front rack to a Vaya that could confirm/dispute this?

Mine has the chromoly fork if that makes a difference
2017 Vaya Claris, brown
04-01-18, 02:21 PM
coprolite
Join Date: Jun 2010
Location: NW,Oregon Coast
Posts: 41,928
Bikes: 8
Mentioned: 188 Post(s)
Tagged: 0 Thread(s)
Quoted: 6836 Post(s)
Likes: 0
Not to the Vaya but, as a good mechanic, I help at a Bike shop in the summer..
the Tubus Ergo is limited to stock at retailers , no longer being made .. as of now.. Tara and Duo are what they will make from now on..
I am at the western end of many bike tours and see a lot of Surly and Salsa bikes,
and the Tara is on many of those bikes people buy, to ride tours.. across the US ..
I was often given the job of packing their bikes to ship back across the country,
and the Tara has an advantage there in how it folds nearly flat ..
Your fork has the mid blade braze on , so should have no problem..
---
Last edited by fietsbob; 04-01-18 at

02:27 PM

.
06-06-19, 11:12 PM
Senior Member
Join Date: Jan 2014
Location: Phoenix, AZ
Posts: 325
Bikes: 2015 Trek District 8, 2017 Salsa Vaya Claris
Mentioned: 2 Post(s)
Tagged: 0 Thread(s)
Quoted: 73 Post(s)
Likes: 0
Not to bring up a dead thread, but I'm bringing it back up. Haven't gotten a front rack on my vaya yet, and i see a new front rack on the tubus site, with a platform set above the wheel. Anyone else seeing this? Really interested.
06-07-19, 07:28 AM
Senior Member
Join Date: Jan 2010
Posts: 22,470
Mentioned: 163 Post(s)
Tagged: 1 Thread(s)
Quoted: 8604 Post(s)
Yes. It's a take on the Nitto Big front rack that Rivendell used to sell. I use one. Here is a photo of someone else's. The only photos of my bike are with panniers.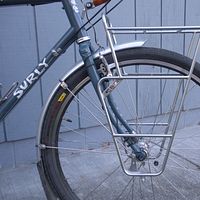 The Nitto rack has a larger platform. I have carried a large bundle of firewood on it numerous times. I use P-clamps for the upper attachment points. "Grew up" using a front platform rack from Robert Beckman Designs. When my racks were stolen (along with the bike they were attached to.) I went with Nitto Big from and rear because they were the production racks that most closely resembled my Beckman racks.
06-07-19, 10:58 AM
Senior Member
Join Date: Aug 2003
Location: Seattle
Posts: 168
Mentioned: 0 Post(s)
Tagged: 0 Thread(s)
Quoted: 26 Post(s)
Likes: 0
Liked 0 Times in 0 Posts
Wife has a Vaya and she has the Salsa DownUnder lowrider rack. It took a little finagling with spacers to get around the disc brake. Not a direct answer for your question, but front rack and bike applicable
06-07-19, 02:34 PM
-
Measure the width of your fork at widest section of legs and compare to Tubus's
dimensional drawing
to see if GE will fit your fork. Apparently GE will fit tires up to 50mm and a fork up to 152mm wide. You may have to jury-rig the middle (mid-fork) attachment but the fork eyelet and crown attachment should be relatively straightforward.
Surly still makes the very similar
front Nice Rack.
---
Last edited by seeker333; 06-07-19 at

04:26 PM

.
Thread
Thread Starter
Forum
Replies
Last Post
"The 33"-Road Bike Racing
Posting Rules
You may not post new threads
You may not post replies
You may not post attachments
You may not edit your posts
---
HTML code is Off
---