FS: Swift Industries Cascade Ozette Handlebar Bag - Large
07-25-19, 08:35 AM
FS: Swift Industries Cascade Ozette Handlebar Bag - Large
---
Large Swift Industries Cascade Ozette bag
Basically brand new, took it on two rides before I decided that I like my leather and canvas one more. Plus I only have one bike that will take a front bag, and if I get rid of this one then I won't be tempted to build a bike around a bag
It's a super nice bag, and this color appears to be now discontinued.
Lets do
$130 shipped
CONUS for BF members. I could probably do a bit less for local pickup. I know that the other Ozettes run over $200 so this might seem stupidly low. But I bought it brand new for about $160 plus shipping when they were clearing out their stock. Wouldn't feel right to try and extort all of you guys, especially when you can go on the Swift Industries website and see that they were selling them for that price, but are now just out of stock...
Decaleur holes are approximately 9.75" from bottom of bag, 8" apart. Made with a soldering iron so no frayed edges in the fabric.
From Swift Industries website:
"Large
Measurements: 11.75"h X 11"w X 7.5"d
Capacity: 15.5 L
Bag Weight: 1.8 lbs
Decaleur Attachment Height: 6.5"-11" from bottom of bag
Materials:
1000 Denier Cordura™
X-Pac™ liner
Cool Features:
Flat elastic interior organizing system (varies slightly according to size of bag)
Discretely flared flap for increased weather protection
Front pocket
Two rear pockets
Two flat side pockets
Side dee rings for optional shoulder strap
Four velcro straps on the bottom for additional stability"
Sorry for the not-great pictures, it was getting late. No pictures of the inside, but just look online. It's literally almost brand new. Only real evidence it has been ridden is the decaleur holes.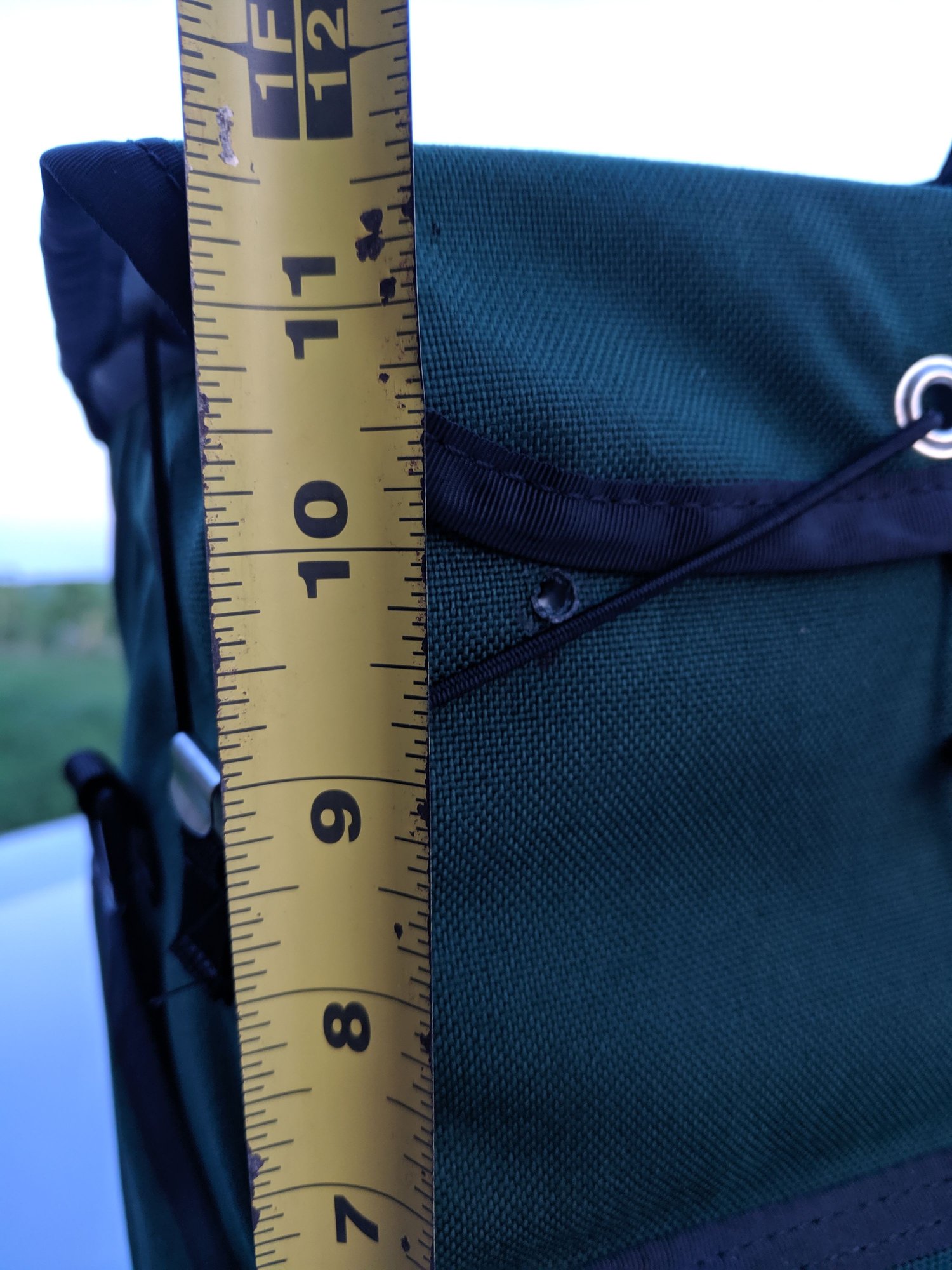 ---
Last edited by abshipp; 08-27-19 at

08:26 AM

. Reason: Price to $130
07-31-19, 06:06 AM
Such a great bag!!!

I have one and it's a favorite of mine.

glws
08-02-19, 06:09 AM
08-02-19, 08:59 AM
Velo Orange decaleur
with fender washers on the inside and outside of the bag to distribute the stress.
08-09-19, 08:01 AM
Friday bump and price drop!

Help me do something nice for my wife's birthday next week!
08-09-19, 08:29 AM
Sempiternal Newb
Join Date: Dec 2014
Location: Panama City, FL
Posts: 657
Bikes: '92 Trek 750, '85 Univega Gran Turismo, '95 Stumpjumper,
Mentioned: 49 Post(s)
Tagged: 0 Thread(s)
Quoted: 230 Post(s)
Likes: 0
I wish so bad that this was black! Good luck with the sale!
08-09-19, 02:07 PM


And I have a similar feeling that the reason that Swift was blowing them out of inventory a bit ago when I bought this is because it wasn't a very popular color.

Surely someone around here has a green bike that would fit this! Maybe a forest green Cannondale T1000?
08-11-19, 07:57 AM
Senior Member
i've been eyeballing this but they do not seem to offer that fabric anymore so getting a saddle bag to match might be really hard...
08-21-19, 04:14 PM
el bumpo

So nice and no need to languish on page two.

Again, I have one and it just went with me on my STP to Duluth trip.

Plenty of room for my Jetboil and a few other goodies.
08-23-19, 06:21 AM
Thanks for the bump, @
gomango
!
Still available! Still a great bag for a really low price!
08-27-19, 08:27 AM
Another price drop! $130 shipped!

This is an absolute steal for this bag!
09-14-19, 09:43 AM
I just noticed this hasn't sold.

I have one on my Weigle and transfer it to several bikes with Nitto racks including a MB-1, a BMC Monstercross and a Bilenky.

This is a bag that will last you for a very long time.

I use an Ortlieb bag cover for rainy days and it's a real champ.

My wife uses an Acorn and this is certainly its equal.

glws