Any examples of 70s race bike number cards?
01-22-19, 10:15 AM
Senior Member
Join Date: Nov 2015
Location: Lacey, WA
Posts: 1,391
Bikes: Stevenson Custom, Stevenson Custom Tandem, Nishiki Professional
Mentioned: 24 Post(s)
Tagged: 0 Thread(s)
Quoted: 285 Post(s)
Likes: 0
Any examples of 70s race bike number cards?
---
I have posted this in C&V without much luck, so I am hoping that as a race bike forum someone might know and/or have a picture of a race bike number card from the 70s. Were they made of plastic, paper?

Trying to find pictures of what race bike number cards used on bicycles raced in the 70s looked like and/or were made from. A description or picture would be great. I am trying to re-create one for a vintage late 70s race bike which has a hanger under the top tube near the head tube for that purpose.

My Thanks.
01-22-19, 11:09 AM
I have no idea. I've used number cards on my bike, though, in the last few years. Most of them were crappy paper, though a few were harder, smaller plastic, though thinner and lighter than a credit card.

Making one yourself would probably only require some plastic (like a plastic disposable plate), scissors, and a magic marker/paint.
01-22-19, 06:23 PM
¯\_(ツ)_/¯
Join Date: Jun 2008
Location: Redwood City, CA
Posts: 10,976
Bikes: aggressive agreement is what I ride.
Mentioned: 108 Post(s)
Tagged: 0 Thread(s)
Quoted: 967 Post(s)
Likes: 0
01-23-19, 02:55 PM
I googled Eddy Merckx, a 70's TdF winner...........this was in the Google image results: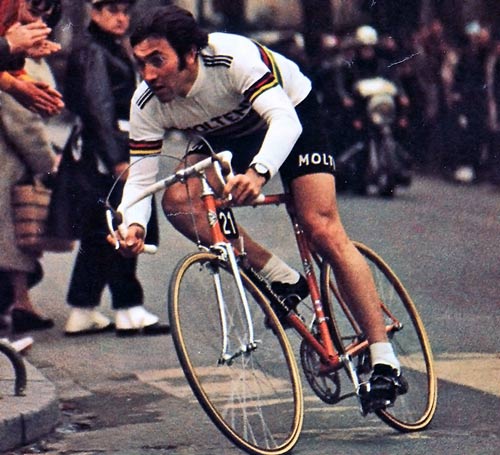 Thread
Thread Starter
Forum
Replies
Last Post
General Cycling Discussion
Posting Rules
You may not post new threads
You may not post replies
You may not post attachments
You may not edit your posts
---
HTML code is Off
---