Corona and the Future
05-03-20, 08:05 PM
The term "The New Normal" is meant to mess with your head in a fatalistic sense. It is up to the individual to set "the normal" for him or herself.
If you want to see an example of just how
easily
led people are, see
here
You make your own normal.
05-04-20, 12:19 AM
Senior Member
Originally Posted by
Trevtassie
It's an interesting argument you have there, but it forgets that although advertising is 40 x lobbying, that 1/40 is given to a lot less people.
As for not having to go back to work, that depends how well off you are. If you happen to work in meatpacking, your choices will soon be go back to work or starve. The Defence Production Act will force meat packers to open. Governors will remove unemployment insurance for those who aren't going to work because of a fear of Covid-19 and liability is being removed for employers. Catch Covid-19 at work because of sub-standard working conditions and you get nothing, stay at home because of sub-standard conditions and you get nothing...
Maybe you missed my original point, or maybe I didn't articulate it well. People with means will create demand for restaurants, bars, jobs that offer protection from infection. People in the middle will create the same demand, larger in volume and smaller in margin. Retailers and employers that meet those demands will have an advantage. All the talk of what the government will do is missing what people with choices will do, and how industry will respond to the demand those people create.
Personally I don't give a hoot what some politician says about it being safe, and I expect many people feel the same way. As an employee, I will look at what health safeguards and work-from-home options my employer puts in place for me, and seek employment elsewhere if it's not as good as the competition. As a manager, I will implore my upper management and HR to allow work-from-home for our engineering staff, both so I don't lose good people to the competition and to help me hire talented people. I hire smart people with in-demand skills; they have options. As someone who in the past dined out with extreme frequency, I'm not setting foot in a restaurant unless I am convinced they are minimizing the risk my family will be exposed to the virus.
Yes, people at the bottom are largely screwed, more now than ever.
05-04-20, 01:04 AM
C*pt*i* Obvious
05-04-20, 02:56 PM
Senior Member
Join Date: Jul 2008
Location: 25 miles northwest of Boston
Posts: 24,865
Bikes: Bottecchia Sprint, GT Timberline 29r
Mentioned: 103 Post(s)
Tagged: 0 Thread(s)
Quoted: 3719 Post(s)
Here's s bad sign - doctors in russia that complain, are mysteriously falling out of windows
05-04-20, 04:06 PM
Rumrunn6,
As an upside; they are not getting poked by an umbrella and having to wait three painful days to die. Smiles, MH
05-06-20, 10:37 PM
C*pt*i* Obvious
Department Mourns the Passing of Dr. Bing Liu
A researcher in the United States that was studying the coronavirus pandemic was shot and killed in an apparent murder-suicide at his home in Pennsylvania. 37-year-old research professor Bing Liu was shot multiple times in the middle of the day on Saturday, May 2nd, according to police. Liu was a University of Pittsburgh research assistant professor who just recently started working on a COVID-19 related project and was said to be on the brink of a major discovery in his quest to understand the virus.
Liu has been contributing to several scientific projects, and has been published in a number of high-profile scientific journals. Liu has also co-authored over 30 publications, including four so far in 2020, and an entire book. Most recently, he had three publications in Nature Chem Biol, three in Radiation Research, two in Scientific Reports, one in Science Signaling, one in International Journal of Molecular Sciences, and another one in Frontiers in Pharmacology.
In a statement to the press, the university called Mr. Liu an outstanding and prolific researcher and an excellent mentor, and noted that he was on the verge of making very significant findings in understanding the coronavirus.
"Bing was on the verge of making very significant findings toward understanding the cellular mechanisms that underlie SARS-CoV-2 infection and the cellular basis of the following complications. We will make an effort to complete what he started in an effort to pay homage to his scientific excellence,"
the statement read.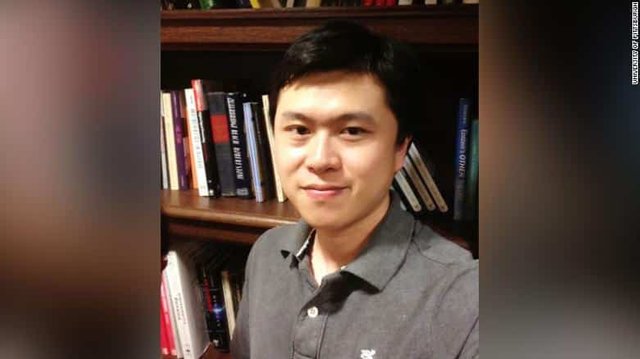 Photo: University of Pittsburgh
Ross police later identified the primary suspect as 46-year-old Hao Gu, who reportedly shot and killed himself in a parked car about 100 yards away from the murder. However, police have given no indication of what a possible motive could be. The only clues that have been revealed to the public thus far is that nothing was stolen from his home and there were no signs of forced entry. Ross police Sgt. Brian Kohlhepp also revealed that the men knew each other but did not give any further details about their relationship.
An autopsy found that Liu was shot multiple times, including in the head, neck, and torso, the passed away from the resulting injuries.
Dr. Liu received his BS and Ph.D. in Computer Science, at the National University of Singapore, under the supervision of Drs. P.S. Thiagarajan and David Hsu, and did his postdoctoral studies in the lab of Professor Dr. Edmund Clarke at Carnegie Mellon University. A few years ago he joined the Bahar lab at the University of Pittsburgh, as a Research Associate, and was recently promoted to a Research Assistant Professor position within the department.
Liu was married, but his wife was not home at the time of the murder. Neighbors say that the Liu family kept to themselves and Bing's co-workers said that he was a positive and well-liked person with no known enemies.
This is just one of many strange cases of coronavirus researchers losing their lives under mysterious circumstances, although in most cases, the deaths appear to have been caused by suicide. This is the first time that an obvious murder has taken place.
Could have been a lovers quarrel for all I know, its not a good sign for the future.
05-07-20, 08:08 AM
Senior Member
Join Date: May 2010
Location: Bristol, R. I.
Posts: 4,166
Bikes: Specialized Secteur, old Peugeot
Mentioned: 18 Post(s)
Tagged: 0 Thread(s)
Quoted: 579 Post(s)
Originally Posted by
Farekunu
I hope everything will be good soon. I worked from home during the quarantine and I liked it and now I am thinking of remote work. By the way, I suffer from insomnia this week, how can I deal with that? I've read a lot of reviews of
CBD
oil and wondering is it definitely so effective?
Try melatonin.