Tube flat ... Bike cleanup advice
06-25-22, 04:22 PM
Junior Member
Join Date: Aug 2015
Location: Mishawaka, Indiana
Posts: 85
Bikes: 2007 Specialized Hardrock XC
Mentioned: 0 Post(s)
Tagged: 0 Thread(s)
Quoted: 42 Post(s)
Likes: 0
Tube flat ... Bike cleanup advice
---
I don't post here often hope I'm posting in the right subforum.
​​​​
yesterday I lost all air in back tire while bike was locked up and I was in a store. Found a ride to get bike home. Put air in to see what would happen... Air went out as fast as I put it in. This morning took things apart and found gash in the tube same side as valve which I think is being caused by a kinda pointy spoke under the rubber strip. About a year ago I had flat due to the valve rubbing on the rim and I shifted the rubber but looks like that might be trouble again ugh! Anyway I'm broke and not sure the best route to fix.
I'm embarrassed to post pic because I have seriously neglected cleaning and maintenance while taking care of my grandma with dementia. Any tips on cleaning my my bike would be appreciated!
​​​​​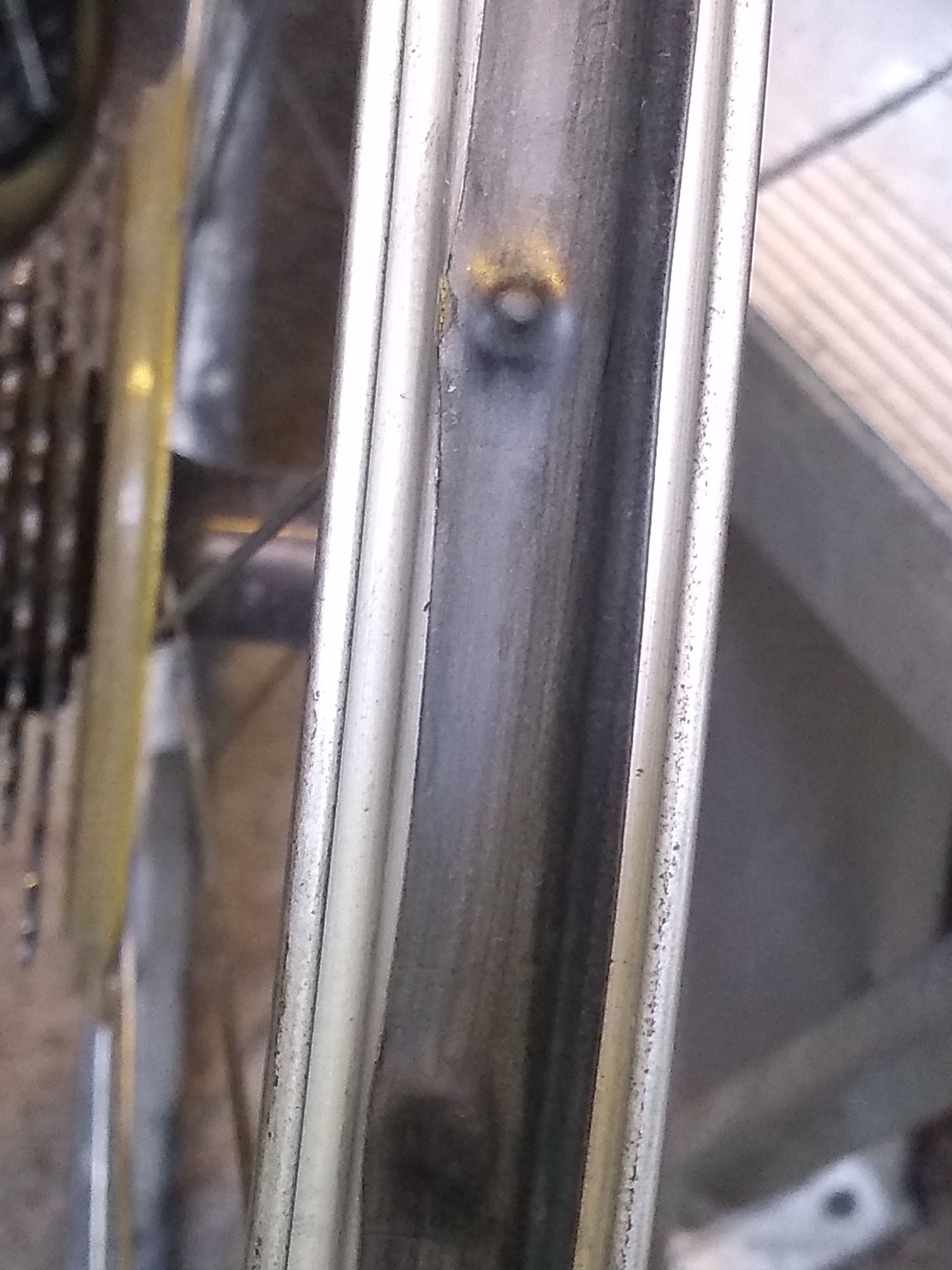 06-25-22, 05:37 PM
Groucho Marxist
Join Date: Sep 2020
Posts: 2,695
Mentioned: 13 Post(s)
Tagged: 0 Thread(s)
Quoted: 1230 Post(s)
I would replace the rubber rim strip with a high-quality cloth one (Velox) or whatever synthetic version your local bike shop sells. While you're there, see if the spoke is too long -- that looks like a single-wall rim, so spoke length is more critical than on a double-wall. But understand that tubes do have a lifespan; friction, heat, and age will eventually wear them out. What you've experienced isn't at all uncommon.
And your bike doesn't look half as dirty as what routinely shows up in the shop where I work.
06-25-22, 07:48 PM
Senior Member
Join Date: Jul 2013
Location: Nor-Cal
Posts: 3,709
Bikes: lots
Mentioned: 7 Post(s)
Tagged: 0 Thread(s)
Quoted: 1912 Post(s)
Wrong forum. Should be in 'bicycle mechanics' not GD.
06-25-22, 08:21 PM
A Roadie Forever
Join Date: Oct 2014
Location: Portland, OR
Posts: 10,998
Bikes: (2) ti TiCycles, 2007 w/ triple and 2011 fixed, 1979 Peter Mooney, ~1983 Trek 420 now fixed and ~1973 Raleigh Carlton Competition gravel grinder
Mentioned: 115 Post(s)
Tagged: 0 Thread(s)
Quoted: 3694 Post(s)
I'll second Rolla. My first choice on rim strips would be a Velox as wide as the widest part of your old one, ie the full width of the bottom channel of your rim. If that width is not available, my second choice would be a Velox that is too wide. I would then cut it to width with a very sharp knife, trim knife or single razor blade. Third choice would be the best synthetic strip your shop offers, again in that width. Your tube may be tired but that gash is entirely patch-able with a Rema patch kit.

Both the Velox tape and the Rema kits are the best if you want to do tings right and not spend a lot of money. When you use the glue in the kit, squeeze all the air out of the tube before recapping and keep cap off time to a minimum. Do that and the kit should last you years. (You can get new tubes and patches at many bike shops.) The Velox tape lasts nearly forever. You can pull it back 10 years from now to replace the next spoke and stick it back down.

While you have the rim strip off, look at each spoke nipple and spoke. Take a common shop file and file down any spokes that stick out. Run your finger around the rim looking for anything sharp. File or sand any issues smooth. Make notes on what you find. The other wheel might have the same issue but if cash is tight, it can wait.
06-25-22, 08:52 PM
Senior Member
Join Date: Sep 2014
Location: Siberia West .. aka Central Wisconsin... USA
Posts: 309
Bikes: 2000 Litespeed Appalachian, 1998 Litespeed BlueRidge.. 1977? Schwinn LeTour 12.2 'Rain Daze'
Mentioned: 1 Post(s)
Tagged: 0 Thread(s)
Quoted: 64 Post(s)
Likes: 0
Simple.. solution. Take your roll of gorilla tape.. mine around 2+ inch width.. and start a tear that covers well your rim bed. Make that trip around. I use smallish knife to cut v hole.. then a tapered punch to round the tape/flatten it there for easily stem insertion.

Stuff is tough.. observed it working fine even non tube 1x application.. which I am not recommending.. 1x non tubed.
06-26-22, 08:39 AM
Thread Killer
Join Date: Aug 2008
Location: Ann Arbor, MI
Posts: 11,674
Bikes: '15 Kinesis Racelight 4S, '76 Motebecane Gran Jubilée, '17 Dedacciai Gladiatore2, '12 Breezer Venturi, '09 Dahon Mariner, '12 Mercier Nano, '95 DeKerf Team SL, '19 Tern Rally, '21 Breezer Doppler Cafe+, '19 T-Lab X3
Mentioned: 25 Post(s)
Tagged: 0 Thread(s)
Quoted: 2174 Post(s)
It looks like it could be a fault of poorly made tube. The rubber rim strip appears to be doing the job of smoothing sharp edges, so I'd think that's largely ok. You could even just put a short strip of thick tape over the concerning spoke nipple, without bothering to tape the whole circumference. The main thing, though, would be to get a quality innertube to replace that one. You could effect a patch, but probably there are other spots like the one which already gave out, so I'd pony up the $8 premium for a tube over a patch kit, and hopefully buy some insurance against the same failure in the future. Grab a tube at a bike shop, if you can, rather than, say, a Walmart or Dick's or someplace like that. If you have a Specialized dealer, they'll have nice tubes.