2005 Lemond Zurich. Got it yesterday for $400. Need a heavy drivetrain cleaning
05-22-23, 09:46 AM
Fogey
2005 Lemond Zurich. Got it yesterday for $400. Need a heavy drivetrain cleaning
---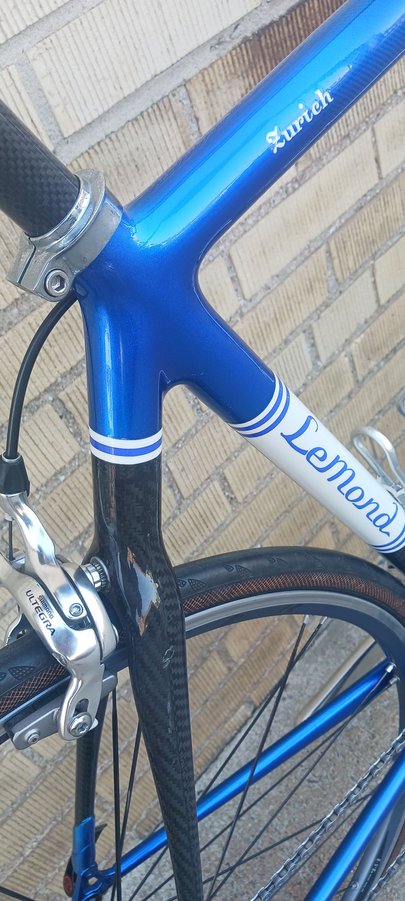 05-22-23, 11:04 AM
Expired Member
Join Date: Jun 2007
Location: TN
Posts: 11,318
Mentioned: 37 Post(s)
Tagged: 0 Thread(s)
Quoted: 3580 Post(s)
Nice color! Hope it fits you better than it did the PO.
05-22-23, 02:20 PM
Troublemaker
Join Date: Jan 2005
Location: Earth
Posts: 461
Bikes: Yes. The more the better.
Mentioned: 0 Post(s)
Tagged: 0 Thread(s)
Quoted: 46 Post(s)
I have a 2005 Lemond Versailles which is very similar to this. Its a great bike and I still ride it often.
05-28-23, 09:10 PM
Fogey
05-28-23, 11:06 PM
Steel is real
Join Date: Mar 2013
Location: Not far from Paris
Posts: 2,000
Bikes: 1992Giant Tourer,1992MeridaAlbon,1996Scapin,1998KonaKilaueua,1993Peugeot Prestige,1991RaleighTeamZ(to be upgraded),1998 Jamis Dragon,1992CTWallis(to be built),1998VettaTeam(to be built),1995Coppi(to be built),1993Grandis(to be built)
Mentioned: 2 Post(s)
Tagged: 0 Thread(s)
Quoted: 563 Post(s)
congrats on a nice bike
06-02-23, 05:58 AM
Senior Member
not bad for a $400 '05 LeMond
06-03-23, 10:31 AM
Behind EVERYone!!!
Join Date: Jan 2005
Location: Burlington ON, Canada
Posts: 6,008
Bikes: 2010 Specialized Tricross Comp 105 Double
Mentioned: 1 Post(s)
Tagged: 0 Thread(s)
Quoted: 40 Post(s)
That's a sweet bike. Beautiful colour. I dure miss my 2005 Tourmalet
__________________
"A good teacher protects his pupils from his own influence. "

― Bruce Lee