What do you make of this "Colnago"?
09-25-22, 04:38 PM
Senior Member
Join Date: Nov 2014
Location: Eugene, Oregon, USA
Posts: 27,318
Mentioned: 216 Post(s)
Tagged: 0 Thread(s)
Quoted: 17204 Post(s)
What do you make of this "Colnago"?
---
Browsing E-Bay and stumbled across this frame:
https://www.ebay.com/itm/265903216922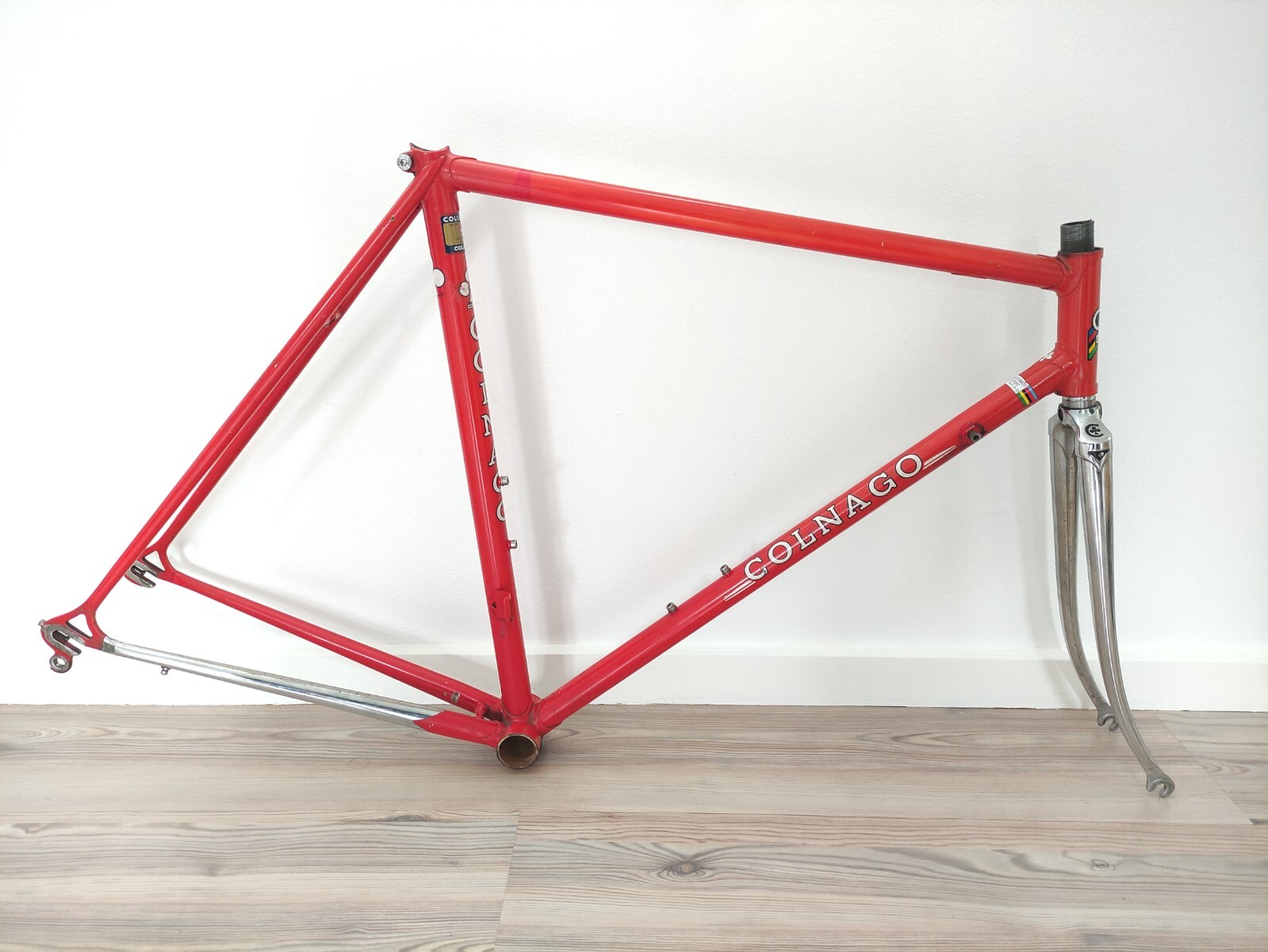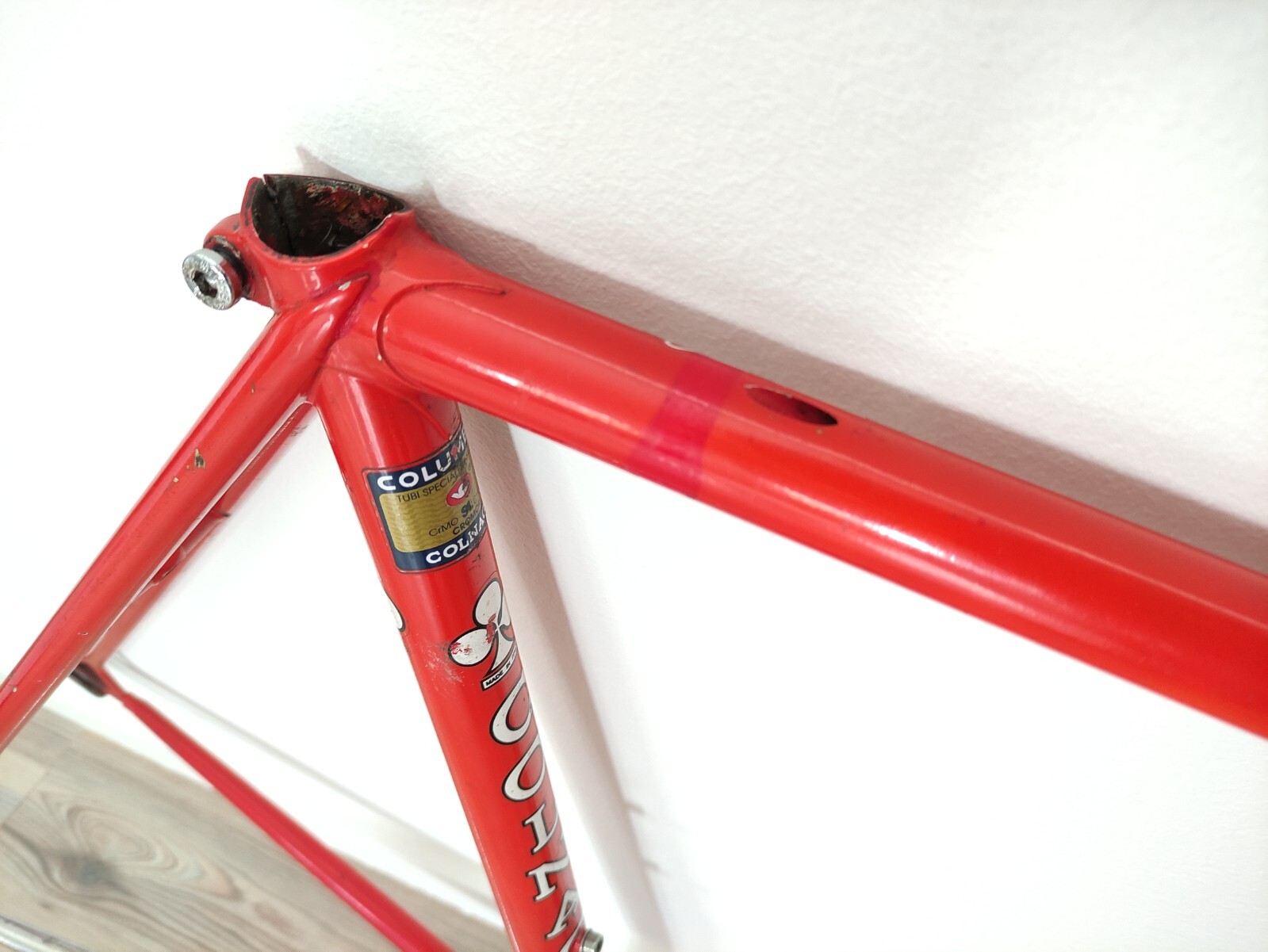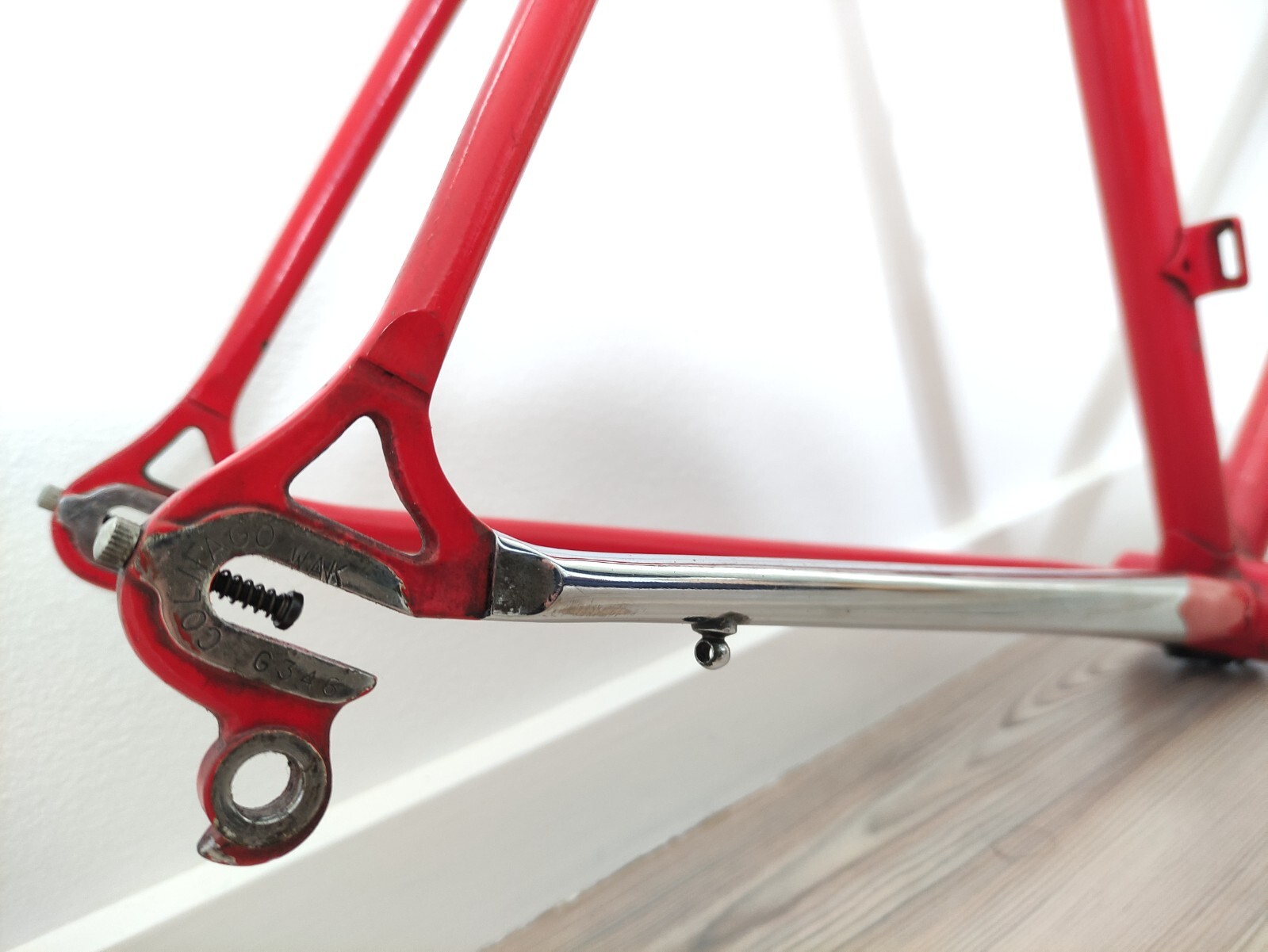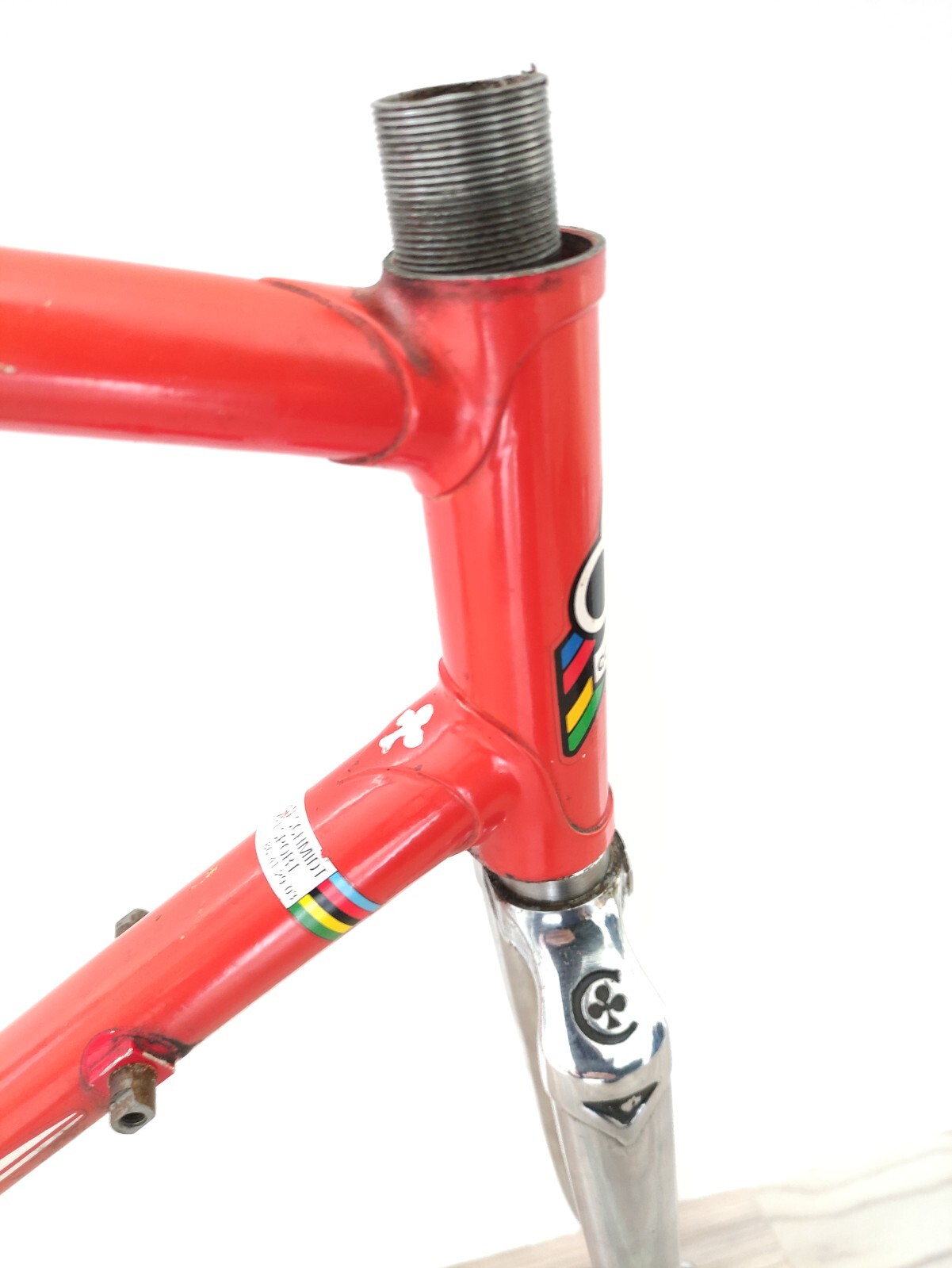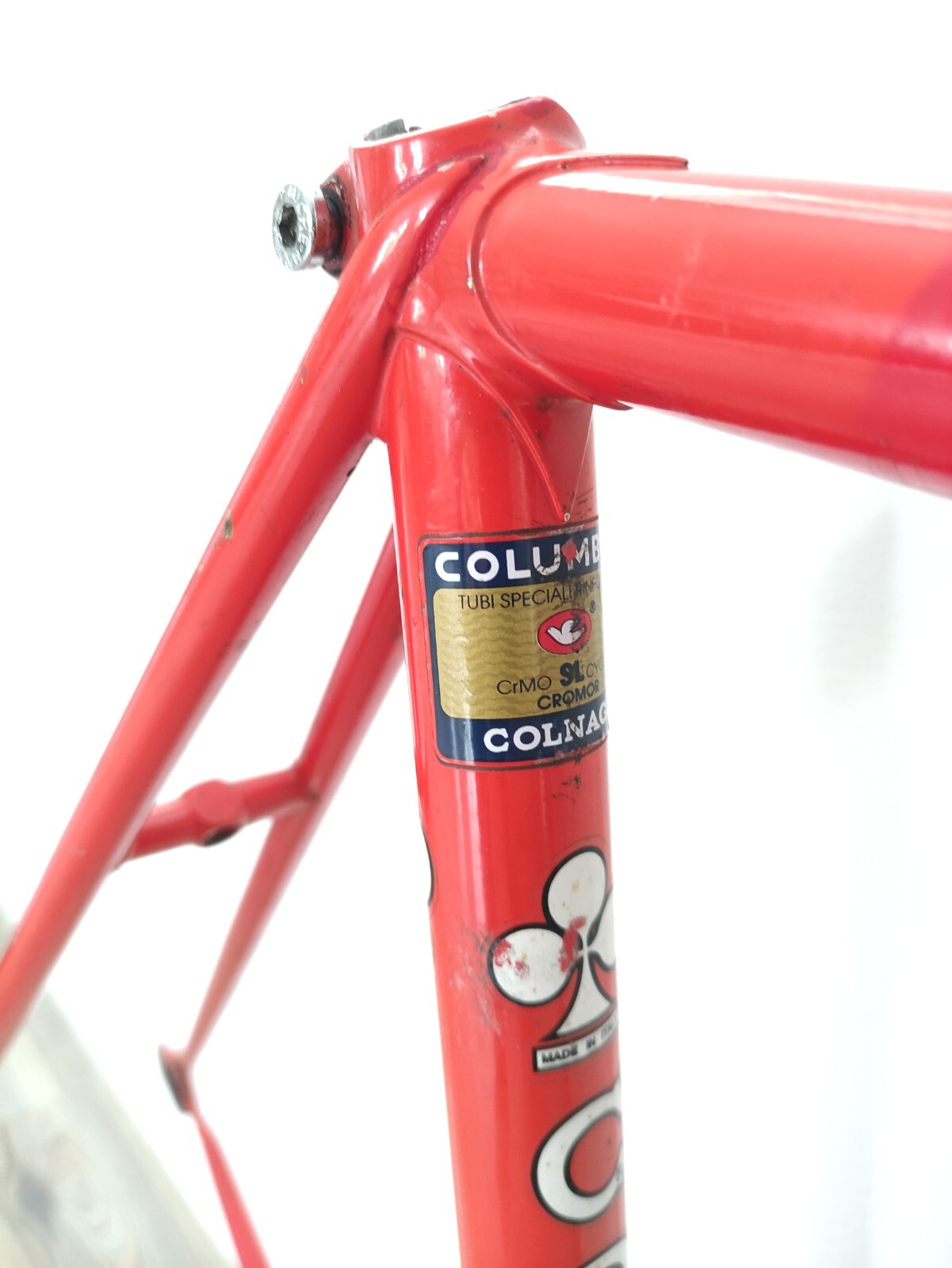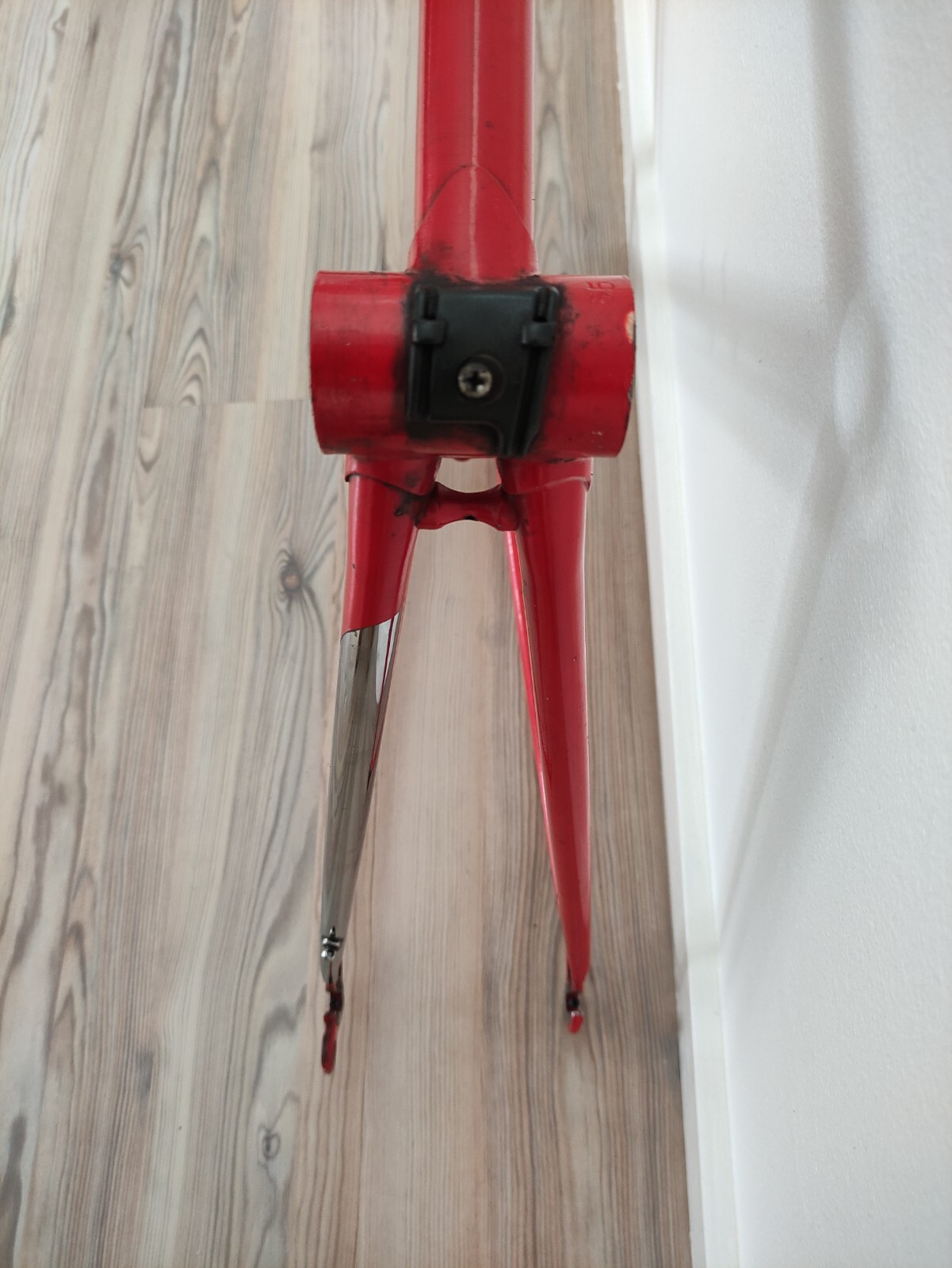 A couple more photos on the ad.
Ok, so the fork appears to be genuine Colnago.
The rear dropouts have "COLNAGO" stamped on them.
I can't tell, but it appears as if the clover on the downtube lug may be simply painted on, and not pantographed.
My main objection with this frame is that I've never seen seatstay end caps like that on a Colnago. To me it looks more British than Italian.
Comments?
09-25-22, 05:30 PM
Half way there
Join Date: Sep 2015
Location: North Carolina
Posts: 2,874
Bikes: Many, and the list changes frequently
Mentioned: 5 Post(s)
Tagged: 0 Thread(s)
Quoted: 958 Post(s)
I'll defer to ones more knowledgeable of later steel Colnagos, but I don't believe it is as described in the ad. I have never seen a steel Colnago that did not have seat stays tapered at each end and also have never seen them brazed into the lug like that. My knowledge of Colnagos past the mid 80s is scanty but I believe that they moved to straight fork blades very early in the 90s. So what year would this be? /
09-26-22, 06:27 AM
Senior Member
Join Date: Nov 2010
Posts: 3,353
Mentioned: 9 Post(s)
Tagged: 0 Thread(s)
Quoted: 537 Post(s)
I hesitate to add any comments but I'd be very suspicious. Not only are the seat stays not tapered, but the brazing doesn't look like what I'd expect from a true Colnago. There is something weird going on at that juncture also, with what appears to be some red paint covering up where the tubes join the lug. I'd pass, personally.
09-26-22, 09:04 AM
Senior Member
Join Date: Mar 2021
Location: SoCal
Posts: 1,499
Bikes: 1988 "Pinalized Rockma", 1983 Trek 720, 1984 Trek 510, Moulton custom touring, Schwinn Circuit, 1960's Paragon, 1980's Peugeot - City, US & Canyon Express & (6), 87 Sirrus
Mentioned: 12 Post(s)
Tagged: 0 Thread(s)
Quoted: 422 Post(s)
I am the farthest from an expert on this but it made me curious. I found plenty of examples of Colnagos with very similar drop outs and and stay style, where they meets the the drop outs.
This one has campy stamped dropouts: but stay details look the same?
https://cicli-berlinetta.com/product...red-road-bike/
What I did not see were any Colnagos where the stays partially wrapped when they met the seatpost like posted one does.
Assuming this is a Colnago, they did do that partial wrapping style at the seatpost at some point, also similar looking dropouts? might not be a match but does seem in the family?
https://buycycle.com/en/bike/columbus-slx
as I love to say here, cause it's true, "I only know enough to get my self I trouble" - might be worth looking this, but I may be way off base, someone far more knowledgeable will likely chime in with a more definitive answer - first few posters were leaning the other way, so I am probably wrong
09-26-22, 09:10 AM
Senior Member
Join Date: Oct 2010
Posts: 8,043
Mentioned: 67 Post(s)
Tagged: 0 Thread(s)
Quoted: 2823 Post(s)
Does the G346 on the rear DO mean anything?
09-26-22, 04:58 PM
Senior Member
Join Date: Oct 2011
Location: Fairplay Co
Posts: 8,992
Bikes: Current 79 Nishiki Custum Sport, Jeunet 620, notable previous bikes P.K. Ripper loop tail, Kawahara Laser Lite, Paramount Track full chrome, Raliegh Internatioanl, Motobecan Super Mirage. 59 Crown royak 3 speed
Mentioned: 23 Post(s)
Tagged: 1 Thread(s)
Quoted: 655 Post(s)
I would say pass also note the seller states in description only to Europe but has the frame listed on US Ebay. There is just a bunch of stuff that doesn't seem right on this one.
09-27-22, 10:49 PM
Classic, Vintage Mechanic
Join Date: Feb 2017
Location: Vancouver B.C. Canada
Posts: 117
Bikes: '65 Legnano Gran Primeo || '76 Holdsworth Mistral || '82 Specialized Stumpjumper
Mentioned: 0 Post(s)
Tagged: 0 Thread(s)
Quoted: 46 Post(s)
hummm, If I don't see a Colnago-Club cutout in the BB shell and lugs, and the name engraved on the seatstay tips, I assume it's a fake. The fork is genuine and while there is a cutout on the headtube lug, it appears to be either a decal or something crudely added later with a dremel.

Colnago understood the value of their frames and took pains to ensure they could not be easily counterfeited, even before counterfeit frames were a thing. Because they command a premium price, even a decent quality frame is worth the effort to sacrifice and fake, and Colnago's are one of the most commonly faked classics because the name is so well known.

I would not buy this as a genuine Colnago without seeing the original bill of sale and confirming it's non-standard features in a catalogue. Short of that, it's just a nice Italian (probably) frame with a Colnago fork.