2022 Century-A-Month Club
12-31-21, 09:15 AM
Senior Member
2022 Century-A-Month Club
---
The rules are simple, as always:
1. Ride a century every month.
2. Post a report here. Pictures are always nice if you have them.
Just to answer a few questions that may come up:
(a) A century is one 100-mile (160.9 km) bike ride completed in one 24-hour day. Feel free to be more strict on how you define a century, but here we'll try to include as many people as possible.
(b) A century is not necessarily a group ride. It is simply a 100-mile ride which may or may not be done with a group and/or part of an organized event.
2020 thread:
2021 Century A Month Club
01-14-22, 04:32 AM
Senior Member
In December I ordered a new phone, the recently released Google Pixel 6 Pro, to upgrade from my existing Pixel 3. It arrived after the New Year holidays and I had a chance to test it out on a bike ride in west Izu (
162 km on Strava
) on Monday (Coming of Age Day).
I drove to Mishima on Tomei expressway, with the Elephant NFE in the back of the car and already enjoyed Mt Fuji views on the way. One can not take that for granted, as Mt Fuji may be completely invisible even from Gotemba. But on this day the viewing conditions were ideal. December and January are really the best season for Izu Mt Fuji viewing.
After a quick stop at a 7-11 near the station and coin parking lot I followed the route of the Matsuzaki course of the AJ Nishi-Tokyo west Izu 200 km brevet that I completed in October, except that I skipped an inland excursion and headed for the coast directly.
I have had rides where I couldn't see Mt Fuji until noon and even days where I only saw it before sunset or not at all. Not on Monday - unless it was obscured by a mountain, Mt Fuji was always present and ready for another shot.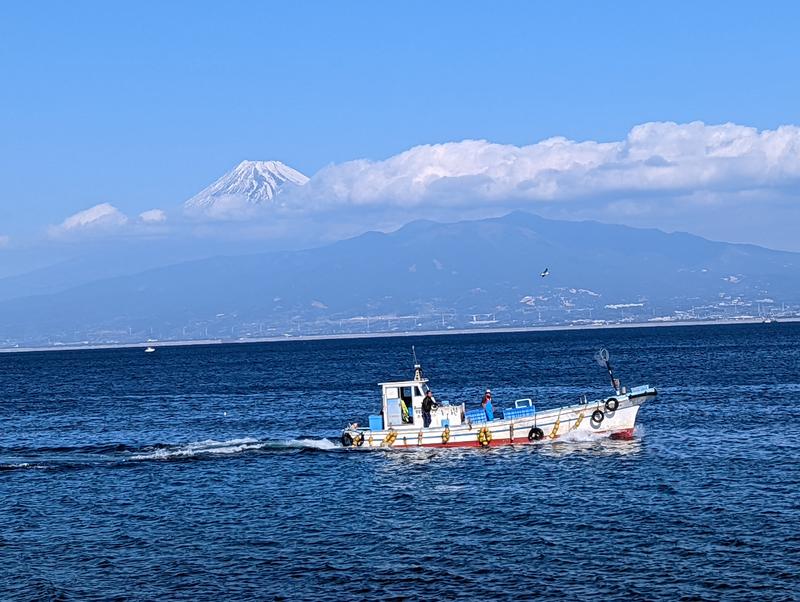 Near the NW corner at Osezaki I bought some local mikan at an unattended vending stall, 100 yen for a bag of mikan.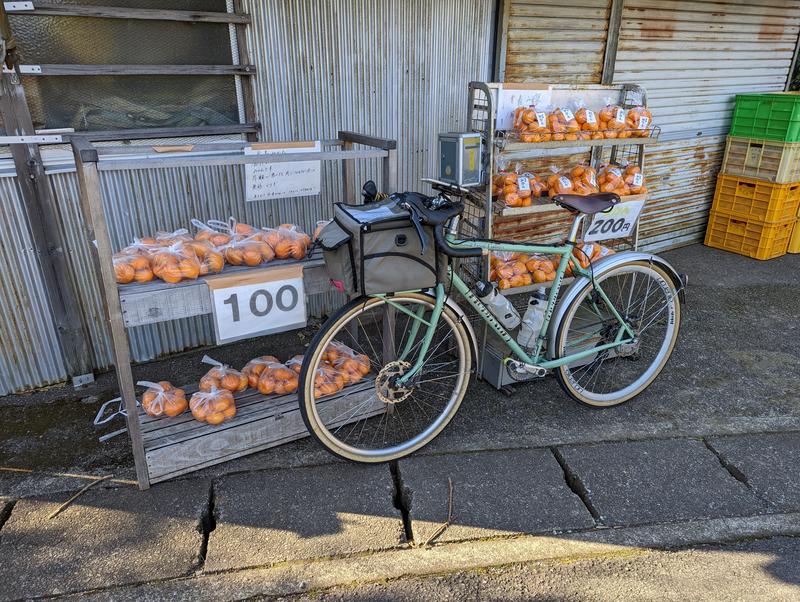 Then came two climbs, a longer one and a short one, with many views and then a descent to the fishing port of Heda.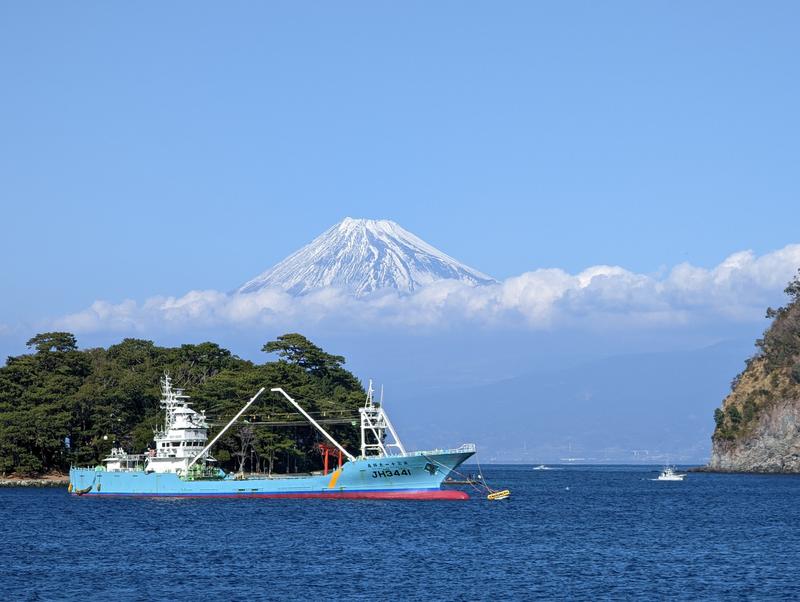 The biggest climb was between Heda and Toi, but even that stays below 300 m so there's never any worry about ice. In the morning it was around 8°C but during mid-day it rose to 12-14°C and I was riding in a t-shirt.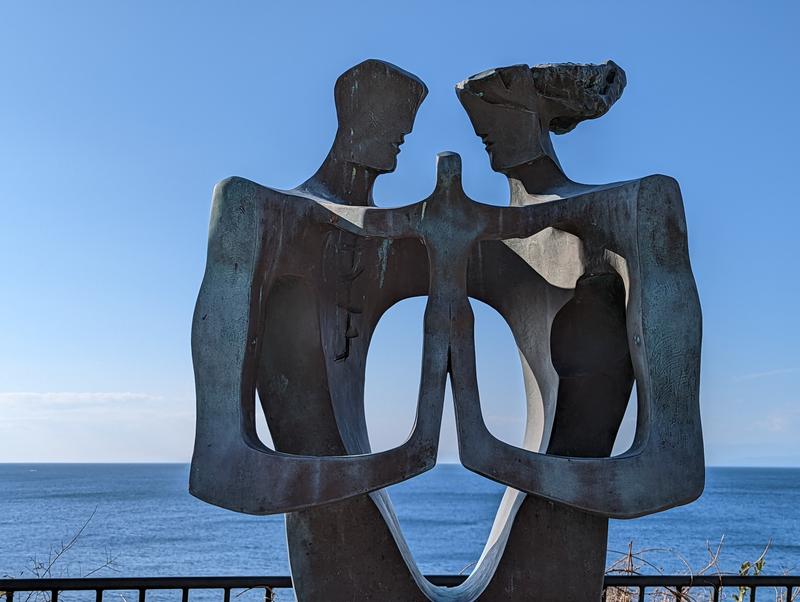 Even when I got to Toi there was very little traffic. It felt nothing like a long weekend, convenience store shelves remained well stocked and car parks almost empty.
Are people already staying away because of the 6th wave of Covid-19? It really seems so. I was wearing my KN95 mask whenever I went into a convenience store. I only use KN95 or KF94 now.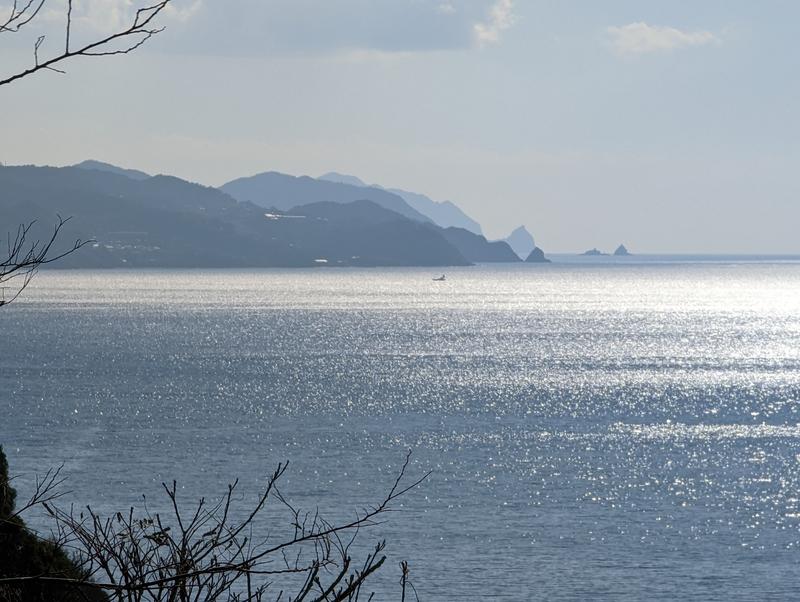 The views were fantastic. I stopped many many times and took over 200 pictures. The telephoto lens that differentiates the Pixel 6 Pro from the basic Pixel 6 was extremely useful for this kind of ride.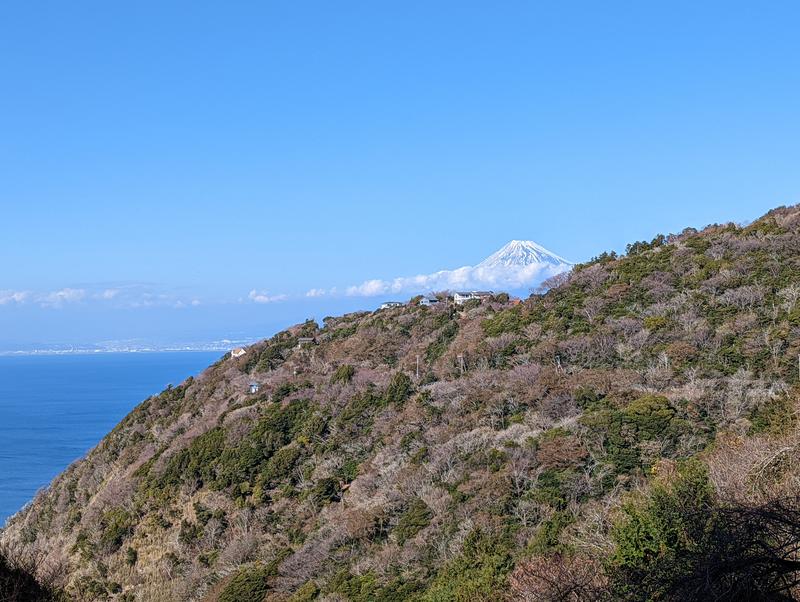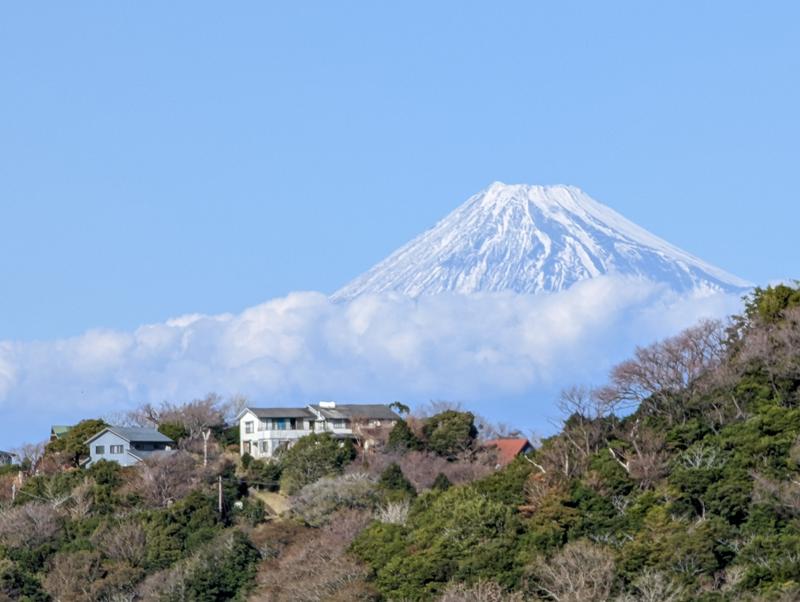 I was going very slowly, as I had done very little cycling in the past three weeks and definitely lost some endurance.
Near Toi I met a cyclist on a Miyata e-bike. He was touring from Chiba to Kansai, one section at a time (presumably taking it on the train to return and resume each time). The bike has a range of 100-130 km. A full charge takes about 4 hours. If used for climbing then the battery will handle more than 2,000 m of elevation gain in "eco" mode. The spec seems quite good.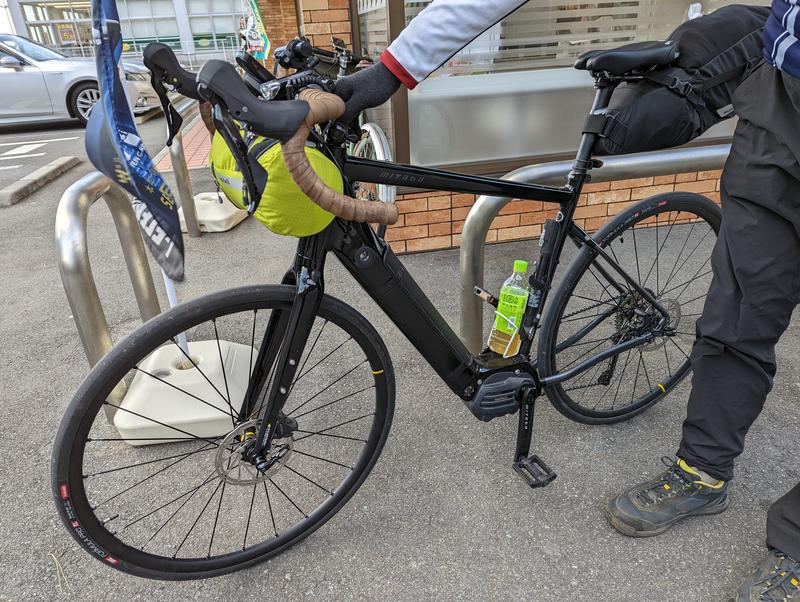 Instead of turning around at the ~80 km mark to get my Century distance (160.9 km) by the time I got back, I turned around sooner so I would get back to Heda around sunset because there were some views there that I wanted to get in that evening light.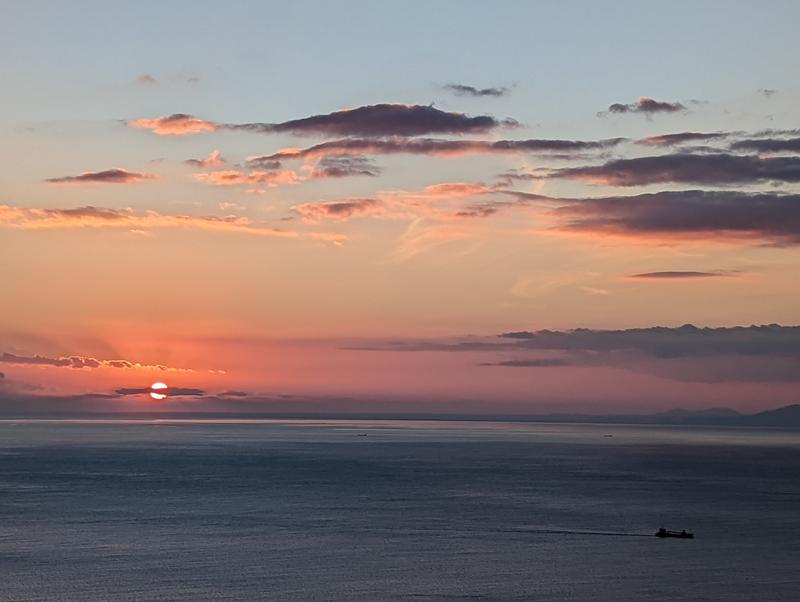 I timed it perfectly and descended into Heda as the daylight faded. From here it got rather cold and I layered up again.
When I was only 20 km from Mishima, I still needed 60 km for my minimum distance so I headed up the Kano river to Shuzenji, following the earlier part of the brevet course that I had skipped.
It was around 23:00 when I got back to the car. I had to take a half hour nap at a Tomei service area to safely complete the drive back to Tokyo.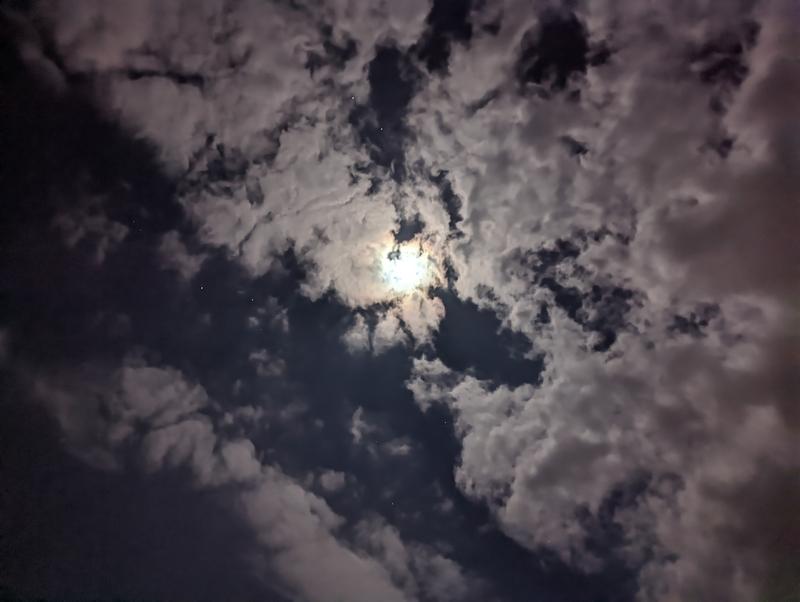 I am now at 113 consecutive months of "Century a Month". 7 more months to go to complete 10 years!
01-14-22, 04:28 PM
It has been a blustery, windy and cold start to the year here in Central Texas; I know I cannot really complain, of course -- the temperature has remained above freezing and the sun has shown itself plenty. Perhaps the weather has just been a convenient cover for my loss of fitness: it has been over 5 weeks since I last rode a century, with a nearly full 3 weeks off the bike in between. Recovering my endurance has been an uphill battle.
When the forecast called for morning temps above 40°F and a modest southern breeze (read: warm), I was ready to tackle my monthly century. Part of the excuse for my lack of riding was a change of address; although only a few miles down the road, the move has radically shifted my preferences for routes -- I am closer to the prairies now, and further from the hills. A flattish route should be easy, I thought! I started in a full getup: arm warmers, leg warmers, ear band, windbreaker, and outer-gloves. The outfit was perfect, as I was cold enough to avoid sweating but otherwise quite comfortable. Not trying to burn myself out, I kept the pace leisurely, and checked off the first two hours without a second thought.
The sun was bright and I was making up my route as I went; mostly, I followed familiar roads, but in a new sequence. Then, at just around mile 22, a flat tire. It was warm enough to lose some layers as I set about a repair. I found a small shard of glass in the tire (and removed it), but I couldn't reliably find a matching puncture in the tube; I opted to use my spare tube, but was a bit concerned about my future. Home was only 10 miles away, and always better safe than sorry. I considered calling it a day, but I was rather determined -- it was a gorgeous day! I made my stop at home as quick as possible, using the opportunity for a second breakfast of toast as I grabbed a fresh tube and used the floor pump to set my tire pressure just so.
I stripped a few more layers before leaving home again; it was still cool but the sun was intense and still rising. Doubling over some of the morning's route was inevitable, but it wasn't long before I was forging a new way out into the prairie. Texas is often overlooked when people ask about great cycling locales stateside, but I can assure you, the country roads are par excellence for road riding. I hardly remember any traffic from mile 40 to 70, when I reached Seguin and a much needed service station -- I was losing salt faster than I had anticipated for January!
From Sequin it was a straight shot North to home, which was exciting because the southern breeze had really picked up. I knew I was making good time, and later confirmed a personal record on that stretch, according to Strava. My intuition about the distance home was about right, but my sense was still 'rough'. I arrived just a mile short of a century. It left a good opportunity to roll a few blocks around the new neighborhood, the first time I had taken time to do so.
Perhaps it is a bit late for New Years Resolutions, but I suppose I will plan to keep this up for another year.
---
Last edited by Bulette; 01-14-22 at

04:32 PM

.
02-13-22, 07:14 AM
Senior Member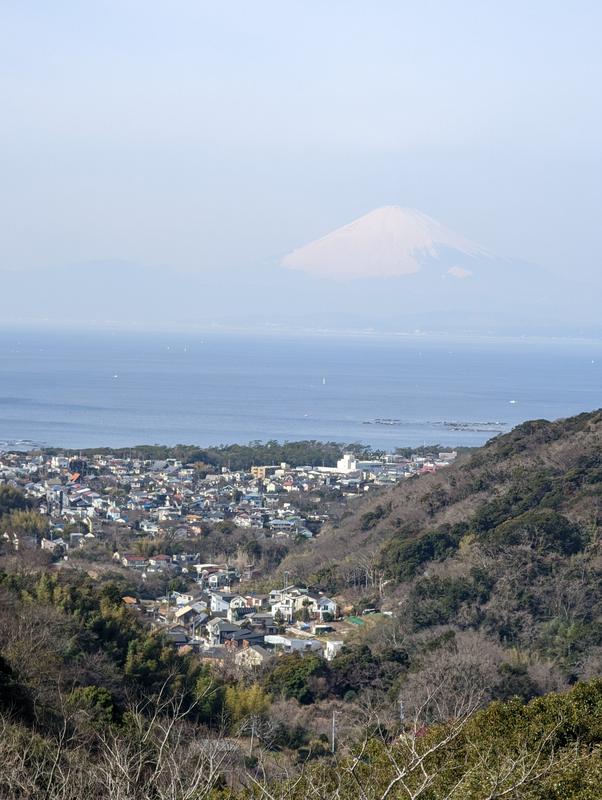 My Flèche team had a training ride planned that would take us across Hakone, but with the snow last week that no longer seemed like a good idea. So instead we headed down to Misaki for a seafood lunch. The total came to 171 km (
on Strava
), making February my 114th consecutive month with at least one Century ride.
We were going to meet at 08:00 at a 7-11 in Yamato near Rt246 and Sakaigawa. I figured it would take me about 1:40 and left after 06:00. It was close to freezing when I left (half an hour before sunrise), but I used my "ghetto Bar Mitts" hack (a pair of shopping bags secured to the bar ends with rubber bands to provide wind shade for the hands) and felt very comfortable.
The timing worked out perfectly. I got there as the 2nd of 4 participants. After the last team member had arrived and got ready we headed to the Sakaigawa.
We followed the cycling path down the Sakaigawa to Fujisawa where we turned east on Rt32, arriving in Kamakura via the tunnel near the Kōtoku-in temple (Daibutsu). We staid away from the coast which meant more hills.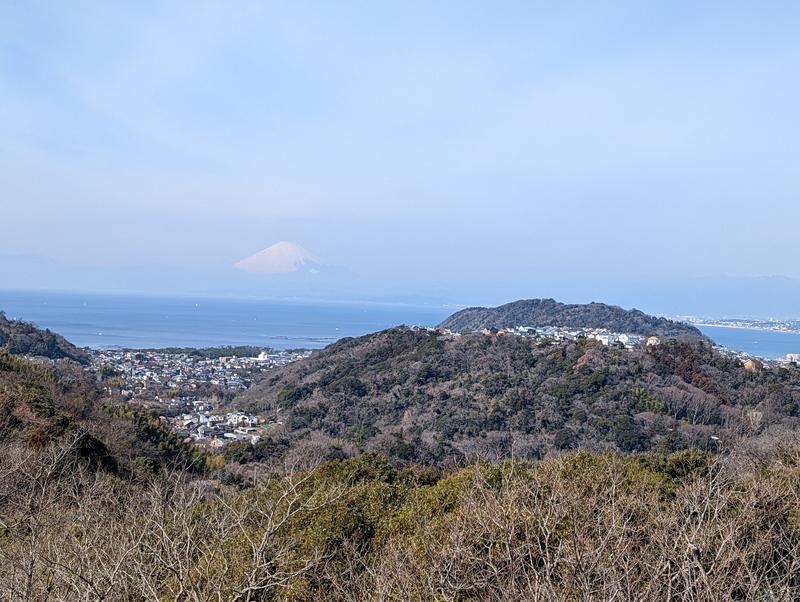 At Shonan village in Hayama we climbed to near the top of the mountain, above the convenience store. Mt Fuji was visible very well on the other side of Sagami Bay. We posed for pictures and chatted.
It had already been 20 days since my last long distance ride and I definitely felt it. Riding a significant effort at least every other weekend is a much better way to maintain whatever resemblance of fitness. Grocery runs, even if they're as long as 10 km, just don't cut it.
Other than the Sakaigawa section we encountered a lot of traffic. Almost all the time we were passing cars and buses on the left. We had to be really careful. It is so easy to make a mistake in such conditions. It got better only after we turned off Rt134 in Miura city, closer to Misaki.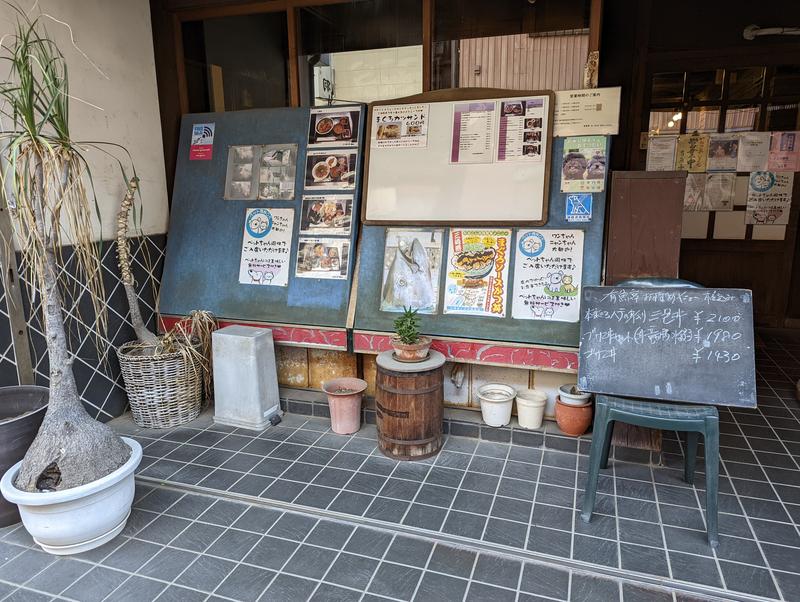 Just after noon we arrived in Misaki where we had lunch in a seafood restaurant. It happened to be a "dog-friendly" restaurant. While we were there we were the only guests who didn't bring a dog!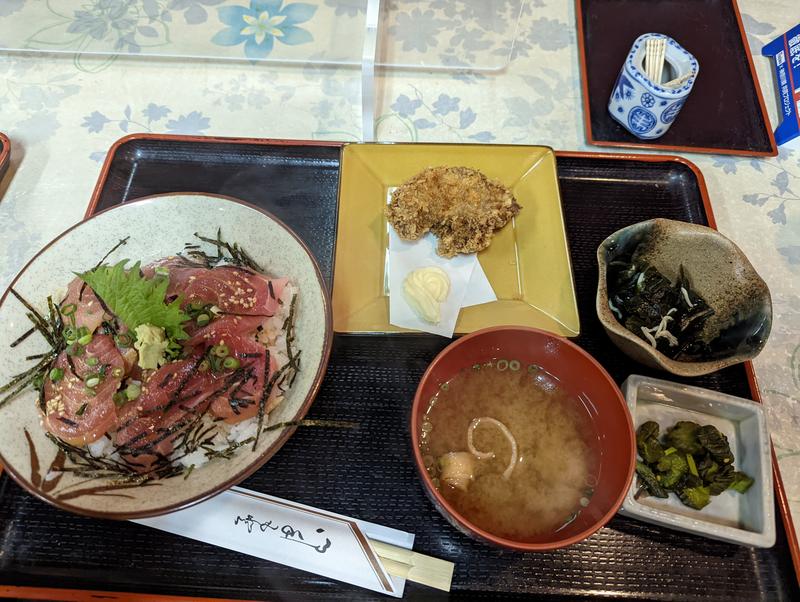 For the return route we followed the Nishi-Tokyo Miura brevet route which stays on the coast where possible. We stopped for ice cream at the Hayama Marina.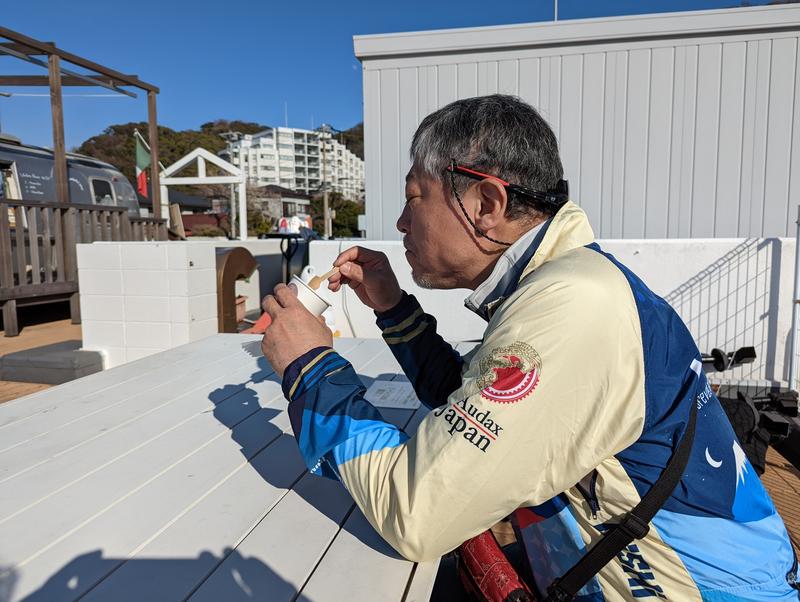 The reflection of the sunlight in the ocean was beautiful in Kamakura and beyond. At Enoshima we dropped off one member at the train station for a rinko return.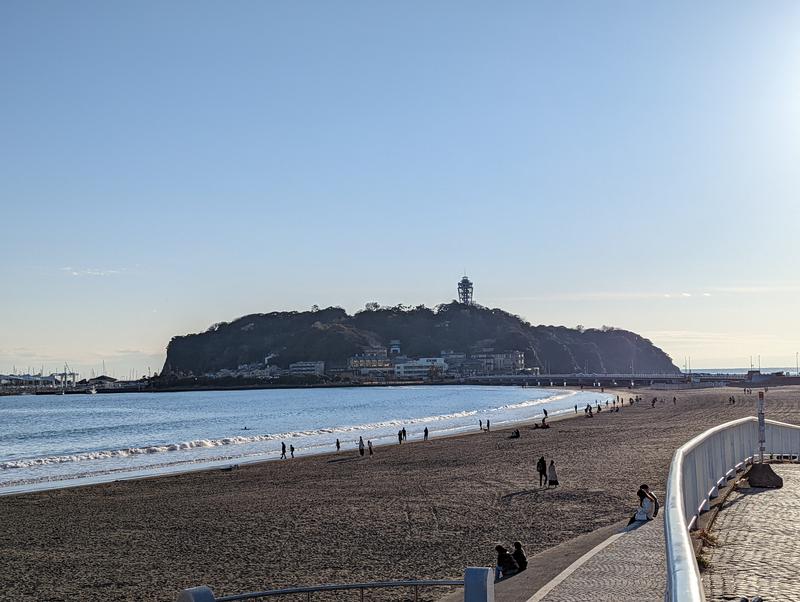 The rest of us returned to Yamato via the river route again. We got back to the starting point by the time it got dark.
After some coffee and food I rode back to Tokyo more or less the way I had come in the morning. I again needed to install the ghetto bar mitts because it got very cold as soon as the sun went down, at least until I got closer to Tokyo.
Our next training ride is planned two weeks from now. I hope we'll be able to ride to Hakone, assuming no new snow in the week before.
02-19-22, 05:25 PM
The weather had been a bit limiting in the preceding weeks -- there was one ride in particular with a 27mph wind -- so when I saw a forecast for temperatures in the 60's with light and variable winds, I knew it would be among the best of the month's days for a long bicycle ride. This would be my second century starting out from the new neighborhood, so I planned a conservative 85 mile loop to allow for missed turns and route variances. In my head, I compensated for this by angling straight into the Hill Country; at worst, I would wrap up with an extra loop in the Prairies.
It is still February here around 30°N and the lows were only a couple degrees above freezing. I layered up well to start. As the morning went on, the conditions were approaching perfect: the warm sun and steep climbs nearly caused a sweat, but this was consistently offset by a lingering chill in the low-lying valleys (and often enhanced by the effortless speed of the descent).
Some areas of the Hill Country are rather easy to capture by photo -- things like excessive road cuts and highway bridges often highlight the challenging topography. The roads most often bicycled, however, have fewer such features for illustration. Rather, the best riding roads twist and meander up and down the hills and bluffs, often at over 10% grade; the effect is that photos of these roads generally fail to highlight more than a few tenths of a mile ahead, and the background, if there is any at all, looks deceiving flat. (Also, it's often mentally difficult to force oneself to stop at the top of a big hill!) The following picture was taken along the appropriately named Valley View Road: it begins as a modest 2% descent with a few broad curves before opening to this expansive view, which marks an 8% plunge to the Blanco River.
It wasn't until noon that I began to lighten up my layers; first it was gloves, and a bit later, the wind breaker. It wasn't until lunch, in Canyon Lake, that I finally removed my leg warmers and ear covering, but still leaving my arm warmers. It was warming up, sure, but still below 60°F. It was cold enough for a coffee and a handheld fried pie with chocolate filling. I also added a few cookies and gummy bears, but mostly for the saddle bag. I couldn't decide whether to say I was already over halfway to my goal, or to say I still had 45 miles to ride. On the plus side at least, the next section up was River Road -- it's the kind of section where you really don't notice your odometer, rather just the scenery.
Passed River Road is the small village of Gruene, which was bustling with the nice weather. I topped off on water and began thinking about my options for 30 more miles; autopilot took over anyway, and I found myself closer and closer towards home. The miles inched by, at least, until I crossed back over I-35 and got away from traffic, back onto the most local of my loops. I would need to double back a bit, and I couldn't imagine a better road to do so than York Creek -- it's part of our local group's weekly ride, and for good reason: it's nearly fully shaded, with few farm accesses, made better by its easy grades and entertaining curves. The odometer nearly vanished again -- even at mile 95 -- as I plodded along to finish the century.
03-05-22, 06:01 PM
Few pictures this month, but plenty of miles! Despite a slew of flats and mechanicals, needing to mostly blow past the 'checkpoints', I still managed a great overall time on a double metric century with strength left to spare; it's funny how that works sometimes.
The story starts with an extraordinary warm front finally making its way into the area -- steady 16-17 mph winds, 60-80°F temps, and enough overcast to keep the sun at bay most of the day. Of course, with such a day, a few of the local club rider's wanted to join as well, but as it so often does, everyone's schedule brought different constraints: we decided on a 75-mile group route starting around 8:30. I left home at 7, hoping to get 15 or so miles out of the way ... I had hoped get to the café with time for a coffee, but my legs couldn't buy me enough time.
We headed off into the hills, one of the favorite routes to Wimberley, and picked up a few members of the crew along the way -- our first flat came about 1 mile into the ride, but was fixed with some dexterity. Afterwards, we enjoyed a tailwind, which gave us a boost up some of the hills and helped make up some time. Twenty miles in and we passed up any stops in Wimberley, heading further out from home. About six miles out of town, a different rider had a rear flat. Being a newer rider, we waited patiently to let them figure it out, mostly on their own, only stepping in as things went slightly awry -- it's certainly an important thing to learn to change a flat independently, rather than needing to depend on those around you! It was a nice chance for me to grab a few cheese crackers from my pocket anyhow, as I was nearing mile 40.
Aired up and rolling again, we were finally about to turn south -- into the wind. The headwind was tolerable though, as Fischer Store Road offers excellent pavement, rolling hills, and plenty of shallow curves to keep the views a-changing (while maintaining good sightlines for traffic). There was, at this point, some inventorying of tubes and patches occurring, as there were still a good few miles to go; at worst, Sattler offered a few services and a good place to arrange a sag wagon if needed. A third flat for the day -- on yet a different wheel -- would exhaust the spare inventory, and force a couple riders to the side of the road. We still had phone service, and a ride was hailed; it happens. After a bit of small talk, the remaining riders saddled up, back into the wind.
Feeling a little pressured by the clock, the pace stepped up a bit. Despite a headwind and hills, the next 20 miles rolled by with seeming ease; I was at mile 65 at this point, and ready for more than just crackers! We all agreed to a stop, but that we'd try and make it quick: cookies and a soda were all I could think to grab. Ten minutes later, we were off down the infamous River Road (which seems to feature in at least 3 or 4 of my centuries each year). Every couple miles is another river crossing, which seems to make the road shorter than is (even against the headwind). Soon enough we were down to Gruene, and our final turn northward. A strong tailwind made 20 more miles to the coffee shop a
literal
breeze.
I was at 95 miles when the other riders made their own ways home. I felt like 200k was well within reach -- it was only 2pm. Even better, I thought, I was feeling good enough to take on some of the local hills. I knocked out the first climb up the escarpment, thinking of how I would twist my route around when I heard a loud "plink". There was a new wobble in my front tire, now being held by just 31 spokes. At minimum, I'd be finishing my century, but I wouldn't be taking a wobbly wheel down any serious descents; I started limping towards home.
I was determined to get the 200k, and even considered riding it out with the broken spoke, but my caution got the best of me. It was mile 105 when I got to the garage. I set a personal record for swapping a tire, tube and rotor to a spare wheel, realigned the brake caliper, and was on my way, out towards the 'weekday' loop. Despite a series of setbacks, skipping the morning coffee, the usual long lunch, I was still feeling strong -- perhaps just the usual soreness and discomfort after so many hours on the bike.
It was good to officially get my March century out of the way, and to say I rode a double-metric during the "winter". I may yet finish another century this month, but will certainly be planning for one in April!
03-10-22, 10:56 PM
HTX Road Warrior
Join Date: Feb 2022
Location: Houston, TX
Posts: 23
Bikes: Road Bikes: 2000's Lemond Tourmalet, Alpe d'Huez, Mailott Jaune, Wayzata, Buenos Aires, Zurich, Nevada City, Fillmore; 1997 Diamondback Expert, 2000's Bianchi Veloce, Eros, 2004 KHS Flite 800, 1984 Gitane
Mentioned: 0 Post(s)
Tagged: 0 Thread(s)
Quoted: 5 Post(s)
Digging the rides guys.
Bulette: You are in my old stomping grounds. I rode out of the West from Schertz into Seguin/Gonzales/Luling. Now I'm farther East and ride out of Houston & Katy towards La Grange. Looking forward to the March editions and posting my own.
03-20-22, 04:13 PM
I don't always write about my "extra" monthly centuries, but this was a bit more noteworthy. A group of students from Texas State University had originally planned to gather at Austin's Veloway Park. The park includes a 3-mile circuit with tight turns, some modest elevation, and one punchy climb. Though the student group cancelled, I was already psyched-up to be checking out the wheels-only track for the first time.
While it's only about 35 miles from home, most of the roads are chock full of auto traffic. The worst few miles are high speed highway with only modest shoulders. Everyone I passed in the morning was headed
away
from Austin, while I seemed to be the only sucker headed in. At about mile 28, though, Highway 45 offers a fully separated multi-user trail, which is especially handy as the road turns up a 7% grade climb to "Escarpment Road". I eased up a bit, as the Veloway was just a few turns (all bike lanes) ahead.
I had meant to take some better photos of the course, but I -- just -- couldn't -- stop. The circuit really isn't made for all out attacks, as the turns are too sharp; rather, the course is more about precision cornering, sticking the line, and of course, some courtesy to the slower riders. All told, I did 10 laps before calling it good. (I knew exactly how far it was from home!)
I didn't stop for much to eat, except on the way home; a couple days of hedonism during the local "Spring Break" had me well rested. When I started getting weak -- around mile 75 -- I stopped for some M&M's and a fried apple pie; it was enough to keep me going smoothly, but not quickly, into the strong headwinds. I got home much earlier than expected, surprising myself both for minimizing stops and keeping a good pace. Mostly though I am excited to add a new route to the list, with a great destination -- the idea of a potential group ride out to the Veloway is hard to resist.
03-24-22, 01:37 AM
Senior Member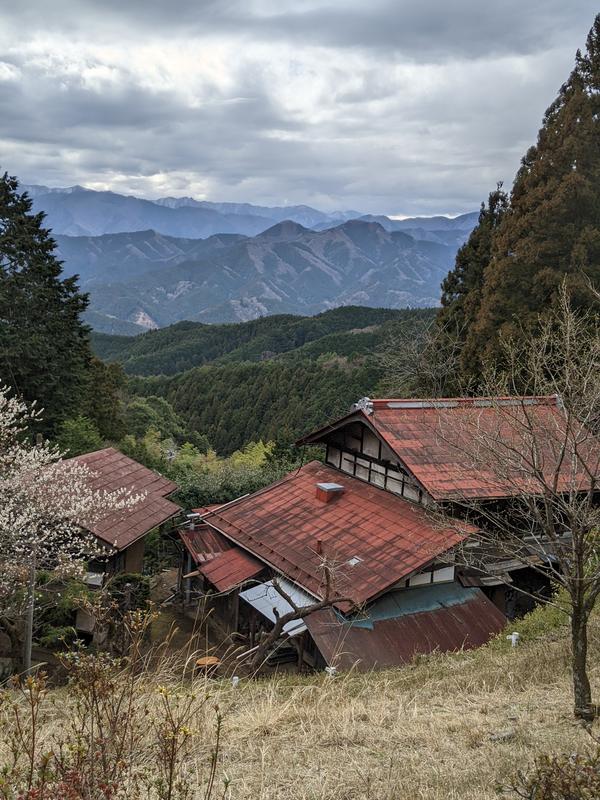 On Sunday I could finally do my March Century ride (166 km with 2242 m of elevation gain,
on Strava
), extending my "Century a Month" streak to 115 consecutive months. Five more months to go to make it 10 years!
It had been three weeks since my last ride as I couldn't ride for the two weekends, first because of my trip to Germany for the funeral, then 7 days of post-flight quarantine because another passenger on the return flight had tested positive (otherwise I would have been exempt from quarantine as Germany is no longer on Japan's high risk country list and I've had my 3rd vaccine dose).
I have the 360+ km Flèche ride from Aichi to Tokyo coming up in just over 3 weeks. On two of the remaining weekends I'm signed up for a 200 km brevet, the first one being the very hilly AJ Nishi-Tokyo west Izu brevet that I completed barely under the time limit last October.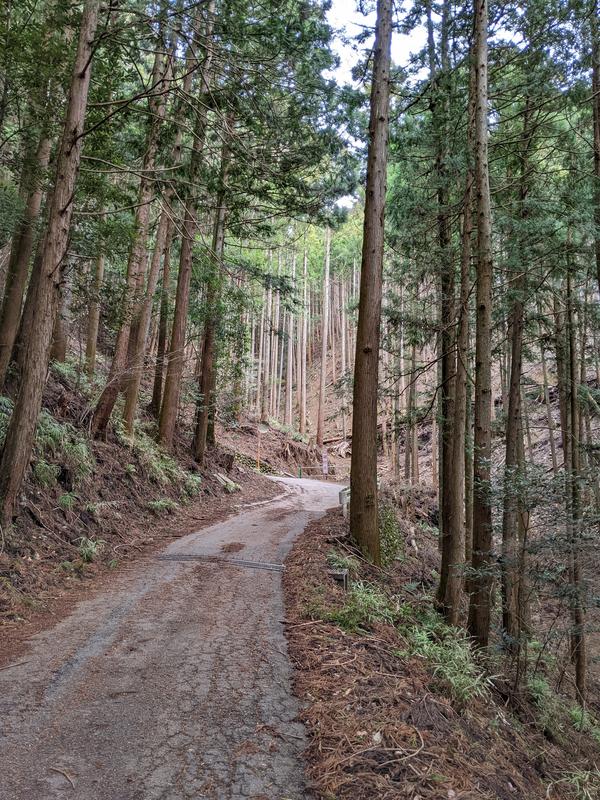 To get into shape for these rides I picked a hilly course, the Nenogongen loop which is a slightly shorter version of the even more hilly Ome temple loop.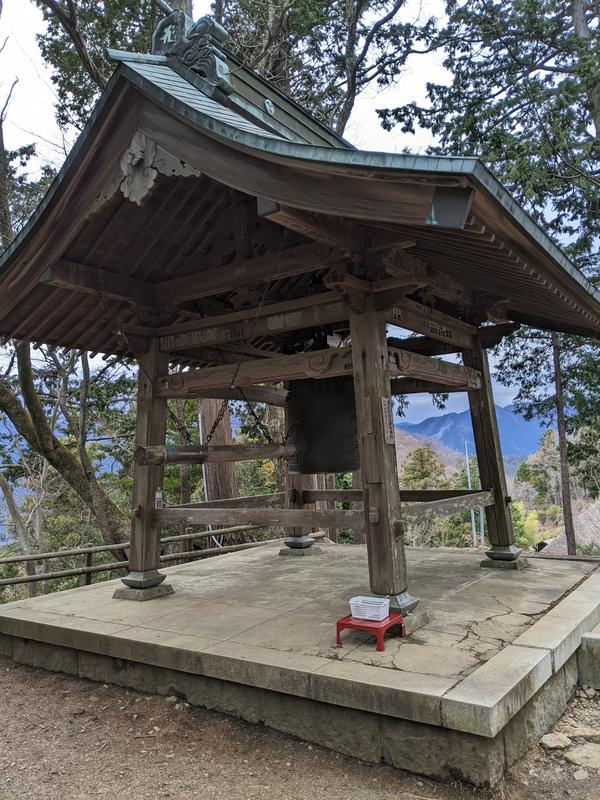 It was sunny but only 4° C when I set off from Tokyo at 06:15 wearing my winter trousers. In case it got too warm later in the day I packed some shorts with long underwear and I went for my AJ Nishi-Tokyo long sleeve jersey instead of my GS Astuto winter jersey. I did wear the shorts for a few hours from Ome but before Nenogongen I changed back into the clothes I'd been wearing in the morning. It was the same 4° C as in Tokyo in the morning up on the Greenline (the road on the ridge) even during mid-day!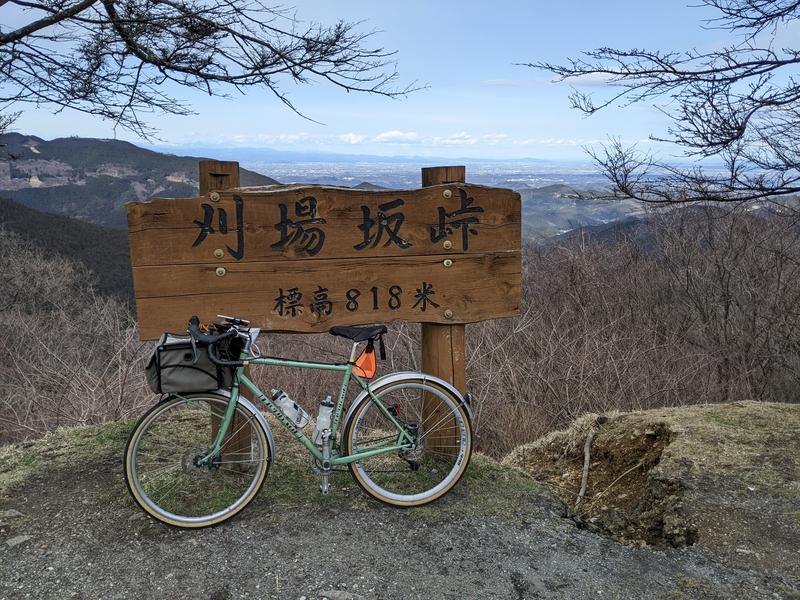 In Hanno I stopped for a chat with Mr Nishi Masaaki, a retired art professor whose house and workshop were on the route.
I saw some cherry blossoms along the route but not too many yet. The mountains around Hanno will always see it later than down in Tokyo where it's much warmer.
The steep Takayama climb to the Greenline was hard, though I walked less than last time I rode it with friends. Maybe that was because by myself I could ride more slowly up to the climb and was still fresher.
The long descent to route 299 was chilly. I decided to change back into my trousers. After that I felt a bit more comfortable.
By the time I got to Nenogongen the shopkeepers at the entrance were already packing up. There was almost nobody around. The doors of the main temple building were already closed, you could not see the inside. I followed the footpath on the side to the hill behind the main building up to the temple bell at the top of the mountain. From there I could see Tokyo Sky tree.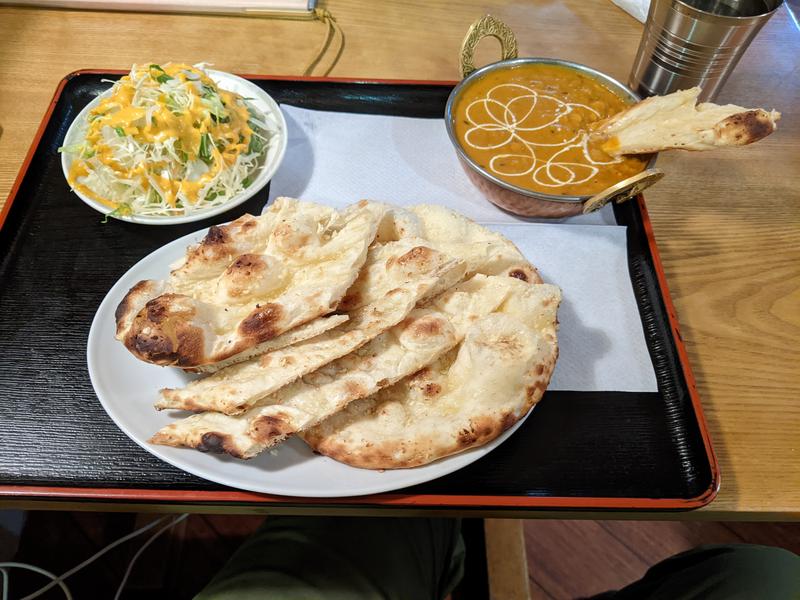 My legs were aching as I made my way back to Ome via a few more hills and cold descents. I stopped at Nepalese restaurant Sherpa for dinner, after which I felt much better. I got back around 22:30. Mission accomplished!
04-02-22, 03:04 PM
March was a mixed bag -- banner month for total miles, a few personal records, and yet, I felt 'off' on lots of my rides. Therefore, I wanted to get a good start in April. With clear skies and mild winds -- and a Saturday to myself -- I set out shortly after sunrise with a loose outline of a Century route. In the back of my mind, I was reserving the option to bail out to a shortcut if need be.
With uncertainty, and hours to go, I started off by plodding along at a leisurely pace. First, I ventured through the city -- College towns are refreshingly quiet on early weekend mornings. I left town north, towards Austin; part of me wanted to angle back towards the Veloway, but then I resolved to get as far from traffic as possible. I crossed under I-35, bearing east out into the prairies. Less than a mile from the interstate and I was surrounded by fields: Mustang Ridge. Other cyclists, most likely from Austin, frequented the area; I waved to those oncoming, and spoke -- briefly -- with the lone cyclist who caught and passed me. I would be alone, save for a few farm trucks, all the way to Lockhart, around mile 50.
I stopped at McDonalds. It sounds odd to call it a treat, but my more local McD's have shuttered their lobbies, so being able to sit and enjoy some French fries and a fountain soda was really something kind of special for lunch. I didn't sit too long, of course -- it was back out to the bike and the road. I had a choice here: just 20 miles home, or take the long way and round up to a century. I turned the long way, and decided to commit.
Around an hour after pushing on -- I was feeling pretty good -- I reached one of my favorite places to sit and contemplate. I watched the water pass under the bridge while chewing on a few gummy snacks, and reminded myself to grab a picture!
From the river, the road climbs (of course) to one of the highest ridges in the area, around Kingsbury (still in the plains, and not quite the Hill Country). Aside from the rolling hills, the area is popular for Wildflower viewing. Texas' wildflowers only bloom for a short couple weeks in the spring, and so must be appreciated on their schedule. This week, the Blue Bells have just started to open up, both along the roadside and out in the pastures. Knowing where to look now, you can bet I'll be making a few more loops that away to watch as more fields come into bloom.
I upped the pace just a bit on my last 15 miles. The day's leisurely pace had left a lot of energy in reserve, and left me optimistic about my riding for the rest of this month!
04-10-22, 08:27 PM
Senior Member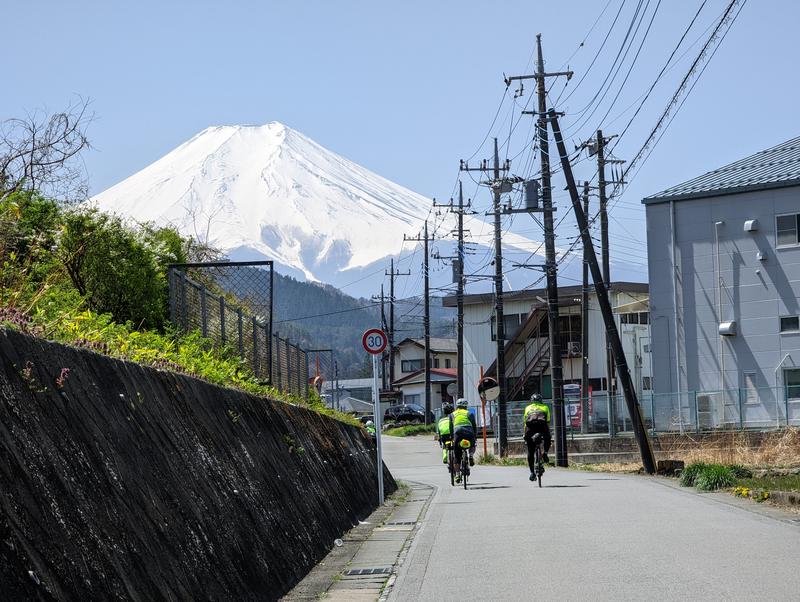 The last training ride before the Fleche from Aichi to Tokyo on the coming weekend and what a ride it was!
BRM409 "Momotaro" by AJ Nishi-Tokyo last Saturday was a 200 km brevet from Machida to Saiko (one of the "Fuji Five Lakes") and back (
on Strava
). It explores the old "Kyu Koshu Kaido" in the mountains north of modern Rt20 between Uenohara and Tsuru. The return route was via Akiyama. The course itself had over 2,800 m of barometric elevation gain, before the ride home to Setagaya. That's even more than the hilly "Shiokatsuo" brevet in west Izu on March 26 that I timed out on in heavy rain during its second half. I had done the same course on October 16.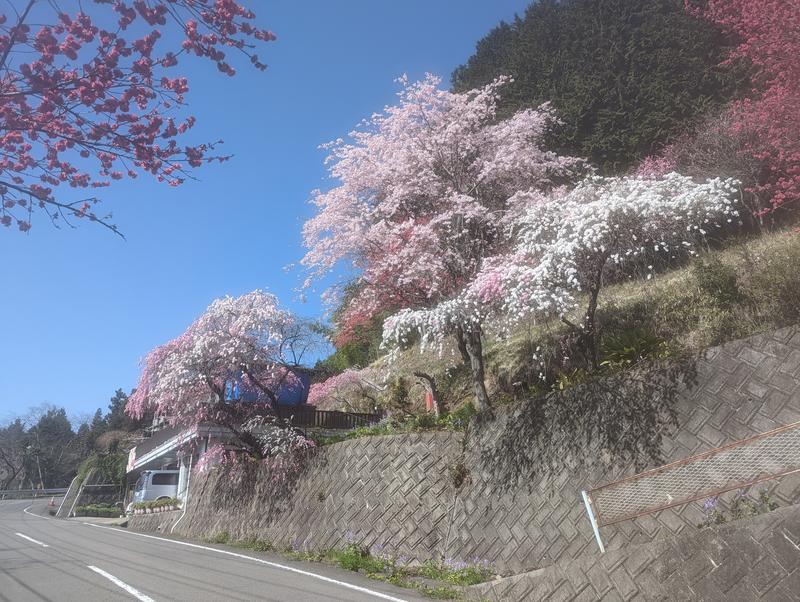 I rode to Machida the night before and staid at a ToyokoInn less than a km from the start. I set my alarm for 04:45 so I could attend a briefing at the start after 05:30 for the 06:00 start. One of my team mates, Mrs E. rode to the start from Tokyo, getting up at 01:00.
Our Fleche team captain for next week's ride was the ride organiser. The other 4 members of our team were participants and I rode with 2 of them for much of the ride.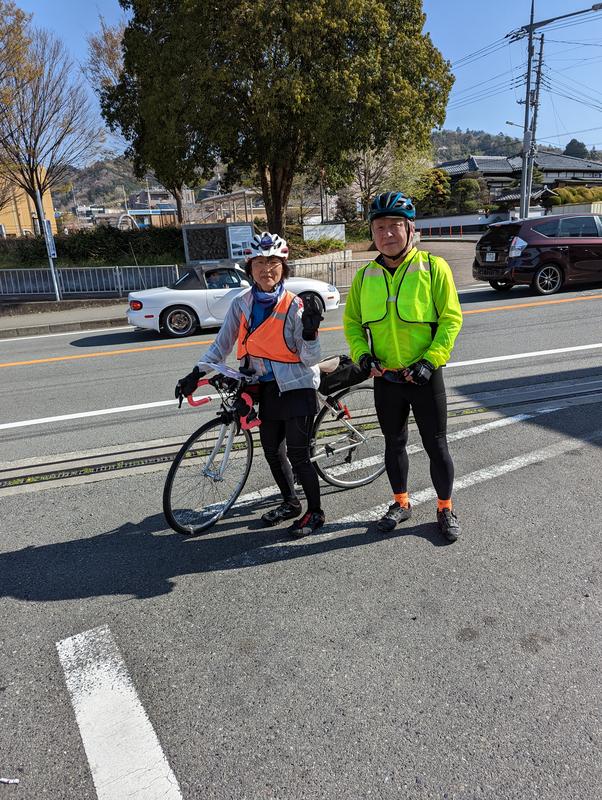 There were 56 signed-up participants, only three of whom chose not to ride. It was really like back to pre-pandemic times, except for everyone wearing masks at the start and finish and at convenience stores. It was still cold at the start and I wore my windbreaker and my rain pants over my jersey and shorts. I took them off again before the first convenience store stop and didn't need them again for the rest of the day. If anything the day was on the warm side.
I left as one of the first starters but didn't mind letting people pass me, remembering how in October I started out too fast only to have to pay for it after the first 40 km when the first major climb started. I found myself in the company of Mr H., with whom I also rode about half of the Izu brevet. Sometimes one of us got ahead of the other but we always met again somewhere. Mrs E. was also around until about 80 km into the ride.
There were some groups of friends riding together. When one of them punctured, half a dozen of them attended. They were a very sociable lot, not too much into the competitive aspect.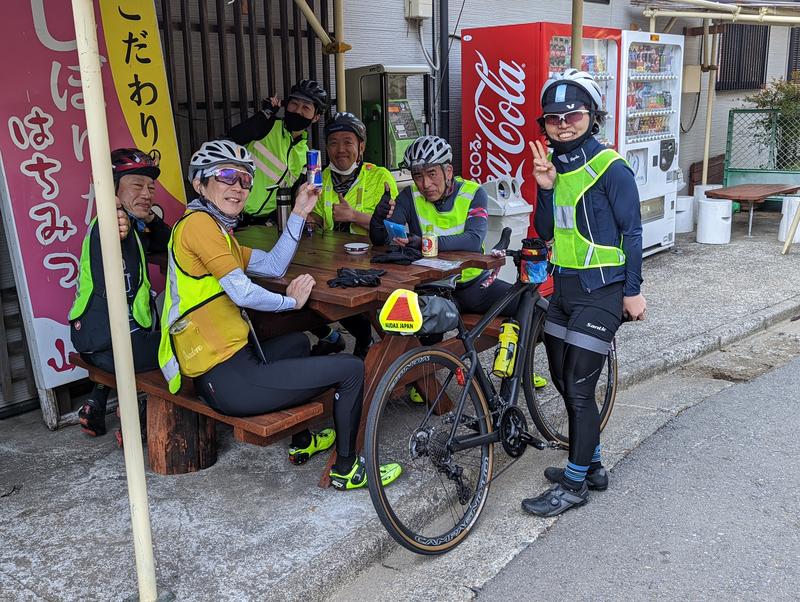 The views of cherry blossoms, plum blossoms and Mt Fuji were gorgeous. Down near Tokyo the sakura was already thinning, but in the hills near Uenohara they were in full bloom and up near the Fuji Five Lakes it was still early for them.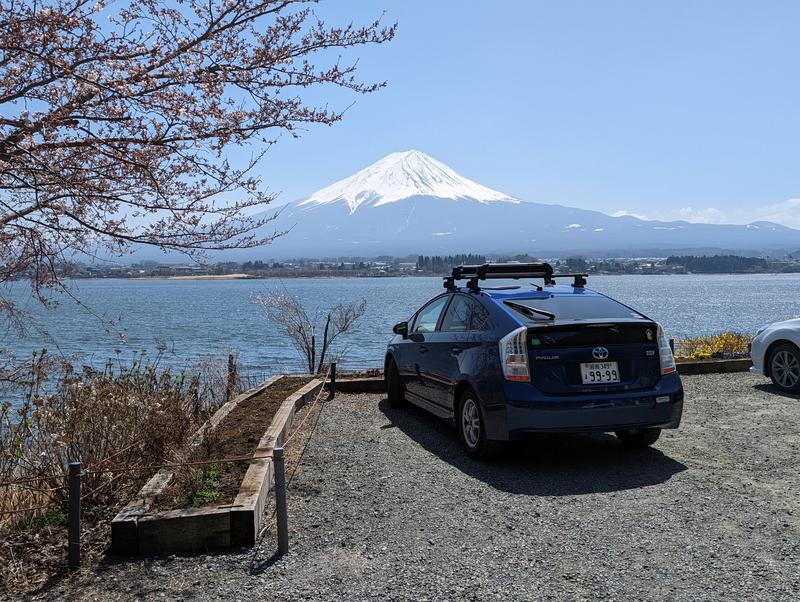 The course this year avoided major roads as much as possible. The climb from Otsuki to Fujiyoshia avoided Rt139. Only near Kawaguchiko did it get a little busy. I was separated from Mr H. at Saruhashi but we met again at a convenience store in Kawaguchiko and rode together for a couple of km. At Saiko I met faster riders already coming my way as they had already rounded the lake. When I got to the untimed quiz point (QP1), I was about 20 minutes behind minimum pace, but as long as I made up that time by PC1 (control point 1, the first timed checkpoint) I'd be OK. Since there was over 600 m of elevation drop to PC1 I was confident I'd be OK.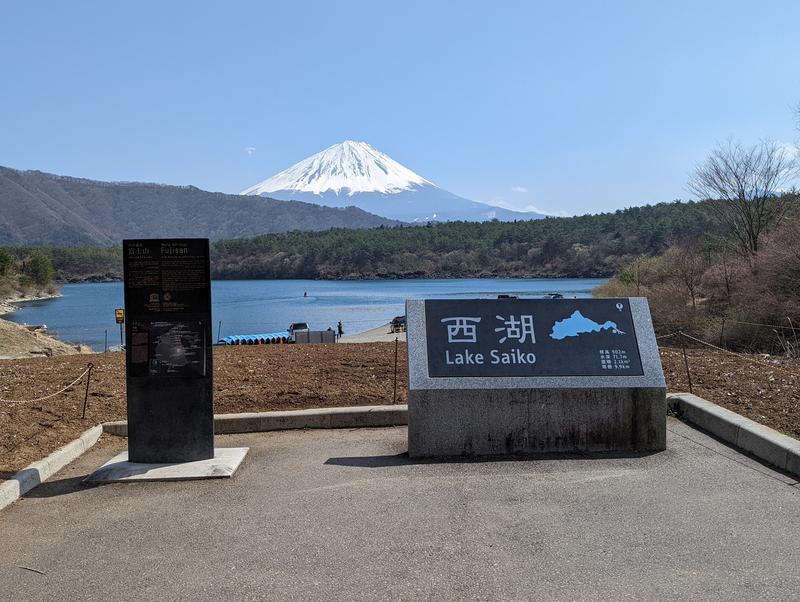 Mr. H. caught up with me just as I was about to leave QP1 and I told him what local information to write down for proof of passage. It had been windy heading west but that meant we had a tailwind on the return to Kawaguchiko. That and the flat route meant we eliminated most
of the time deficit by the time we got to QP2, another untimed control. Then came the long descent and we made it to PC1 in Tsuru with 24 minutes ahead of minimum time. Mr H. and I arrived together, but Mrs E. who Mr H. thought was ahead of us had not been seen yet. Our organiser was there and we could chat a bit.
The final 60 km from there were still hilly. First came the 8 km climb to the tunnel above the Chuo Shinkansen test track. Earlier in the ride, not far from the maglev visitor center near Tsuru, I had actually heard the whooooshing sound of a maglev train passing on a bridge of the track.
The long descent after the tunnel was fun and welcome recovery time, but there were still several hundred more m of elevation gain in climb after climb after climb in Sagamihara. Once we got close to Machida, it was traffic lights. By that time I knew I was on the safe side with my time buffer and took it relatively easy. When I finally got to the 7-11 that served as the goal and bought a coffee, it was 19:17 so I had 13 minutes left on the clock. Mr H. and Mrs E. arrived together soon after me. Together we rode to the Cherubim bike shop, where the goal reception was and had our brevet cards verified.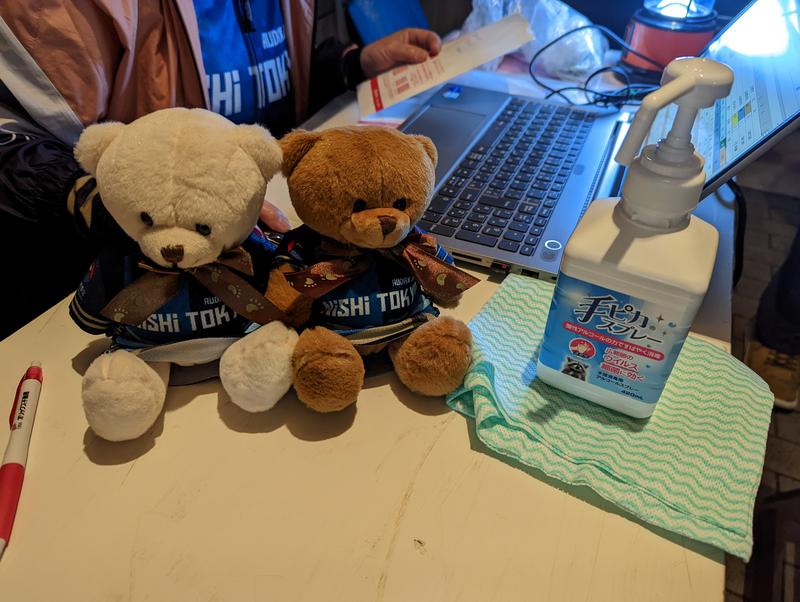 Two hours later I got home with almost 234 km and 2,971 m of elevation gain for the day. That means my Century a Month is now at 116 consecutive months. Four more months to make it 10 years. But first I need to complete the 24h ride from Aichi to Tokyo with my team mates next Saturday/Sunday. After two hilly brevets I feel we are all reasonably well prepared for the effort but there is always the big unknown of sleep deprivation on a ride like that.
05-09-22, 03:16 AM
Senior Member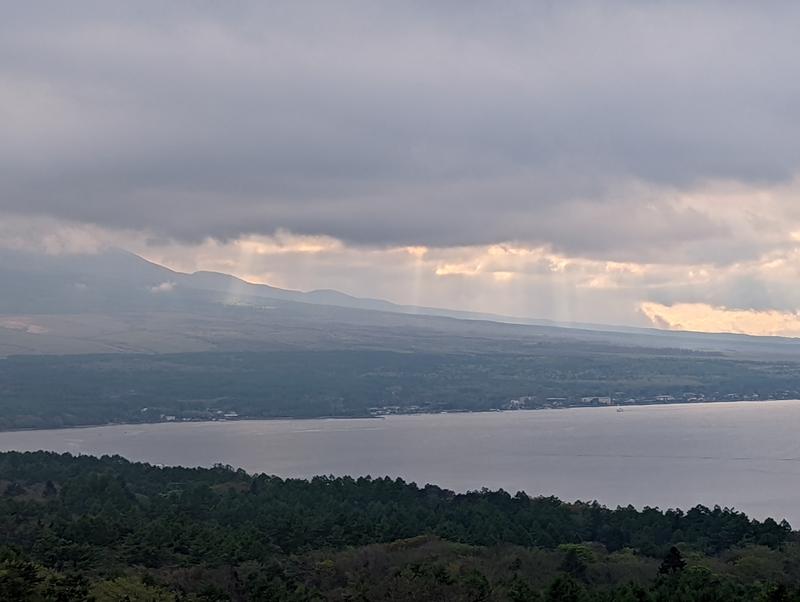 I did my first Century ride for May on Saturday (190 km with 2464 m of elevation gain,
on Strava
with pictures). Another is planned for the coming weekend, a 400 km brevet that starts in Machida and first climbs to Yamanakako via Doshi road (Rt413). This was a training ride for it.
I only left around 08:00 because it had been raining earlier in the morning. I brought my rain gear but didn't have to use it. Like on my ride two weeks ago near Ogose I didn't feel in shape for the first couple of hours but the second half of the ride was just fine. I took my first break at a convenience store in Sagamihara, about 2 1/2 hours from the start.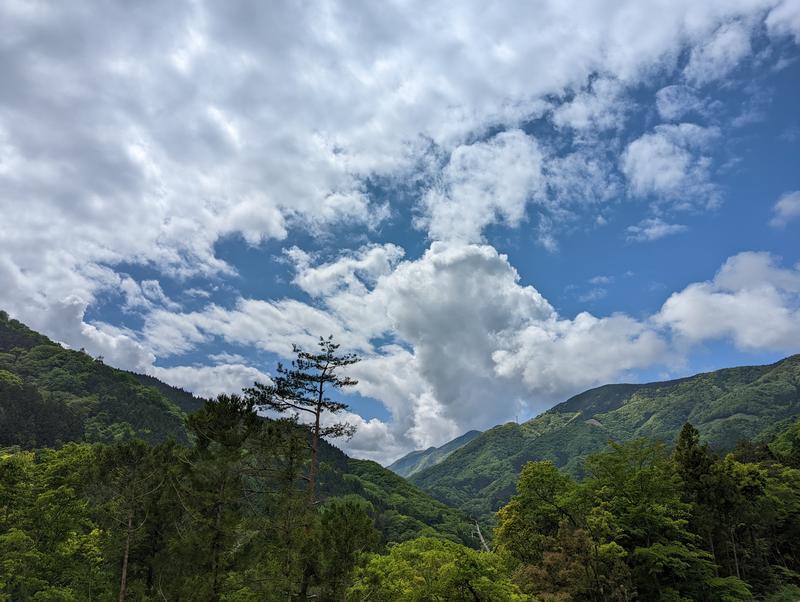 The 2nd major break was at Michi no Eki Doshi, where I had lunch (curry rice with coffee and apple pie for dessert). Doshi village tries to make the most of the publicity gained from the Olympic road race last summer.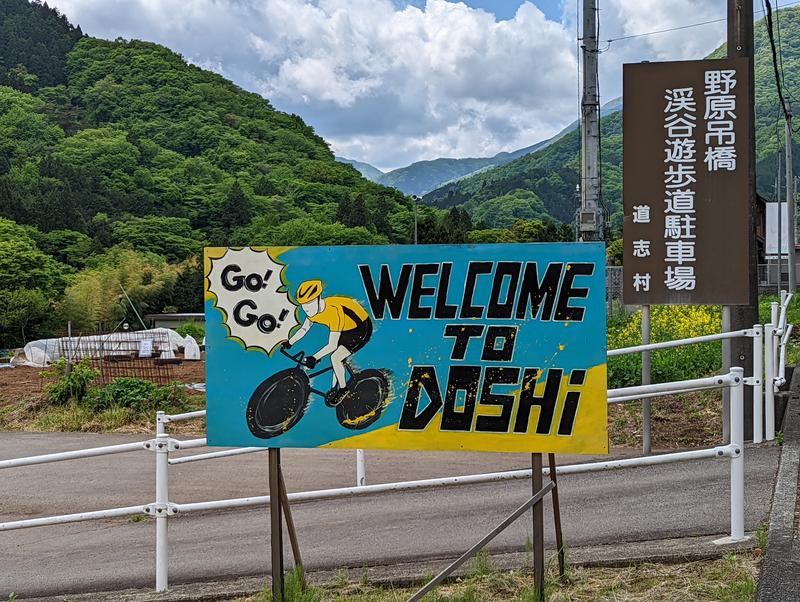 The scenery was beautiful. Lots of azalea in bloom and fresh green.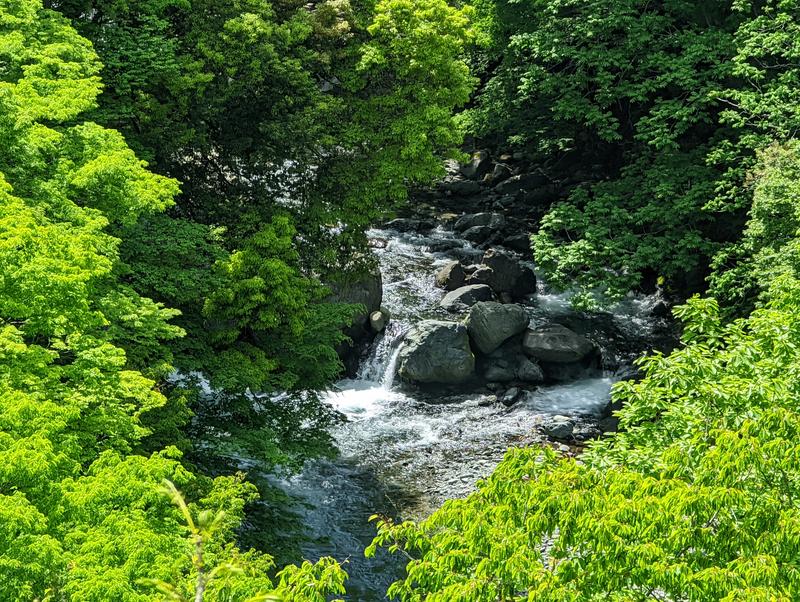 I often stopped for pictures, noticing details that I had not come across before, such as this mask collection by a Doshi resident who backpacked around the world from 1986-1993.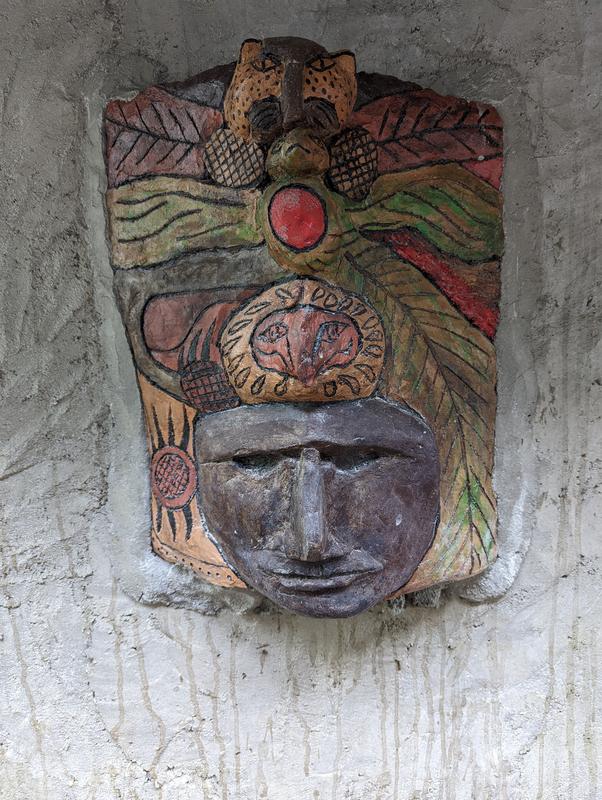 I used my 24T small chain ring a lot. The last part of the Doshi michi climb, especially the last 5 km or so before the tunnel always feels hard but this not being the real event with the clock ticking I took it a bit easier.
About 1.5 km and 100 m of elevation gain before the tunnel I saw a cyclist pushing his road bike. He was really struggling. I think his legs were cramping and he could barely walk. I stopped after passing him and asked if he was alright. He put down his bike and sat on the ground exhausted. He looked young and the bike was a light carbon road bike. Perhaps this was his virgin ride to Yamanakako. I offered him a banana, which he gladly accepted and some words of encouragement for the last part of the climb.
It was quite cool at this elevation. I put on my windbreaker and descended to Yamanakako. I didn't stop at any convenience store there as I still had some food and drinks and took the turn-off to Mikuni. The climb there is not very steep and you can get a good view of the lake and Mt Fuji. This time much of Fuji was obscured by rain clouds (see view at the top). As I climbed higher, I entered the fog, i.e. other clouds. You really couldn't see much at the top but I came across some very late sakura (cherry blossoms) at about 1165 m elevation.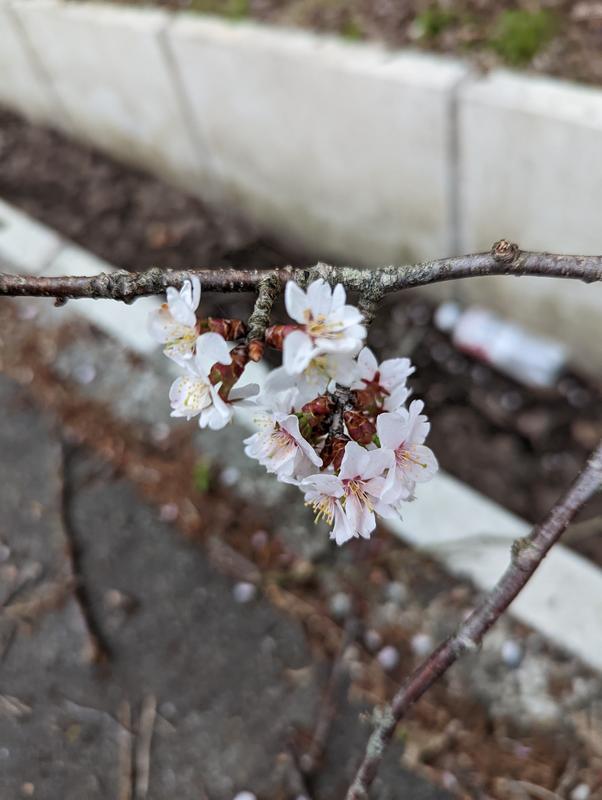 I was glad about my hydraulic disk brakes on the Mikuni descent which gets as steep as 18% in places.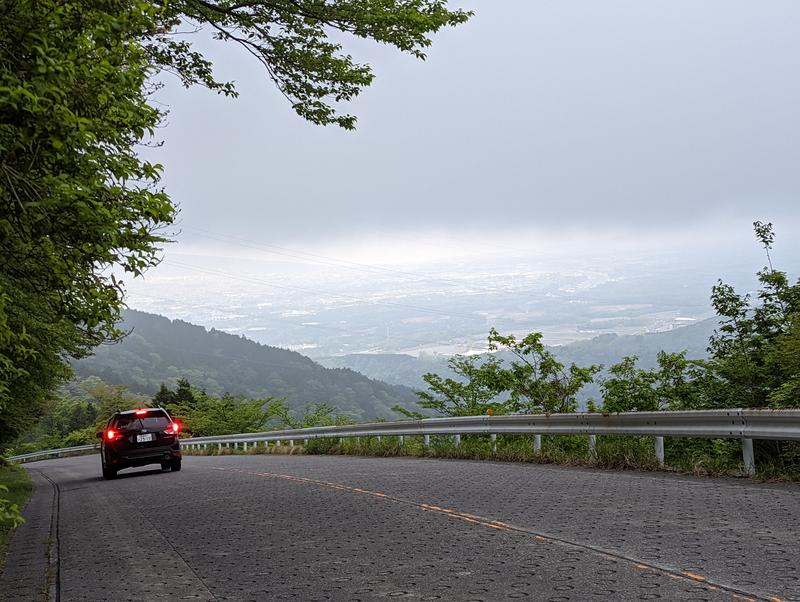 The long descent down to Oyama and beyond was great for recovery. I stopped at a 7-11 in Oyama for food and topped up my bottles with water.
For the return route from Matsuda to Tokyo I followed route 246 and rode it in the dark. It's not a great road but had less traffic than the last few times I rode it. I got home about 15 hours after I set off.
I am now at 117 consecutive months of "Century a Month". Next weekend I'l be riding
BRM514
(
route on RWGPS
). I booked a hotel near the start and will ride out there on Friday night.